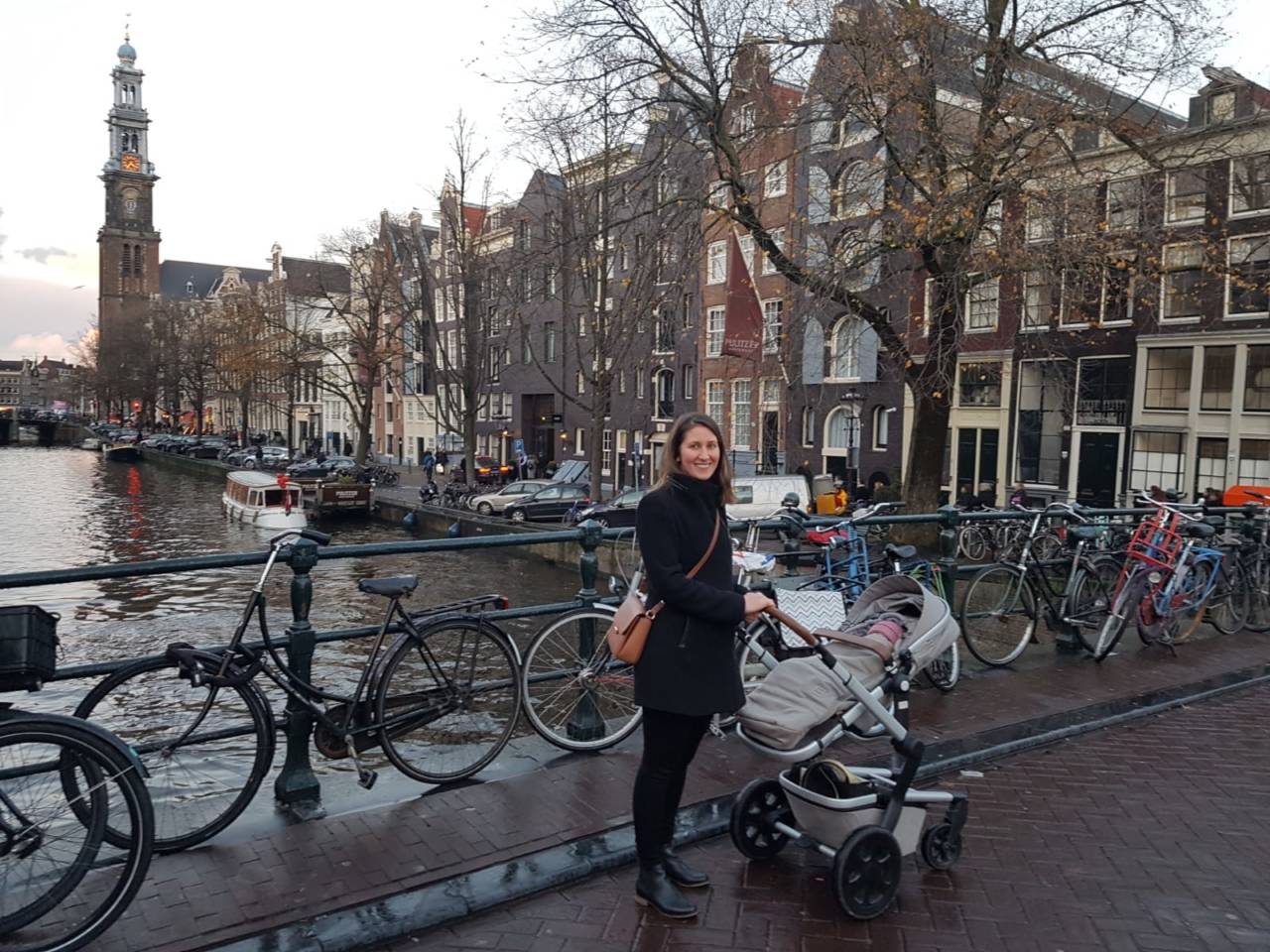 Bilge Yörük spent most of her childhood in Turkey before she moved to Canada as a teenager. She now lives in Amsterdam with her husband and young daughter and works for a medical research company. She would like to meet tv presenter Arjen Lubach and loves hanging out in the Jordaan.

How did you end up in the Netherlands?
I met my now husband while I was working on my PhD in Toronto. He was doing a research internship in the same department. He's Dutch, we met at a birthday party and have been together ever since. It's been…let me think, seven years now.
But once we decided that we really liked each other we had to figure out what we were going to do. At that point, he was only scheduled to be in Canada for another six months, and I still had to finish my PhD. Then he was able to extend his internship, we got to know each other a bit better, and we decided to stick together in a long distance relationship for another year and a half until my research was done. I moved over here to be with him in 2013.
How do you describe yourself – an expat, lovepat, immigrant, international?
I guess I moved here for love so that would make me, technically, a lovepat. I'm curious about the term 'international', though. Whenever you move somewhere that you're not from you might think of yourself as an international. I imagine everyone has a different definition.
I'm also thinking of my background as a Turkish-Canadian and how I grew up in different countries so I see myself as more of an international person. It's difficult because there's no one place that I consider home. I feel like I'm more attached to people than countries, and I can move elsewhere, if needed. But if I had to pick one term to describe myself, I'd choose lovepat.
How long do you plan to stay?
I'm not sure. I can see myself being perfectly happy living here for the rest of my life. If another opportunity comes up, I could also see my family and I living somewhere else. I love the Netherlands, and I think it's a great country to raise your kids in. That's important now that we have a daughter.
I grew up in two different countries, though, and I find that can be a great experience, too. It can help create more global citizens who are not just tolerant of other cultures and traditions, but also appreciative of them and their differences. To be able to experience those things throughout your youth is fantastic. I'd love for our daughter to have that same opportunity, but you never know what will happen in the future.
Do you speak Dutch and how did you learn?
I can't say that I speak Dutch. When anyone asks me, I always say 'Ik spreek een beetje.' I can definitely speak a little, and I have taken various courses over the years, but since I don't speak it at work and we speak English at home, and I live in Amsterdam, I don't really need to use Dutch. All that obviously hasn't helped me with my Dutch learning.
At this point, I would say I understand a lot but I don't speak it. I'm not comfortable enough to go beyond basic conversations and build on them so I don't really use Dutch. When I'm ordering things in cafes and restaurants, I sometimes use it. At Albert Heijn, I also usually know what questions they're going to ask me. I know they're going to ask me if I have my Bonus Card and if I want a bag so I'm ready to respond in Dutch.
What's your favourite Dutch food?
I don't know if it's technically Dutch, it's more Indonesian-Dutch, but I really love saté. I never tried it until I came here. I love kip saté and bami, but one thing I find weird is saté sauce on fries. I really don't like that. Mayonnaise on fries is also weird. I only like my fries with ketchup. I think that's very North American, whereas mayonnaise is more of a European thing.
How Dutch have you become?
I was thinking about that before the interview. What does 'Dutch' mean, really? That makes it a difficult question. There are typically things that people associate with the Dutch, like the directness and being punctual. I have to say that I'm neither, and I use polite phrases when I write emails like 'would you please kindly….'
The Dutch are always on time but I'm getting to be less so, especially now that we have a kid and tend to always be a little late. In Turkey, it's a bit more relaxed, but it can really depend on the person. It's not like you can say, 'Oh, Turks, are never punctual.'
So I don't think I'm really Dutch. I still love my warm lunches and would rather have those than bread and cheese. I do miss driving a bit, too. We live in Amsterdam so we don't really need a car. I used to drive in Canada though and it's something I do miss…but not the traffic. It's much nicer to be able to just bike everywhere. 
Which three Dutch people (dead or alive) would you most like to meet?
Eberhard van der Laan. He's the former mayor of Amsterdam, and I wish I could have met him before he died. I think he really loved and cared for the city, and I love living here. I find it amazing that so much of the city centre and its canals have remained mostly unchanged for hundreds of years. There's so much history. I would have loved to have gotten a cup of coffee with him and talk about his Amsterdam; his favourite spots and his vision for the future of the city.
Arjen Lubach. He hosts the TV programme Zondag met Lubach. I think he's a brilliant comedian, and I agree with most of his views on the things he discusses on the show. It would be great to hang out with him, get some beers, and chat about relevant issues and all the ridiculous things that are happening in the world. It can be tough for me to keep up with his Dutch, though. Some parts I can understand and some parts I don't so I usually watch the show on YouTube with subtitles.
Dafne Schippers. She's an Olympic runner who is a pretty amazing athlete. I love watching her in all the different running events in the Olympics and other world championships. I think it would be really cool to meet her.
What's your top tourist tip?
I say to all my friends and family who visit us that, unless they're really big on museums, they should avoid them if they really want to experience Amsterdam. I tell them to just go for a walk or rent a bike to go to different neighbourhoods. They should pick a cafe, and get a couple of drinks. I try to get them to see the city with their own eyes and not stick to just one area or a few museums.
I love the Jordaan, which is where we live, and I encourage them to explore it. I still find it super pretty. When I first moved here, I couldn't get over how perfect it looked with all the houses by the canals, like a postcard. It took me a few weeks to realise, 'Oh my god, I'm actually living here!' 
Tell us something surprising you've found out about the Netherlands
I'm still surprised at how fast the weather can change here. You can get sunshine and then, five minutes later, it's raining heavily. Five minutes later, there's hail, then another five minutes later, it's clear again. How fast the clouds move is something that I'm not used to, having grown up in Turkey and Canada.
I also expected it to be a lot darker and rainier. Everybody warned me before I moved here that the winters were tough. Of course, there are some weeks that are really dark and depressing but, most of the time, I'm perfectly okay with the weather.
If you had just 24 hours left in the Netherlands, what would you do?
I thought about this one too before the interview, and it actually made me quite emotional. I suppose we would do what we always do on the weekends. We'd go out for a stroll along the canals and the Nine Streets. We'd visit our favourite cafe, Cafe 't Smalle, and have some drinks there. I'd just want to walk around the city, really. I love strolling around the Jordaan and past the canals. That's what I'd miss the most, I think, our walks in our neighbourhood.
Bilge Yörük was talking to Brandon Hartley.
Thank you for donating to DutchNews.nl
The DutchNews.nl team would like to thank all the generous readers who have made a donation in recent weeks. Your financial support has helped us to expand our coverage of the coronavirus crisis into the evenings and weekends and make sure you are kept up to date with the latest developments.
DutchNews.nl has been free for 14 years, but without the financial backing of our readers, we would not be able to provide you with fair and accurate news and features about all things Dutch. Your contributions make this possible.
If you have not yet made a donation, but would like to,
you can do so via Ideal, credit card or Paypal.