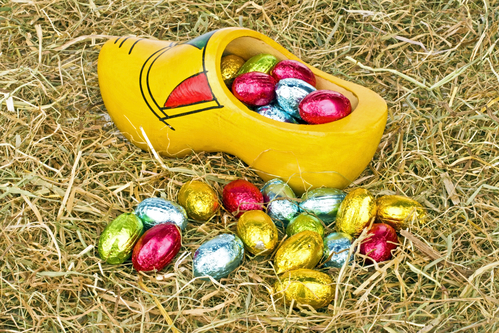 The Easter weekend may be set to be chilly and wet, but spring temperatures should be on their way next week – if we are to believe the KNMI weather bureau that is. So here are some great things to do this April.
Join the egg hunt
There's plenty to do this Easter. You could try the traditional Easter market on The Hague's Lange Voorhout on April 1 and 2 or take the children to join the search for the Easter bunny's lost eggs in the Hortus botanical gardens in Amsterdam. There are Easter bonfires galore as well (a pagan ritual adopted by Christianity to symbolise the resurrection), with one of the biggest taking place in Espelo in the province of Overijssel. on April 1.
Pity Oedipus (and his mother)
The Stadsschouwburg in Amsterdam is the scene of a 'contemporary, free' adaptation by British writer and director Robert Icke of tragic hero Oedipus's journey to his doom. This month's performance will be surtitled. April 12. Website
Meet the author
The John Adams Institute is hosting an evening with A.M Homes, whose acclaimed novel May We Be Forgiven is being staged by Toneelgroep Amsterdam at the Stadsschouwburg in Amsterdam this month. The play has been dubbed 'a soap on speed' so plenty of dysfunctional family fun guaranteed. You can buy a separate ticket to the event on April 13 or in combination with a ticket to the play which will be surtitled on April 5, 12 and 19. For ticket information go to the John Adams Institute or the Stadsschouwburg.
Take in some treasures
The second week of April is National Museum Week and 400 museums throughout the land have polished up their best bits to show to the public. The special museum week website is highlighting plenty of weird and wonderful  treasures, at well-known museums and some downright obscure ones (Yes PIT Veiligheidsmuseum about police cars, fire engines and ambulances, we are talking about you). April 9 to April 15.
Savour some Shakespeare
STET English theatre presents the The Hague Shakespeare Fringe Weekend. Cry Havoc, the tale of a traumatised soldier infused with Shakespeare's verse shares the programme with a rollicking version of a Midsummer Night's Dream for all the family and an interactive workshop on Shakespeare for children (5+). April 19 to April 22. For dates and tickets for each of the events go to the STET website.
Pay tribute to Prince
It is two years ago this month that singer and songwriter Prince died. His life and work are now being picked apart in an exhibition at the Beurs van Berlage in Amsterdam showing the clothes he wore on his many tours, instruments, hand-written texts, jewellery and much more. The Beurs van Berlage does not accept the Museumjaarkaart so be prepared to pay the hefty entrance fee of around €20. Until June 8. Website
Bag a bargain at the Museum Market
If spring puts in an appearance this year, the Museum Market in Amsterdam is a good option  for a leisurely afternoon stroll. It is held on the Museumplein in Amsterdam every third Sunday of the month and features designer trinkets, clothes and lots of food. April 15. Website
Be a monarchist for a day
It is, of course, Koningsdag on April 27 and there will be festivals galore the length and breadth of the country. Those not interested in flogging their old stuff or buying someone else's old stuff can go the Kralingse Bosfestival in Rotterdam or head to the Aquabest festival in Eindhoven for some hardcore beats, or go wild at the Urban Music Festival in Amsterdam. There's more King's day festival fun on this website
Compare views on the Dutch
Typisch Nederlands?Typically Dutch? is a collection of photographs showing the Netherlands through the eyes of photographers from all corners of the world. What caught their eye are not windmills or clogs but Cantas (those little mobilty cars) popping up everywhere and converted churches. In the Zoetermeer city museum until June 24. Website
Swim with the fishes
The Haringvliet sluices, part of the Dutch coastal defenses, have protected Dutch shores but have also deprived fish like sturgeon, eel and salmon of an important gateway to their spawning grounds. At the end of the year the sluice gates will be opened at certain times so the fish can return. Welcome back herring, sturgeon and salmon! cries the Natuurhistorisch Museum in Rotterdam with characteristic gusto. Its exhibition Swim, Fish, Swim! explains what it all means for the rivers and streams of Europe. Until October 28 Website
Cheer up with Vincent
The Van Gogh museum is exploring one of the artist's best-loved sources of inspiration: Japanese prints. 'You can't study Japanese art without it making you very cheerful and happy,' the usually morose Vincent wrote to his brother Theo. Inspiration from Japan is on until June 24 Website
Sneak a peek at porn
Strictly for the adult culture seeker the Meermanno museum in The Hague is revealing all with a no holds barred display of Dutch pornography. Hundreds of books, magazines and podcasts 'explain the relationship between porn and society' as embodied by censorship, the law, politics and the pendulum swings between tolerance and prudery. Porn on paper- Taboo and Tolerance throughout the Ages is on until June 24. Website
DutchNews.nl has been free for 12 years, but now we are asking our readers to help. Your donation will enable us to keep providing you with fair and accurate news and features about all things Dutch. You can donate via Ideal, credit card or Paypal using this special account [link].