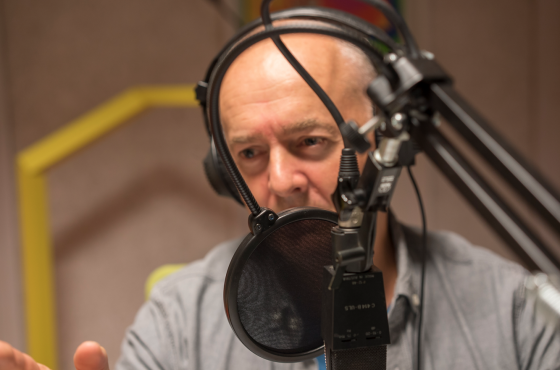 Veteran journalist Andy Clark has worked for BBC Radio, Radio Television Hong Kong, and Radio Netherlands Worldwide. The Middlesbrough native, who would like to interview Geert Wilders and loves the Dutch islands, currently lives in Leiden. He now hosts a popular podcast titled Here in Holland.
How did you end up in the Netherlands?
I was working in Hong Kong where I met my wife, Julie, who is also British. We got together and lived there for a while. Then we decided to come back to Europe. My wife grew up here, although she's British, in the town of Oegstgeest. She was an expat kid for many years and said, 'well, home for me is the Netherlands'. I said, 'OK, let's give it a whirl'. That was in 1998 and I've been here ever since.
How do you describe yourself – an expat, lovepat, immigrant, international etc?
International, I guess. I don't really like these labels very much, to be honest with you, but I would pick 'international' out of that list. I'm British but I have Dutch nationality as well now. I took the Dutch nationality exam just a few months ago because of the uncertainties surrounding Brexit. I was eligible to keep my British passport and all. Now I have a Dutch passport as well so it was a bit of a no brainer.
How long do you plan to stay?
I've got no plans to leave as long as everything's working well and I'm happy and our kids are happy. I have three daughters here. The oldest one, Bethany is 20 and she's at Utrecht University studying medicine. There's also Zoe, who's 17, and our youngest, Melissa, is 15. Bethany was born in Hong Kong and she was six months old when we came here. The younger two were born here in Leiden at LUMC so they've all been brought up as Dutch kids in a British family. Zoe and Melissa will be leaving school and starting university in the next couple of years so I can't see myself going anywhere anytime soon.
Do you speak Dutch and how did you learn?
I do speak Dutch. I learned while I was working for Radio Netherlands. I was lucky enough that my employer encouraged me and my international colleagues to learn Dutch. They facilitated that very well by having a Dutch teacher come in once a week. I continued by taking lessons a few years later.
When my kids started going to school here, that was really the time when things started to take off. The first six months or year of your kids being in school is kind of nice and there's a certain charm that comes with being the only English parent at the school playground. After a while though, you feel a bit embarrassed, especially after one year, two years, or even three years go by and you're still not speaking Dutch very well. That's when I felt the pressure to improve my Dutch and really get involved in Dutch society.
What's your favourite Dutch food?
Let's go with erwtensoep. It's nice in the winter when the cold, wet, and miserable Dutch weather has taken hold. It's great to warm yourself up with some erwtensoep and some nice Dutch bread. It's good and practically a central heating system for the body for all those Dutch winter days.
How Dutch have you become?
Quite Dutch, I think. I speak Dutch and work in Dutch quite a lot as well. So more and more, I would say. I work for myself now since the beginning of this year. I work in a communal office space with lots of Dutch people and Dutch companies. So I don't know what percentage that would make me. Maybe 70% Dutch?
I think you'll never become 100% Dutch as an international. There's something in your background and there's all those cultural references that you can't really catch up with. Sometimes when I'm talking with my Dutch friends, they'll mention something that used to be on TV or something they used to do as kids that I just don't have. I think, to some extent, you're always a bit of an outsider but the Dutch are pretty easy-going and they accept everybody as well.
Which three Dutch people (dead or alive) would you most like to meet?
Johan Cruyff: He's still recognised as *the* best footballer or at least one of the best footballers of all time. He also had his own unique brand of philosophy and unique views on life. His whole story is kind of counter-intuitive and he followed his own path the whole time. So it would be great to talk to him and ask what motivated him. He was the hero of the Ajax but then he went on to play for their arch-enemies, the Feyenoord. Then there's all his experiences with the Dutch national team. It's all so fascinating and such a part of Dutch culture.
Herman Brood: He was a cult figure, a Dutch cultural figure, and kind of a marginal figure in some ways. He was interesting in that he was an artist but also a musician and a drug addict. He threw himself off the top of the Hilton Hotel in Amsterdam in the end so it's a tragic, rock 'n' roll story of a misunderstood, pained artist. It would be fascinating to talk to him about what his drivers were and ask him for his thoughts on Dutch culture; maybe have him take a look at what's happening now and ask him for his take on it all.
Geert Wilders: Not because I'm a fan, but it would be interesting to sit down with him and ask, 'What motivates you'? As a journalist and as a podcaster now as well, I think it could be a fascinating conversation if he was prepared to talk openly about what he's really trying to do and why. I'd like to do a critical interview with Wilders and take him apart, which I don't think would be so difficult. He protects himself and, like Donald Trump, he uses Twitter the whole time to communicate. He only comes out from behind the curtain when it suits him. I think it would be great to sit him down and surround him with microphones and cameras and say, 'OK, you're not moving for an hour and a half. Here we go!'
What's your top tourist tip?
Go to the islands, if you can. In a single day, that might be tricky, though. Texel and Terschelling are absolutely fantastic. The beaches on Terschelling are amazing. They're so wide and you can take fantastic photos. It's a great place for walks and there's a fantastic feeling of nature, which can be a bit unexpected in the Netherlands.
If you're looking for cities, I'd say head to Leiden. It's a great alternative to Amsterdam, which is so full of tourists and kitsch these days. Leiden doesn't really have that and there's so many great things to do. Otherwise, head to another small city like Delft or Gouda. But my number one tip would be to get to the islands. If you've got to pick one, go to Terschelling. Oerol, their arts and cultural festival, which is in June, is a fantastic thing to visit. There's all these great, big art installations and performances all over the island. With all the nature serving as a backdrop, it's fantastic.
Tell us something surprising you've found out about the Netherlands
The formal rules of engagement in social situations. In some ways, the Dutch can be quite conservative. The shaking of hands, the kissing, and greeting everybody at birthday parties while they all sit in a circle. That's all quite different from what I'd seen and experienced outside the country.
A lot of people have this cliche that Dutch society is super liberal and anything goes but, in day-to-day social engagements, there are rules. If you don't know those rules or don't follow those rules then things can get awkward. A lot of expats and internationals struggle with this, especially in the beginning, but it's something you've got to get your head around. You need to think to yourself, 'OK, this is just how the Dutch operate'. Once you know that, then it's fine.
If you had just 24 hours left in the Netherlands, what would you do?
I think I would take a mega walk. I would head to the coast and go to either Noordwijk, Zandvoort, or maybe even further. Then I'd walk all the way south to Scheveningen. I've done that in the past from Noordwijk and it's about 20 kilometres. It would be a good way to contemplate all the years in the Netherlands before leaving. If I went down there with some good friends, at the end of it, we'd go for a meal and then back to Leiden to the Bonte Koe, which is a fantastic bar. So a big, massive walk down the beach and then finally finish up at the Bonte Koe with some great Belgian beer.
You can check out Andy's podcast, Here in Holland, by visiting its website or its Facebook page.
Andy was talking to Brandon Hartley
Thank you for donating to DutchNews.nl
The DutchNews.nl team would like to thank all the generous readers who have made a donation in recent weeks. Your financial support has helped us to expand our coverage of the coronavirus crisis into the evenings and weekends and make sure you are kept up to date with the latest developments.
DutchNews.nl has been free for 14 years, but without the financial backing of our readers, we would not be able to provide you with fair and accurate news and features about all things Dutch. Your contributions make this possible.
If you have not yet made a donation, but would like to,
you can do so via Ideal, credit card or Paypal.