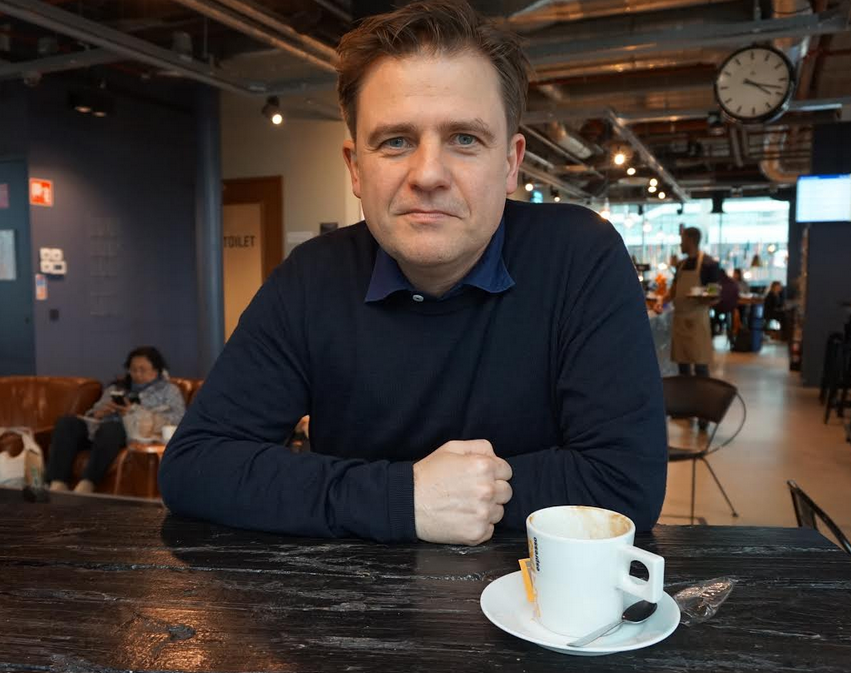 Originally from Hampshire in the UK, Paul Oram moved to the Netherlands after meeting his future wife while scuba diving in Egypt. He now lives in The Hague, where he works as a graphic designer and volunteers for Stichting Present, an organisation that helps vulnerable individuals. 
How did you end up in the Netherlands?
I was working in London in 1997 and I was getting fed up, so I decided to do something completely different and booked a week's diving holiday in Egypt, on my own. It was shortly after a terrorist attack at a tourist site, but I decided to go because I'd already paid and couldn't get my money back. My Dutch wife to be was there, doing exactly the same thing. We literally met underwater. I remember thinking at the time 'she's the one for me' and we went from there. A few years later I sold my place in London a few years later and moved over here to be with her.
How do you describe yourself – an expat, lovepat, immigrant, international?
I'd say I'm a lovepat and an international. I never refer to myself as an expat. I think it's more for people who have partners who are foreign as well.
How long do you plan to stay?
This is home. I belong here. I've just had my naturalisatieceremonie so I'm now officially half Dutch and half British. It was a Brexit-related decision: I consider myself a European. It was very easy to apply and I think there will be a flurry of other British people waiting to do the same. I applied and, about a month later, I went to the ceremony. It was quite amusing. We all had to go up on stage to get our certificates and we were spoken to in Dutch by the presenter. A lot of applicants clearly didn't understand a word he was saying and a few people gave him some strange replies.
Do you speak Dutch and how did you learn?
I think I can say I speak Dutch. It's still not brilliant after hundreds of lessons, though. My last course was at the Volksuniversiteit in The Hague and it was really good. It was a year-long conversation course, quite a high level. We just chatted with each other and the teacher was fantastic. It's often difficult to find enough people to attend these conversation classes. I wanted to take it again but they couldn't find enough students for the next one.
What's your favourite Dutch food?
I'll say rolmops: rolled pickled herring held together with a cocktail stick. I usually get a whole jar of them from the supermarket.
How Dutch have you become?
Not very [laughs]. I read somewhere that you go through phases after you move here. You love everything Dutch for a few years. You even find yourself wanting to buy a rowing boat to tour the canals. When the novelty wears off you can get a kind of seven-year itch and start to get frustrated by everything. Then you get over that and sort of relax into it.
I've found that I've been saying 'we' a lot more after the naturalisatieceremonie when I'm referring to the Dutch. I voted in the recent election. I figured we needed every anti-Wilders vote we could get.
Which three Dutch people (dead or alive) would you most like to meet?
Since I'm a designer, I should pick MC Escher. The museum here in The Hague is fantastic. You can't get anyone more unique than Escher when it comes to a graphic artist. I would have loved to watch him and learn while he works.
There's also Gerrit Rietveld and the Rietveld Schröderhuis in Utrecht, which one of the best examples of De Stijl. It's quite fascinating; it's sort of an early IKEA idea. The house doesn't contain traditional walls: they're all movable. He's most famous for the Rietveld Chair. I imagine it's not very comfortable as it's made of simple flat wooden panels.
Lastly, Vincent van Gogh. I wish I could just go back and tell him: 'It'll all work out. In the future, you will be remembered'.
What's your top tourist tip?
In The Hague, they should visit the Gemeente Museum and GEM next door. One more, Beelden aan Zee. It's a beautiful sculpture museum in Scheveningen and quite special. There's also the dunes in Meijendel, between Scheveningen and Wassenaar. They're really beautiful to cycle through at the end of the day as the sun is going down.
Tell us something surprising you've found out about the Netherlands
This one is more of a personal thing for me. When I was made redundant several years ago, I decided to start my own business. I was pleasantly surprised by the support you get if you want to set up on your own in this country.
Because I typically work at home on my own most days, I wanted to get out and become involved with something locally. I found out about Stichting Present. I've been volunteering for them for a few years and it's one of the most rewarding things I've ever done. We help disadvantaged people or those with disabilities. Many of them live alone and just need a little assistance in the home. Every project is different and can involve anything from painting and decorating, to gardening, cleaning and decluttering. It's a lot of fun and, surprisingly, a great way to meet other internationals.
If you had just 24 hours left in the Netherlands, what would you do?
Go out in Amsterdam and enjoy lots of Belgian beer [laughs]. That would be it. I can never remember the names of places so I can't think of any specific bars. I'd aim for someplace tiny that feels kind of authentic. There are plenty of them if you wander around the Zeedijk. My best friends live in Amsterdam. I'd meet up with them, drink and talk nonsense for the day.
Paul Oram was speaking to Brandon Hartley
DutchNews.nl has been free for 12 years, but now we are asking our readers to help. Your donation will enable us to keep providing you with fair and accurate news and features about all things Dutch.
Donate via Ideal, credit card or Paypal.