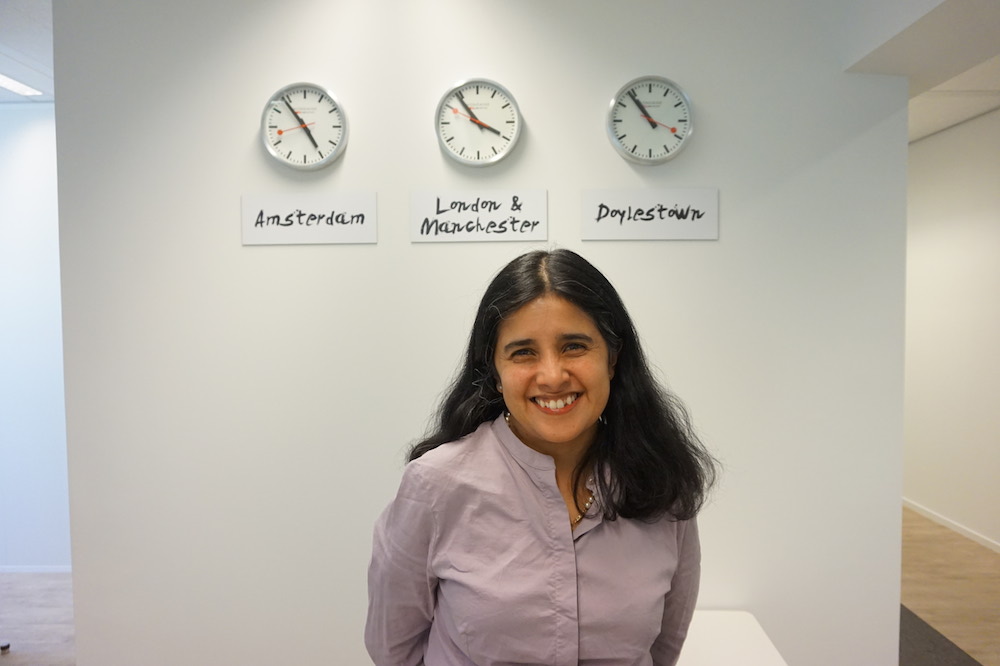 Colombian native Elvira Mendoza met the man who would become her husband during a diplomatic project in Amsterdam. Now her six-year-old son is helping her learn Dutch, but she still has issues with Dutch coffee.
How did you end up in the Netherlands?
I grew up in Bogota and I studied political science and international relations at both Rosario University and Externado University. During my studies, there was an economic crisis and unemployment reached over 30%. There were hardly any jobs but I ended up teaching English for 12 years. My father is also the co-founder of the Colombian YMCA and I had been involved in the organisation since I was young. I joined the executive committee of the world alliance in 1994 and, because of this in 2003, I received an email about a project over here to promote development awareness and the help given by Netherlands to other countries. I came here a few times a year for the next five years to help at events and be interviewed during press conferences. I met my husband during one of my final trips in 2007. We moved to Colombia a year later since all I had was a temporary visa to stay in Europe at the time.
How do you describe yourself – an expat, lovepat, immigrant, international?
I just love the term 'lovepat'. That's the reason why I came back to the Netherlands. I've always loved travelling but Bogota is my hometown and I always thought I would stay in Colombia. When I met my husband, of course that changed.
How long do you plan to stay?
My husband and I had a very fast love story. We married in Colombia one year after moving there and two months later he got a job at an NGO in South Africa. Our son was born in 2011 in Pretoria and we returned to the Netherlands later that year. He's already six and he's in school. I can't see us moving anytime soon since we're parents now.
Do you speak Dutch and how did you learn?
I do speak Dutch but it's such a difficult language. I understand when someone speaks to me and I read Dutch. Speaking takes a bit more time. I began learning by using Rosetta Stone and I took some classes at the Volksuniversiteit. My son has also helped me. He's really good. He's learning more and more Dutch at school so I've been speaking with him.
What's your favourite Dutch food?
I think the herring. I do it completely with the onions and when you hold it by the tail and eat it that way. The food in the Netherlands has been an issue for me. Colombia has amazing food because of the sun and everything there is so fresh and wonderful. The lack of fruit here is difficult. We have many different types in Colombia, so many that no one really knows how many there are. Over here you have three or four in the supermarket maximum. They're the same ones over and over again and the avocados are these little tiny things. Oh, and the coffee here? It sucks! [laughs] It sucks because they mix it. They go and mix different coffees from different places and put them in a bag. So I like to buy pure coffee from Colombia because what you get all comes from the same region.
How Dutch have you become?
Well, I'm a Dutch citizen now. I got my nationality in December. But how Dutch? I think quite a lot, actually. I hate to say it but I enjoy the diaries. They make everything so organised. I'm very direct sometimes and I say things bluntly. Then I'm like, 'Oh, my God! What did I say?' Then I remember that it's OK. I also understand the culture more. I used to be more critical of some things but now I know there's a reason for these things and why people act certain ways. I also live with a Dutchman so that helps me get into the culture and become a part of it.
Which three Dutch people (dead or alive) would you most like to meet?
I think Vincent van Gogh. That would be one. Anne Frank would be another. I know she wasn't Dutch but she was here in the Netherlands so I relate her more to the Netherlands. There was also a person who was one of the leaders of the resistance during World War 2. She was in Haarlem and her name was Corrie ten Boom. She wrote The Hiding Place and it's an amazing book about resistance, faith and love.
What's your top tourist tip?
They should go to Efteling. It's beautiful, it's fun and it can show a person how this country is a unique place. It's rumoured that maybe Walt Disney copied a lot of it because Efteling opened before Disneyland in the 1950s. The park has a lot of Dutch history and stories. It's a great place to take people who have never been here before.
Tell us something surprising you've found out about the Netherlands.
How creative the Dutch are. They're incredibly creative. They're always trying to innovate. Maybe it's because of all the water that's around? They're always trying to do things better, invent things and find new ways to protect themselves from the sea. You can even see it in Sinterklaas celebrations. Everything is handmade and they make an extra effort to make it themselves. I like that about them.
If you had just 24 hours left in the Netherlands, what would you do?
I think my family and I would go eat some herring. Maybe buy some bitterballen too or take a tour boat around the canals in Amsterdam. Dinner would be good too. I like a lot of the restaurants in Amsterdam so it would be difficult for me to choose one. I love De Plantage near the Artis Zoo. It's a beautiful place. Bord'Eau, one of the ones in the Hotel de l'Europe, is maybe my favourite and it's in a wonderful location.
Thank you for donating to DutchNews.nl
The DutchNews.nl team would like to thank all the generous readers who have made a donation in recent weeks. Your financial support has helped us to expand our coverage of the coronavirus crisis into the evenings and weekends and make sure you are kept up to date with the latest developments.
DutchNews.nl has been free for 14 years, but without the financial backing of our readers, we would not be able to provide you with fair and accurate news and features about all things Dutch. Your contributions make this possible.
If you have not yet made a donation, but would like to,
you can do so via Ideal, credit card or Paypal.