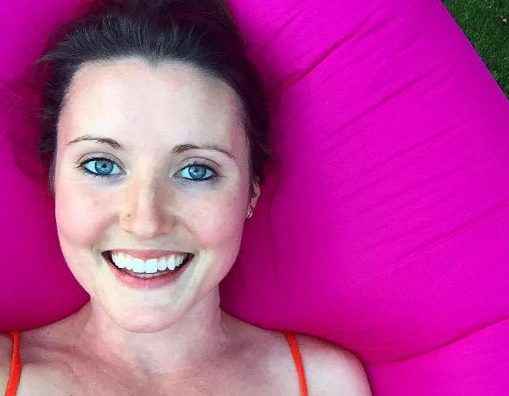 Originally from Canada, Savannah Grace has set her sights on becoming the youngest woman to visit every country on the planet. At the age of just 26 she has already ticked 111 off the list and written three books cataloguing her travels. After falling in love with a Dutchman while travelling in Africa, Savannah now lives in the Netherlands where she continues to travel and share her experiences abroad through her writing.
How did you end up in the Netherlands?
I was on a round-the-world trip with my family that was meant to last a year and turned into four. While in Africa we met my fiancé, who was using a truck to travel round the continent. We ended up spending eight months travelling round 36 African countries and fell in love. I went back to Canada but after four months I decided to come to the Netherlands where my partner lives because I felt if I didn't it would be something I would always regret. Seven and a half years later here we are, about to get married next week!
How do you describe yourself – an expat, lovepat, immigrant, international etc – and why?
I guess technically I am a lovepat. I hadn't heard of that term until recently. I assume it means that you move for love, which is what I did, so I think that's the best phrase.
How long do you plan to stay and why?
The idea that I am settled in Holland forever is a bit of a stretch because we are definitely world travellers, but I expect I'll stay here for at least the next five years. I am still so young that I can't imagine where I might be in the future.
Do you speak Dutch and how did you learn?
I do speak a bit but I always feel like I sound a six-year-old! It is difficult to get your practice in because everyone always speaks English back to you. That was especially true when I first moved over and people knew I didn't speak the language. However, a couple of years ago we lived with my partner's 84-year-old mum for two years and she didn't speak a word of English, so that is where I learned my Dutch. We had to communicate somehow so I had to learn Dutch. When people stop replying in English and have to ask whether you are Dutch yourself, I think that's a good sign.
What's your favourite Dutch food and why?
To be honest I'm not a big fan of Dutch food, I love Thai food, but I did go through a big phase of eating kroket with mustard, running around all the Febos for my kroket fix. It took me forever to realise kroket and bitterballen are basically the same thing. I also like french fries with mayo. I prefer it to ketchup because I don't really like sweet food. The cake is amazing here but it is too sweet for me – with the cream and richness it's too much.
How Dutch have you become and why?
Recently I got a job as a flower delivery girl, which I think is so Dutch – delivering flowers in Holland. Nobody switches to English when I speak to them so I think I am doing OK.
Which three Dutch people (dead or alive) would you most like to meet and why?
I had a hard time with this one, but I suppose my first would be Carice van Houten because people say I look like her, even though I don't see it myself. I am a huge Game of Thrones fan so anyone from the cast would be amazing. My next choice would have to be Anne Frank because that would be pretty awesome. A last person would be Albert Heijn because I go into his shops all the time.
What's your top tourist tip?
My recommendation for something a bit different from the obvious is to do the 12 province tour, that was so fun. You can tailor it to your own personality and find something in each province you are interested in. This was my bachelorette party, the road trip representing my love for travelling. It was so fun and in every province we experienced something new and interesting. It takes just two days because it is such a small country and you can do all the tourist things in each province.
Tell us something surprising you've found out about the Netherlands
A small thing, but I think it is so strange how the Dutch leave their curtains open. Their houses are so close to the street and you are walking by in the dark and you can look right in. Why don't they want privacy? It's so strange. I see what you're eating and the steam coming off your food, don't you care?!
The other thing is I always laugh because the Dutch always sing their goodbyes: Daag and doei!
If you had just 24 hours left in the Netherlands, what would you do?
I would probably spend it with my new Dutch family. I don't know what the reason would be that I only have that time left here, but I guess I would spend it with them.
Savannah can be found on twitter @Sihpromatum and is the founder of the world ranking weekly twitter chat #TRLT (The Road Less Travelled). Read more about her travels and explore her collection of memoirs "I Grew My Boobs in China"and "Backpacks and Bra Straps" at sihpromatum.com.
DutchNews.nl has been free for 12 years, but now we are asking our readers to help. Your donation will enable us to keep providing you with fair and accurate news and features about all things Dutch.
Donate via Ideal, credit card or Paypal.