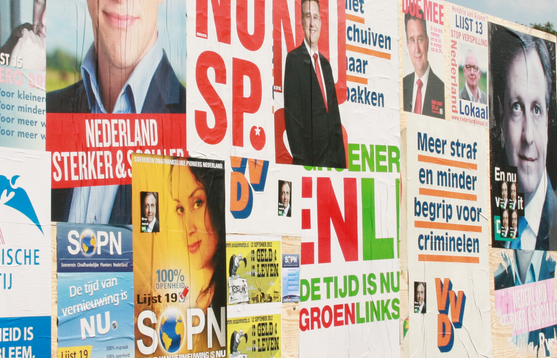 The Netherlands has an ever-expanding range of political parties in parliament, due to the recent trend of dissidents breaking away after an intra-party row to form their own splinter group. There are also various flavours of Christianity to choose from. Here's an alphabetical list of the 11 parties that won seats in parliament at the last election in September 2012, in alphabetical order.
50PLUS
Campaign leader: Henk Krol
Seats in parliament: 1 (originally two but the party split)
Campaign slogan: Omdat ouderen het niet meer pikken (Because older people won't put up with it any more)
Founded in 2009 as a pensioners' rights party – despite being named for the over-50s – 50PLUS is riding high in the polls and could win up to 10 seats according to current polls. The party wants the retirement age brought back to 65. Website
CDA
Campaign leader: Sybrand Buma
Seats in parliament: 13
Campaign slogan: Voor een land dat we door willen geven (For a country we want to hand on)
The Christen Democratisch Appèl (Christian Democratic Appeal) was formed in 1980 through the merger of three other 'confessional' parties that spanned the historic Catholic-Protestant divide. The CDA and its predecessors participated in every government between 1918 and 1994, and again from 2002 until 2012. The Bible is seen as a source of inspiration rather than a diktat. Politically, the CDA is viewed as middle of the road and socially conservative. Website
ChristenUnie
Campaign leader: Gert-Jan Segers
Seats in parliament: 5
Campaign slogan: Hoopvol realistisch (Hopefully realistic)
The ChristenUnie is the mildest of the three Dutch Christian parties and sometimes described as left-wing because of its progressive socio-economic policies. However, Biblical principles are the basis of party policy and most of its votes come from the 'Bible Belt' region. The ChristenUnie is opposed to abortion and euthanasia and ties itself in knots over homosexuality, which it prefers to ignore. Website
D66
Campaign leader: Alexander Pechtold
Seats in parliament: 12
Campaign slogan: Samen sterker, kansen voor iedereen (Stronger together, opportunities for everyone)
Democraten 66 was formed in 1966 with the aim of reforming the Dutch democratic system. Describing itself as a progressive, socially liberal party, D66's political fortunes have been a story of ups and downs: the party has been a junior partner in several coalitions, notably the 'purple' alliance that broke the CDA's hegemony in 1994, while the low point was reached in 2006 when it was reduced to a rump of 3 MPs. Current leader Alexander Pechtold has since revitalised the party's fortunes, winning plaudits for his opposition to the rhetoric of anti-Islam MP Geert Wilders. Website
GroenLinks
Campaign leader: Jesse Klaver
Seats in parliament: 4
Campaign slogan: Tijd voor verandering (Time for change)
GroenLinks (Green-Left) was officially formed in 1990 from a grouping of four smaller left-wing and green parties – the CPN, EVP, PPR and the PSP. The party's core values are environmental sustainability and social justice, but it has a bit of a leftist intellectual image and has never been in government. Bright spark Klaver is just 30 and has been an MP since 2010. Website
PvdA
Campaign leader: Lodewijk Asscher (social affairs minister)
Seats in parliament: 35 (was 38)
Campaign slogan: Samen vooruit (Forward together)

The Partij van de Arbeid (Labour Party) was formed in 1946 and immediately formed part of the first post-war coalition government. The party was taken into the current coalition by nuclear scientist Diederik Samsom, but since then its support has collapsed and it could lose around 25 of its 35 seats in March. Lodewijk Asscher, social affairs minister in the current cabinet, ousted Samsom in a leadership contest at the end of 2016. Website
PvdD
Campaign leader: Marianne Thieme
Seats in parliament: 2
Campaign slogan: Hou vast aan je idealen (Stick to your ideals)

The Partij voor de Dieren (Party for Animals) was founded in 2002 and claims to be the first mainstream political party in the world to put animal rights first. Its leader Marianne Thieme is a Seventh Day Adventist and once caused upset by telling the Telegraaf newspaper that Adam and Eve were vegetarians. Current polls suggest it could double its number of MPs at the election. Website
PVV
Campaign leader: Geert Wilders
Seats in parliament: 12 (was 15)
Campaign slogan: Nederland weer van ons (The Netherlands ours again)

The Partij voor de Vrijheid (Freedom Party) was formed in 2006 by Geert Wilders after he broke away from the free-market, centre-right Liberals (VVD). Wilders – famed for his odd, peroxide blond hair – has made a career of speaking out against the 'Islamisation' of the Netherlands and lives under armed guard after receiving death threats. In his draft manifesto, written on a single sheet of A4, he advocates closing all mosques, banning the Koran in public buildings and shutting the borders to refugees. The PVV has led the opinion polls for most of the last 18 months and received a boost when Wilders was convicted last year of inciting discrimination against Moroccans. Wilders, who has been an MP since 1998, has denounced the Dutch parliament as 'fake'. Officially the party has only one member, Mr Wilders himself.  Website
SGP
Campaign leader: Kees van de Staaij
Seats in parliament: 3
Campaign slogan: Stem voor het leven (Vote for life)

The testimonial Staatkundig Gereformeerde Partij is the most orthodox of the fringe Christian parties and usually wins 2 or 3 seats in the 150-member parliament. The party believes the country should be governed "entirely on the basis of the ordinances of God as revealed in the Holy Scriptures" and does not think women should play an active role in politics. Seriously. Website
SP
Campaign leader: Emile Roemer
Seats in parliament: 15
Campaign slogan: Pak de macht (Seize power)

The populist-left Socialistische Partij, with its logo of a tomato, broke into national politics in 1994 with the slogan 'stem tegen, stem SP' (Vote against, vote SP). Since then it has hovered around on the sidelines but support has surged under current leader Emile Roemer. The party is anti-EU, anti-globalisation, and pro the working man – similar to the PVV, but without the racism. Roemer led the opinion polls leading into the last election, but was engulfed by the surge in support for the VVD and PvdA and ended up in fourth place. More recently he has described Wilders as a 'radicalised VVD-er'. Website
VVD
Campaign leader: Mark Rutte (prime minister)
Seats in parliament: 40 (was 41)
Campaign slogan: Zeker Nederland (Netherlands assured)
The Volkspartij voor Vrijheid en Democratie (People's Party for Freedom and Democracy) is a tricky party to place outside the Dutch political sphere. Supportive of the free market as far as the economy is concerned, the party is traditionally liberal on social issues. However, Rutte is currently attempting win back voters who have defected to the PVV with a tough stance on immigration and recently wrote an open letter calling on troublemakers in society to 'act normal or leave'. Website
Thank you for donating to DutchNews.nl
The DutchNews.nl team would like to thank all the generous readers who have made a donation in recent weeks. Your financial support has helped us to expand our coverage of the coronavirus crisis into the evenings and weekends and make sure you are kept up to date with the latest developments.
DutchNews.nl has been free for 14 years, but without the financial backing of our readers, we would not be able to provide you with fair and accurate news and features about all things Dutch. Your contributions make this possible.
If you have not yet made a donation, but would like to,
you can do so via Ideal, credit card or Paypal.