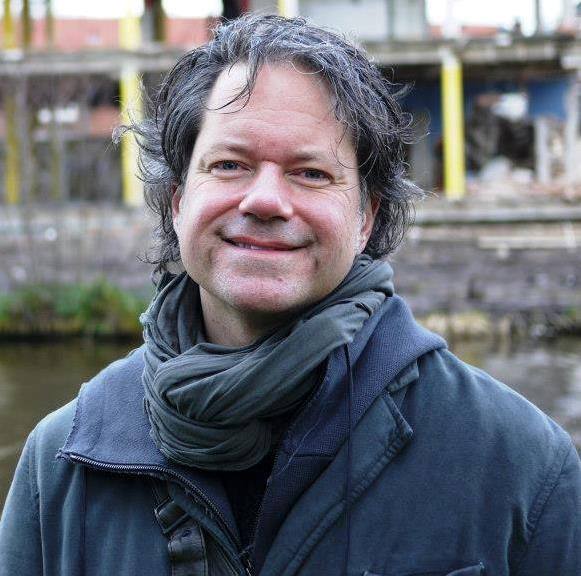 Rhode Island native Scott Mongeau works in Amsterdam as a data scientist. His path to the Netherlands began on the other side of the world in the mid 1990s. He currently lives in Leiden with his wife and dog.
How did you end up in the Netherlands?
Through my wife. I met her while I was studying in Melbourne, Australia. That was in 1995. We were living in a house for international students and things progressed. We had to decide what to do to avoid visa problems because we couldn't spend more than three months in each other's country. We were young and crazy so we said, 'Let's get married! If it doesn't work out that'll be OK.' But it did work out and we've been married now for almost 20 years.
How do you describe yourself – an expat, lovepat, immigrant, international?
I suppose I started out as a lovepat but later converted to an international as a result of our relationship. We ended up getting citizenship in each other's countries so she has US citizenship and I have Dutch citizenship. We're both internationals now. We got married in Austin, Texas in 1996 and we moved to Amsterdam In 1998.
How long do you plan to stay?
I get asked that question a lot by well-meaning Dutch people. 'Where are you from and when will you be leaving?' It's like they assume that I couldn't possibly be happy here and will want to move back home at some point. I think a lot of Dutch people have a close connection to their home town. For me, I've lived all over the world and home is where the heart is, so to speak. Right now, we don't have any plans to leave.
Do you speak Dutch and how did you learn?
Yes. I started learning by buying beers for people at the original Cafe Gollem in Amsterdam. It was the only way I could get people to speak to me in Dutch. I eventually got some basic conversational skills going and started doing my shopping and errands in Dutch. I remember feeling very embarrassed that I couldn't speak the local language. I felt like I was being impolite but, as I got older, I figured out that not too many people care, especially in Amsterdam since a lot of them speak English. I also worked in a Dutch office for two years and completed an intensive course at the famous nuns' school in Vught.
What's your favourite Dutch food?
Definitely the cheeses and the Indonesian food. Well, it's sort of a Dutch interpretation of Indonesian food but it's quite good. Many times I'm a bit disappointed by the price versus quality of what you find in restaurants in the Randstad, especially compared to places in Italy or Spain.
How Dutch have you become?
Pretty damn Dutch, do you have a problem with that? [laughs] More and more, when I go back to the United States or other countries I find myself practically having a little Dutch person on my shoulder critiquing everything. Saying how things could be better organised or how to improve stuff that isn't working well. When we go on vacation I'll often hear tourists from the Netherlands complaining among themselves in Dutch about dirty subway stations or if something is late.
Which three Dutch people (dead or alive) would you most like to meet?
Paul Verhoeven, the Dutch director who did Robocop and Basic Instinct but a number of good Dutch films too, like The Fourth Man and Black Book. Even though he's Dutch, he's made some of the most American films of all time. [laughs] He seems like a deep thinker who has been able to direct some really entertaining movies.
Jan Steen, the painter who lived and worked in Leiden. He did these crazy pictures of family scenes where everything has gone awry. The father is drunk on the floor and his children are stealing his money while a dog is ripping apart cushions. There's even a Dutch expression, huishouden van Jan Steen, which describes a home that has gone out of control. He also did portraits of hard drinkers and local characters around Leiden. He ran a pub too and probably would be fun to have a beer with.
The last one would be a toss up. I like the director Alex van Warmerdam, who did The Northerners. He does really fantastical, surrealist films. Most Dutch people are very sensible and I'd want to ask him why he's so different, weird and creative. I don't see that too often in Holland. There's also the historian Johan Huizinga who wrote about medievalism. Living here, I'm often struck by the echoes of medieval life and how patterns of daily existence go back to those times. He was a brilliant guy.
What's your top tourist tip?
I'd recommend that people get off the tourist track and go to a brewery in Bodegraven. It's called the Brouwerij de Molen and it's won many international awards. They have an annual beer festival and a restaurant. It's an adventure to get there. You'll meet some very interesting people while enjoying some very tasty local beer and food.
Tell us something surprising you've found out about the Netherlands.
After people pass away, there is a tradition still observed by many where the body of the loved one is hosted at the family's home for several days until it's time to say the final goodbye and to conduct the burial. It's a very different take on death than you'll see in America, where it's to be avoided and not spoken of.
If you had just 24 hours left in the Netherlands, what would you do?
Amsterdam has changed quite a bit over the past 20 years since we lived there. It's become very touristy but I still have a soft spot in my heart for the city and its beer cafes. I'd probably go back to my old haunts like In De Wildeman, hang out, and have some beer and cheese.
DutchNews.nl has been free for 12 years, but now we are asking our readers to help. Your donation will enable us to keep providing you with fair and accurate news and features about all things Dutch.
Donate via Ideal, credit card or Paypal.