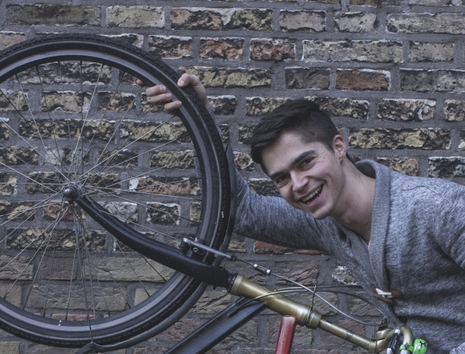 German national Florian Volz is a 22-year-old International Studies student at Leiden University's campus in The Hague. He would like to meet DJ Martin Garrix, has an eye for a bargain night out and has become so keen on cycling, he plans to bike from The Hague to Greece this summer to make a documentary about refugees.
How did you end up in the Netherlands?
The Dutch university system caught my attention when I was still at school. At the time, Leiden was (and still is, I believe) ranked more highly than all the universities back home. In addition, Germans pay the same tuition fees as Dutch students, so the high quality education that I receive here comes at a very good price! Besides, I am a world traveller at heart. I would not have been able to study for three years in Germany as my travel bug is just too strong.
How do you describe yourself – an expat, lovepat, immigrant, international, etc ?
I'm not an expat or an immigrant because German and Dutch culture is quite close and I do not plan on staying here forever. I'm just an international student.
How long do you plan to stay?
I need exactly one more year to finish my Bachelor's degree. After that I plan on taking another gap year and then I might come back for a Master's. I would really like to live in another Dutch city to experience if Dutch accents are really as different as many of my Dutch friends say.
Do you speak Dutch and how did you learn?
Sadly, I do not. I was planning on learning it when I moved here just by talking to people. However, my course is completely in English and many of my fellow students have an international background as well So my vocabulary only extends as far as 'Pinnen, ja graag' and 'Bonnetje alstublieft'.
What's your favourite Dutch food?
Kapsalon all the way. [French fries covered with doner kebab or shwarma meat and melted cheese, then topped with some lettuce and tomato: ed] It is by far the best post-exam food on this planet. And its name means 'hairdresser'. You can't get better than that.
How Dutch have you become?
If I think about it, not at all really. As I live in an international bubble, I rather grew more as a traveller than a local. Nevertheless, I have come to love biking everywhere I go and this is one habit that I'll definitely keep up. This summer, a friend and I will actually cycle over 2,500 km from The Hague to Lesvos in Greece as part of our project Refugee Roads to film a documentary about the Balkan route.
Which three Dutch people (dead or alive) would you most like to meet?
Martin Garrix is younger than me and is already one of the top five DJs in the world. His music is brilliant so I would just like to hang out with him for a day to see what life on tour is like. It is also my dream to experience a festival such as Tomorrowland from the DJ's perspective. Martin, if you happen to read this, will you take me in 2017?
I'd like to interview prime minister Mark Rutte about the Dutch approach to the refugee crisis for our documentary. Since the Netherlands currently holds the EU presidency, I would also like to ask him how the EU plans to deal with the crisis of political will and the rise of right-wing populism throughout the member states.
Pieter de la Court's book 'Interest van Holland' was published in 1662 and had a profound impact on the liberalisation of the Dutch economy. I would like to talk to him about whether his ideas on the republican state are still applicable in our world today.
What's your top tourist tip?
The Penthouse bar here in The Hague is a must-see. For just €6 you get to take a glass elevator up to the highest restaurant in the Netherlands. Once at the top you can enjoy the view of the whole city while drinking their yummy cranberry juice – one drink is included in the entry fee. Especially recommended at night.
Tell us something surprising you've found out about the Netherlands.
Dutch people are stereotyped as being strict, punctual, ambitious and hard-working. This only applies for 364 days a year. I have experienced King's Day twice now and I can say that no other nation is able to celebrate its national pride quite like the Netherlands can – all over the country in just one day.
If you had just 24 hours left in the Netherlands, what would you do?
Load my roommates Cornelius, Michel and Lukas into a car and do a road trip across the country with them. I really would like to compare if kapsalon in Groningen, Maastricht and Amersfoort are as good as they are here.
Florian Volz and fellow student Timo Schmidt are spending the summer cycling the Balkan route taken by thousands of refugees with the aim of producing a documentary. Follow their progress via the Refugee Roads website.
DutchNews.nl has been free for 12 years, but now we are asking our readers to help. Your donation will enable us to keep providing you with fair and accurate news and features about all things Dutch.
Donate via Ideal, credit card or Paypal.