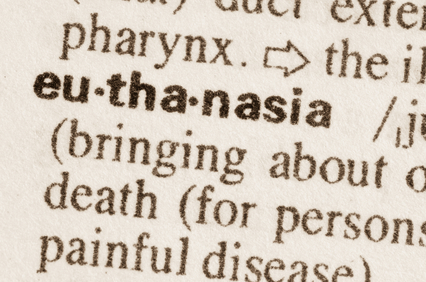 Chronic depression, tired of life, dementia… an Amsterdam conference discusses controversial reasons for euthanasia as Dutch cases rise 75% in five years, writes Senay Boztas
The woman had a three year old daughter, and was just 34 years old. But after years of suffering with a personality disorder, PTSD and chronic depression, she didn't want to live any more.
Because she was in the Netherlands, this woman did not commit suicide. Instead, she said goodbye to her loved ones and prepared a memorial for her daughter to open when she was older. Her euthanasia was administered by psychiatrist Paulan Stärcke at the End-of-Life clinic in The Hague.
'I interviewed her parents the year after her death,' says Stärcke. 'They expressed gratitude that her life could end this way and not in a violent one. The contact between the father and [child's] grandparents was repaired in the process of the euthanasia. They were sure, and I was as well, that her mother would die by suicide if I didn't help her die.'
Beautiful
Stärcke, speaking at the Euthanasia 2016 conference in Amsterdam on Thursday, intends to show delegates a video of this, and an interview with the son of an 84-year-old woman, who chose euthanasia due to chronic depression.
'He felt the way his mother died, funny to say it, was rather beautiful,' Stärcke says. 'She was in the midst of her family. Her husband was in the throes of dementia and was very angry at first, but held her hand.'
Euthanasia is a controversial topic, not just in the Netherlands but also abroad. Canada is currently divided by a proposed assisted dying law. Reports of Dutch cases spark outrage in the UK, where it is a crime to help someone die, but one Briton a month travels to the Swiss Dignitas clinic for euthanasia.
Cancer
Although the vast majority of cases in the Netherlands are for cancer victims, those granted euthanasia for mental health problems has risen from just two in 2010 to 56 people last year – alongside a 75% rise in total euthanasia requests in this period, to 5,516 last year. Euthanasia represents 4% of the 140,000 annual deaths.
Earlier this week, Britain's Daily Mail exploded at the publication of details on one Dutch sex abuse victim granted euthanasia in her 20s, suffering conditions including chronic depression, self-harming, and 'therapy resistant' anorexia.
It quoted Labour MP Robert Flello calling the case 'horrendous', and adding: 'it almost sends the message that if you are the victim of abuse, and as a result you get a mental illness, you are punished by being killed.'
There are Dutch academics who are worried about growing numbers of euthanasia for mental health issues (1% of cases) and with dementia (2%): earlier this year, government guidelines said a 'living will' can represent the wishes of someone with advanced dementia even if they can no longer make these clear.
Unbearable suffering
But Dr Erwin Kompanje, assistant professor of clinical ethics at Erasmus MC University Medical Centre, believes 'unbearable suffering can no longer be measured in a patient with dementia' and in a psychiatric patient it is 'difficult to judge [if] everything has been tried in a therapeutic sense'.
Dutch euthanasia law, introduced in 2002, only allows doctors to administer euthanasia, and only under strict conditions.
These include a doctor being satisfied someone is voluntarily requesting a well-considered euthanasia, feels 'unbearable suffering' with no hope of relief, and consults at least one other physician (who does not need to agree). Children from 12-18 are covered by the law, and every case is assessed post-euthanasia by the RTE regional review commission. This body can refer those that didn't meet 'due care' criteria to the public prosecutor and health inspectors.
Suicide
Recognition for psychiatric reasons for euthanasia has grown, campaigners say, after the award-winning 2014 documentary (in Dutch) by Elena Lindemans, 'Mothers don't jump from buildings'. The wrenching film, scheduled at the conference, tells the story of her mother who jumped from a block of flats in 2002 because she was unable to persuade doctors to help her die.
'There is more understanding in the Netherlands through this film,' says Jeannette Croonen, co-founder of the campaigning Euthanasia in Psychiatry foundation. Her daughter, Monique, suffocated by tying a bag over her head in 2008, after being refused euthanasia for psychiatric reasons.
'You feel powerless,' she says. 'You see your child in enormous suffering and you can't help them. I know someone whose son had euthanasia three years ago, and her experience is very different. It grieves me every time I think of the manner of [Monique's] death. So I keep doing this to stop other people having the same experience.'
Stärcke believes psychiatrists are 'too hesitant' about agreeing to requests from mental health patients and euthanasia is widely misunderstood abroad.
It is not execution, she says: 'It is an execution of the wish of a patient. You can prepare for euthanasia, you can say goodbye and it can be a loving memory, not only hurt. Suicide is only hurt.'
DutchNews.nl has been free for 12 years, but now we are asking our readers to help. Your donation will enable us to keep providing you with fair and accurate news and features about all things Dutch.
Donate via Ideal, credit card or Paypal.