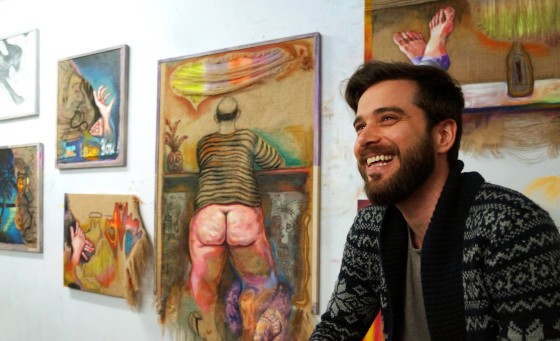 Adonis Stoantzikis, 32, is a Greek artist and writer who has been living in the Netherlands since 2013. Now based in Amsterdam, Adonis enjoys the Dutch pace of life to the fullest, would like to have met Johnny Jordaan and has started eating sandwiches for lunch.
How did you end up in the Netherlands?
I initially came here to study in Groningen, but continued with the residency in Amsterdam. I wanted a university where they spoke English, so it was a choice of between here and England. The Netherlands was an easy winner.
How do you describe yourself – an expat, lovepat, immigrant, international, etc ?
An international, because of the international student community in university and my collaboration with locals afterwards. I don't think there are any Greeks in my environment here.
How long do you plan to stay and why?
It depends. Because of what I do I can't be located in one place for too long. I have to move on and travel a lot. It's important for art to be a nomad.
Do you speak Dutch and how did you learn?
I only understand the basics. In the supermarket I know the beef from the chicken, just everyday stuff. Because it's a very open society and an international environment it doesn't seem obligatory to speak the language. I think it's a lot to do with the arts too. Most people I know in the arts are internationals.
What's your favourite Dutch food?
Ribs! The way they prepare them and marinade them here is really nice.
How Dutch have you become?
I think it gets you after a while. In Greece everything is much more stressful, and the Dutch have a much calmer mentality when it comes to working. If that's something that characterises the Dutch, then I became a lot like this during my time here. I started eating a lot of sandwiches for lunch too, so there's that!
Which three Dutch people (dead or alive) would you most like to meet?
Of course Folkert de Jong, a Dutch artist. I love his playfulness and large-scale sculptures and installations. He's very dynamic, and his work really shakes you.
The second is the singer Johnny Jordaan. I was living on his street in Amsterdam, where his statue is now. I saw the statue every day, was curious, and discovered his music.
The third one would be Spinoza, the philosopher. I'm familiar with his work and I'd like to meet him for a conversation. He was stabbed for being a heretic once, and kept wearing the coat with the hole in it afterwards.
What's your top tourist tip?
There's lots of great art here, but tourists shouldn't restrict themselves to Amsterdam. There's so many young artists spread around the Netherlands, every city has something worth discovering, and contact with the art world is always nice for tourists.
Tell us something surprising you've found out about the Netherlands.
The rhythm of everyday living. Compared to other countries I've lived in, everything is less stressful and there's less pressure. I expected Amsterdam to be like any other European city, all running and stress, but actually you don't feel like you're in a big city here. That was a nice surprise.
If you had just 24 hours left in the Netherlands, what would you do?
I would ride on my bike from coffeeshop to coffeeshop, seeing all the sights on the way. I'd probably fall asleep after ten hours, miss my flight, and wake up with another 24 hours to spend here!
Adonis Stoantzikis is a resident at Gallerie Bart in Amsterdam city centre.
DutchNews.nl has been free for 12 years, but now we are asking our readers to help. Your donation will enable us to keep providing you with fair and accurate news and features about all things Dutch.
Donate via Ideal, credit card or Paypal.