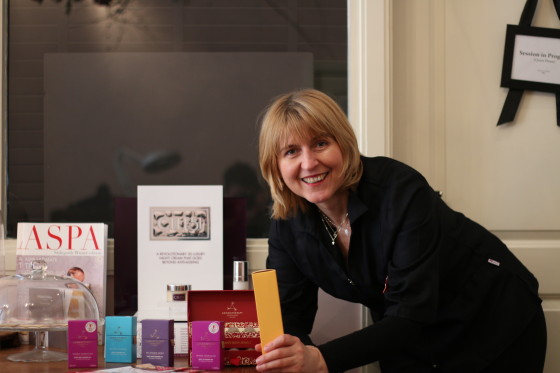 Born in the former Yugoslavia but travelling on a British passport, Azra Secerbegovic came to the Netherlands eight years ago. A big fan of living in The Hague, Azra has adopted the Dutch way of being on time for appointments and has no hesitation about chatting with the former queen.
How did you end up in the Netherlands?
I was working for an Israeli company based in Rotterdam, then started working for a Dutch company here. I did sales and marketing for natural products and organic food. I decided I wanted to make a career switch, but I wanted to stay in the Netherlands.
How do you describe yourself – an expat, lovepat, immigrant, international, etc?
I would say I'm a really international person. I was born in former Yugoslavia, and have lived in the UK, Israel and now in the Netherlands. I call myself a citizen of the world, and really feel comfortable surrounded by other people like that.
How long do you plan to stay and why?
I really enjoy living and working in The Hague and have no plans to leave. In The Hague you have the feeling of the big city but you're actually really close to nature, and that's how I spend my free time. For me this is home.
Do you speak Dutch and how did you learn?
Yes I do speak it and I like to. Speaking Dutch helps me to understand the place I live in. I learn something new here every day!
What's your favourite Dutch food and why?
Erwtensoep! I love it. I love most soups but this pea soup is my favourite. I also like the Dutch appelgebak.
How Dutch have you become and why?
I've lived in so many different countries and always try to accept the culture of the country I'm in. I'm doing the same here but what exactly should I do to become Dutch? One thing I've definitely picked up though is being on time for appointments.
Which three Dutch people (dead or alive) would you most like to meet and why?
Well I've already met the former queen Beatrix by chance. I was in an antique shop talking to my friend and she walked in looking for a mirror. My friend's shop didn't have one so I suggested somewhere else. My friend looked shocked but to me it was so normal, there was no pomp about her at all.
It would be nice to meet the current queen Máxima, because she's also an international person and I like what she's doing for female immigrants in the Netherlands.
I would like to meet Geert Wilders too, just to have a face to face chat and find out what he's really like.
What's your top tourist tip?
Lots of people think Amsterdam equals the Netherlands, but that's completely not true. I would say: forget Amsterdam and come straight to The Hague! You will be amazed. The Dutch Dance Theatre is amazing, and so is the nature here and the sea. There's lots of events happening here and lots to see.
Tell us something surprising you've found out about the Netherlands.
I didn't know that the Dutch were so family-orientated. I think it's really great that family is so important to them. I thought they were much more disconnected from each other before I came here.
If you had just 24 hours left in the Netherlands, what would you do?
I'd take a visit to the Mauritshuis museum to see Vermeer's work, then I'd go to Ouderkerk aan de Amstel. It's a lovely little Dutch village and there's some great restaurants there. I'd also go to Giethoorn – the Venice of the north. You can rent a little boat, get a drink, and on a nice day it's fabulous. Then I'd get myself down to Schiphol and off I'd go!
Azra owns lifestyle concept store ASPA in The Hague, which provides hair and beauty treatments as well as nutrition advice, pilates and yoga classes.
DutchNews.nl has been free for 12 years, but now we are asking our readers to help. Your donation will enable us to keep providing you with fair and accurate news and features about all things Dutch.
Donate via Ideal, credit card or Paypal.