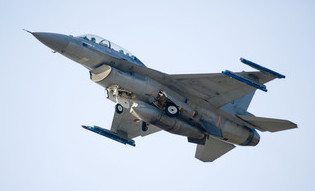 Emile Roemer, the Socialist Party's leader and its foreign affairs spokesman MP Harry van Bommel are highly criticial of the Labour party's U-turn on bombing Syria.
The PvdA no longer opposes air strikes by Dutch F-16s on IS targets in Syria. It's a curious decision since the arguments against such an intervention raised earlier by the party remain the same. The civil war in Syria has killed over 260,000 people and ten million people have been forced to leave the country.
Although understandable from a humanitarian point of view, lessons need to be learned from earlier interventions. That is why the SP was happy the PvdA refused to support the strikes. Party leader Diederik Samsom rightly said that what is needed first and foremost is a political plan for the future of Syria. No such plan is forthcoming and the warring parties are still quarrelling about who should take part in the negotiations.
Benefit to Assad
Labour also argued that air strikes could benefit Assad, who bears the bulk of the responsibility for this terrible war. Now that Russia has started to bomb Syria, Assad's troops are encroaching on rebel territory. If the Netherlands bombards IS strongholds it will help Assad to gain even more ground. That is not the intention of the Labour party's decision but it would be the result.
The social democrats also said strikes would be 'unwise' as long as Turkey continues to attack Syrian Kurds and the Russians the moderate armed opposition. That is exactly what is happening at the moment. Dutch support for air strikes will not change this but will result in more people fleeing the country who can't all be accommodated in the neighbouring countries. The existing camps are already bursting at the seams.
There are more reasons not to increase the number of air strikes by deploying Dutch F-16s. There will be more civilian casualties and it will become even easier for IS to attract new recruits.
Terrorist attacks
A greater Dutch military involvement in Syria makes the Netherlands a target for IS terrorist attacks, something that can't be dismissed. We agree with the military experts who say that terrorism can't be fought from the air, especially since the terrorists are part of the original population.
Surely 15 years of 'war on terrorism' have taught us that terrorists benefit from the chaos that always ensues after western involvements. We have only to think of the illegal interventions in Afghanistan and Iraq. The latter spawned IS. A focus on military action in the fight against terrorism creates its own enemies.
Instead of air strikes, which can have the opposite effect, efforts should be focused on bringing about a diplomatic solution. An unconditional cease fire would be a first step. Anything that contributes to the conflict, be it guns, money or militants must be stopped. In order to achieve this, a weapons embargo needs to be in place as well as border controls between Syria and Turkey.
In the short term, humanitarian aid can save lives and that is what we must focus on. The Syrians don't want bombs, they want bread, medicine and blankets. Without immediate humanitarian aid and a diplomatic offensive this country has no future. The warring parties will remain at war. And there is not a thing Dutch fighter planes can do about it.
This article appeared earlier in NRC Next
DutchNews.nl has been free for 12 years, but now we are asking our readers to help. Your donation will enable us to keep providing you with fair and accurate news and features about all things Dutch.
Donate via Ideal, credit card or Paypal.