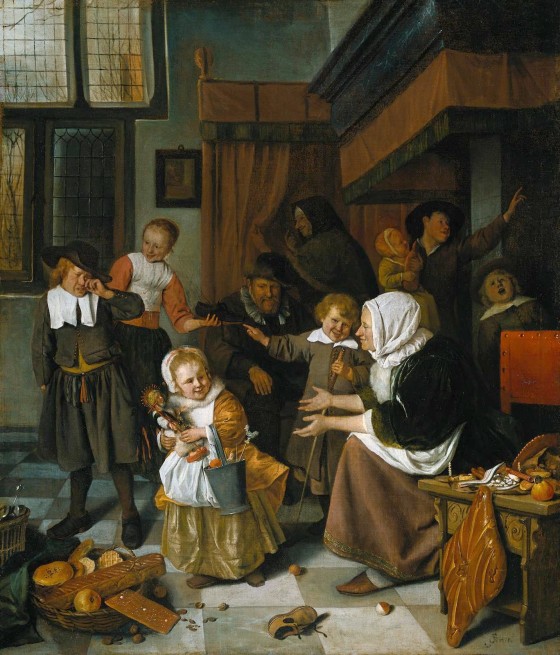 Sinterklaas and his associates are back in town and in many Dutch homes children are singing Sinterklaas songs, eating pepernoten and hoping for a good haul of pressies on December 5. Many of the Sinterklaas rituals are very old. Here's a painting by 17th century painter Jan Steen (1626-1679) which he produced around 1665 and which illustrates this perfectly (with not a Zwarte Piet in sight).
1 Who brought the presents?
We are not quite sure when most children stop believing that Sinterklaas actually rides around on his horse over the rooftops on a dark and stormy December night dispensing presents through the chimney. But once the older children are 'in the know' the tradition is that they perpetuate the myth for their younger siblings. To the right of the painting you can see a boy carrying his baby sister while his awed little brother is standing by. He is pointing to where the presents came from.
2 A shoe by the fireplace
In the days leading up to Sinterklaas, children put their shoes in front of the fireplace at night (or lacking that, a radiator) in the hope of finding something nice to eat in the morning, such as a sugar mouse or a handful of pepernoten. In Steen's time it was no different. In the painting a laughing girl is holding up a shoe but clearly something has gone terribly wrong for the owner, who is crying his eyes out.
3 Have you been a good girl or boy?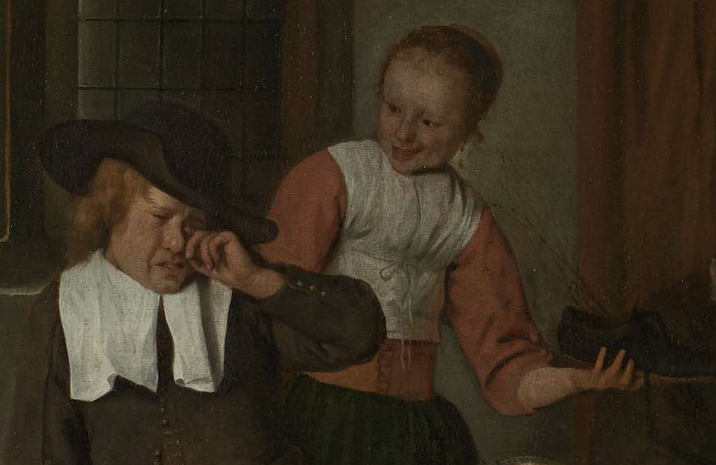 Sinterklaas is very moralistic in origin. 'Wie zoet is krijgt lekkers, wie stout is de roe' goes the song. If you are good you get sweets, if not a good thrashing', a roe being a bunch of birch twigs tied together for that purpose. The crying boy (actually Steen's son Thadeus) has been naughty and has found a roe in his shoe and he doesn't like it. His grandmother, on the right, beckons him. Perhaps Sinterklaas has left something for him after all, hidden behind the curtain.
The little girl (Steen's daughter Catharina) has obviously been very good: she is carrying her doll and a bucketful of gifts very contentedly and she's not about to share no matter how playfully her mother asks her. And is that a bulging apron full of sweets?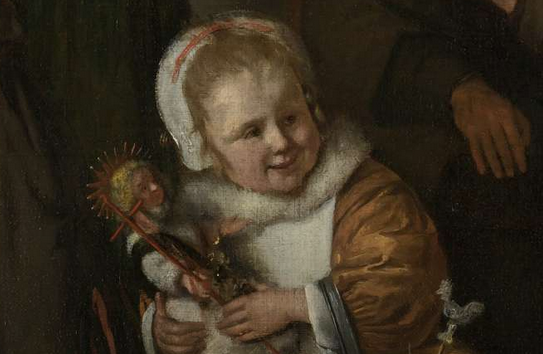 4 Is that a golf club?
The little boy (Steen's son Cornelis) in the centre of the painting is looking straight at us as he points to the shoe. He is probably there to highlight the importance of being good and the consequences of being bad. As so often with Steen, his depiction is so jolly and good-humoured you feel you don't have to take too much notice. The stick the boy is holding is a 'kolfstok', or golf club: the ball is at the mother's feet.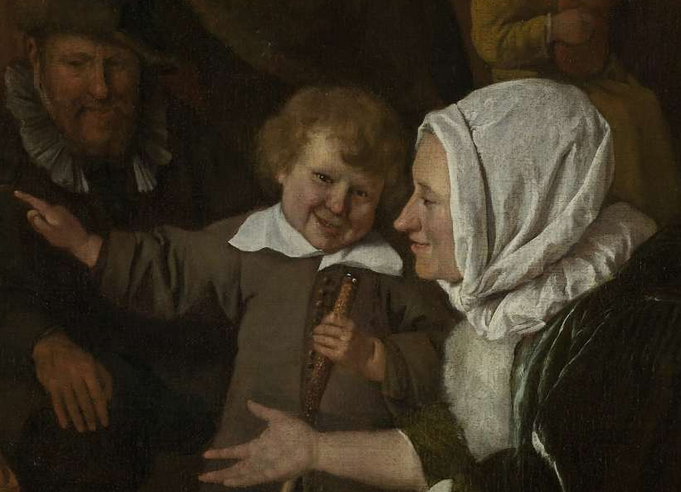 5 Special food
A Sinterklaas celebration is not complete without the food associated with it. There's plenty of it in this painting: a basket with a big piece of speculaas, or gingerbread, sticking out of it, nuts and fruit and a delicious-looking bread thingy which we can't identify. Other, present day Sinterklaas foods include marzipan (in all shapes and sizes), pepernoten (ginger nuts), taai taai (an extremely chewy confection which people with iffy teeth should refrain from tackling) and chocolate letters.
6 Two times St Nicholaas
Steen liked Sinterklaas so much he painted it twice. It is thought the version you're looking at was made for a Catholic client and the little girl's doll is a saint. In the other version (in the Catharijneconvent in Utrecht) she is carrying a big speculaas-like goody (which again she is unwilling to share) which may mean it was made for Protestants.
7 Mess
Things are always a bit of a shambles in Jan Steen's paintings and this one is no different. Look at that discarded shoe in the foreground and the food strewn all over the floor. Of course, this is done on purpose and every little item has a meaning. In spite of this, his messy paintings have made their way into the language as 'Een huishouden van Jan Steen' means a messy, jolly household with lots of noisy kids.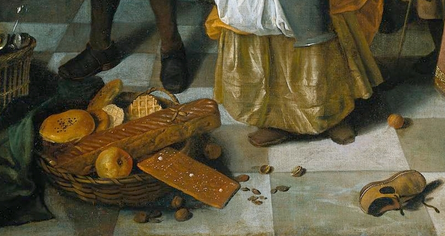 8 No St Nicholas
In Steen's day Sinterklaas was never a person who entered the house, nor did he come accompanied by a Zwarte Piet. All he did to make his presence known was to throw his presents down the chimney when the children were in bed. The painting is of the morning after the Sint's visit. According to the Meertens Institute, the depiction of Sinterklaas joining the festivities doesn't happen until halfway into the 18th century.