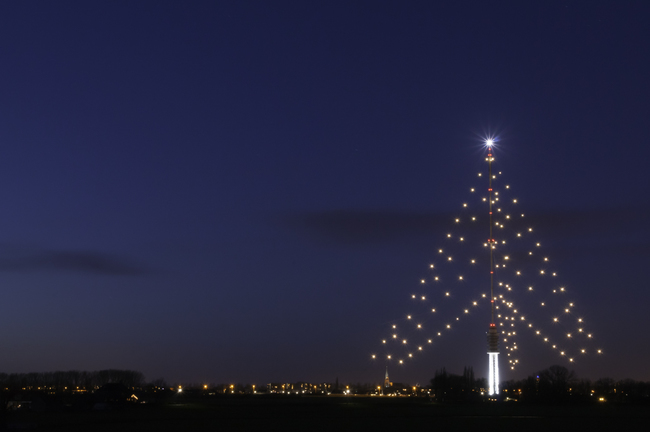 Coming to the Netherlands can make the average person feel vertically challenged. Yet, the Netherlands is not a country of soaring skyscrapers and mountain peaks.  Our list shows the good old Dutch trait of moderation is also apparent in architecture and nature.
Tallest structure
This award goes to Gerbrandy Tower in IJsselstein, thanks to the aerial mast mounted on its tower.  Built in 1961 and originally measured at 382.5 metres, the Gerbrandy Tower knocked the Eiffel Tower from top spot on the list of Europe's tallest structures, holding the title for 12 years. Even with two height reductions in 1987 and 2007, it remains the tallest Dutch structure (366.8 metres) and continues to be used for transmission of television and radio services. Covered with lights in December, it also becomes the tallest Dutch Christmas tree.
Tallest tree
A Douglas Fir (Pseudotsuga menziesii) in the grounds of the royal family's Het Loo Palace in Apeldoorn. In 2010, Leo Goudzwaard and Jeroen Philippona measured the tree at 49.75 metres, but this seems somewhat insignificant when compared to its American cousin located in Washington State and measuring 99.76 metres.
Highest bridge
Designed by Ben van Berkel, the Erasmus Bridge in Rotterdam with its 139-metre high asymmetrical pylon is the highest bridge in the Netherlands.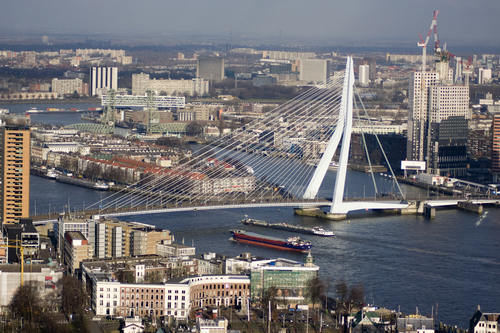 Highest mountain (well, hill)
The award goes to Vaalserberg (322.7 metres) in Limburg. Vaalserberg is also the meeting point between the Netherlands, Belgium and Germany.
Highest sand dune
The dunes around Schoorl in Noord Holland are the highest along the Dutch coast, with the tallest coming in at about 54 metres – give or take a few grains. This makes the village one of the safest places to live if you are worried about rising sea levels.
Highest building
Built in 2010, the Maastoren in Rotterdam is the country's highest building at 165 metres.  Taking the stairs to the top or 45th floor is a guaranteed workout. The top five tallest buildings in the country are all in Rotterdam.
Highest church tower
In a country full of churches, this award goes to the Dom tower (112.3m) in Utrecht.  Built between 1321 and 1382, the church tower has amazing views and fourteen ringing bells. The rest of the church collapsed in the 17th century.
Tallest windmill
The appropriately named Ambtenaar (civil servant) turbine in Wieringermeer, Noord-Holland, stands 135 metres tall, or 198 metres when the blades are taken into account. It even has its own webcam.
Tallest chimney
Located in the Rotterdam industrial area, the two Shell Pernis chimneys built between 1968 and 1974, are 213 metres high.
Tallest Person
The Dutch are often said to be the tallest people in the world and Robert Zwaan is considered by the Guinness Book of Records to be is the tallest Dutchman ever at 2.23 metres. He is still more than 50 cms shorter than world record holder, Robert Wadlow from Illinois, who died in 1940.
This list was first published on website Netherlands by Numbers