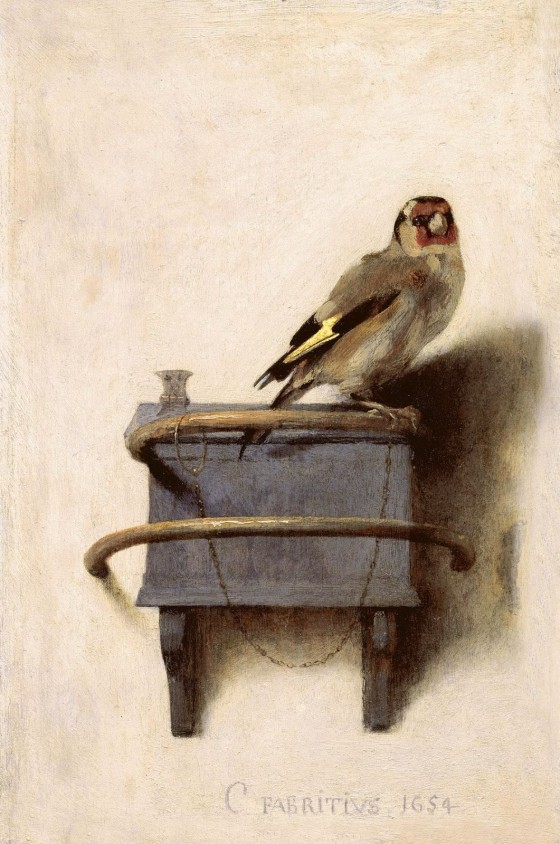 The Goldfinch, painted by Carel Fabritius in 1654, is small but perfectly formed and is one of the most popular exhibits at the Mauritshuis in The Hague. Hanneke Sanou takes a look at this intriguing little bird and discovers some interesting facts about it.

1 Who's a clever bird?
The small wooden panel (it measures 33.5 by 22.8 cm) is a portrait of the painter's pet goldfinch. The Dutch name of the painting is 'Het Puttertje' from the verb 'putten', or to draw. It refers to the fact that the ingenious little finch was able to draw water from a reservoir using a tiny bucket.
2 Obsession
The Goldfinch became the obsession of French journalist and art collector Théophile Thoré-Bürger, who was also largely responsible for the rediscovery of Vermeer. Thoré-Bürger was bequeathed the painting by a relative of his friend the Chevalier Joseph-Guillaume-Jean Camberlyn in 1865. He wrote to him: 'Felix, look at those feathers! The colours are as fresh as on the day he painted them…' (Source: Deborah Davis' Fabritius and the Goldfinch)
3 Restored
But by 2003 the Goldfinch didn't look quite as chirpy and its yellowing varnish was removed, revealing the 'deadly pale wall' described by Thoré-Bürger on which the finch's perch is mounted. The whole restoration process was transmitted live via the internet.
4 What's its function?
The function of the wooden panel is unknown. Was it a little door concealing another painting, or a very clever trompe l'oeil to take people in? Nobody knows.
5 Vermeer
Carel Fabritius lived from 1622 to 1654 but managed to carve out quite a reputation for himself during his short life. He studied under Rembrandt, was favoured by the court of Orange and praised for the cunning perspective in his murals. Fabritius is said to have turned away from the darker tones of Rembrandt to introduce the lightness and stillness which also characterise Vermeer, who owned several paintings by him.
6 Blast
In 1654 it all came to a very sudden and noisy end when the gunpowder arsenal near the painter's house in Delft blew up just as he was working on a portrait of church deacon Simon Decker. Decker, Fabritius' mother-in-law, his brother and one of his pupils all died in the blast. Fabritius was dug out alive after seven hours but perished shortly afterwards.
7 Phoenix
When the Mauritshuis gave the painting its overhaul in 2003 curators noticed a number of small indentations in the painting's surface 'as if it had been pelted with something' (Davis) giving credence to the story that the Goldfinch had indeed miraculously survived the blast and had been recently painted when it took a shower of debris.
8 Symbol
The goldfinch is a widely used symbol in early religious paintings. There it represents endurance and salvation. Later artists, such as writer Charles Dickens, used the fettered goldfinch to symbolise slavery. Fabritius' goldfinch sitting quietly on its perch does not invite such an interpretation, although Thoré-Brüger described it as sitting on its 'case d'esclave', its slave hut (Davis).
9 Donna Tartt
In 2014, writer Donna Tartt won a Pulitzer prize for her novel The Goldfinch, in which the painting survives another blast, this time as a result of a terrorist attack. In an interview Tartt said she hadn't known about the painting's history and commented: 'When coincidences like this start happening you know the muses are at your side.'
The publication of Tartt's novel coincided with an exhibition at the Frick Collection in New York of which the Goldfinch was a part. The book caused a sensation and a record 61,000 people came to see the Goldfinch for themselves.
10 More work?
Today, 15 of Fabritius' paintings remain but according to art critic Cees Straus more may come to light. There are a number of potential candidates which may yet be added to the artist's oeuvre.
DutchNews.nl has been free for 12 years, but now we are asking our readers to help. Your donation will enable us to keep providing you with fair and accurate news and features about all things Dutch.
Donate via Ideal, credit card or Paypal.