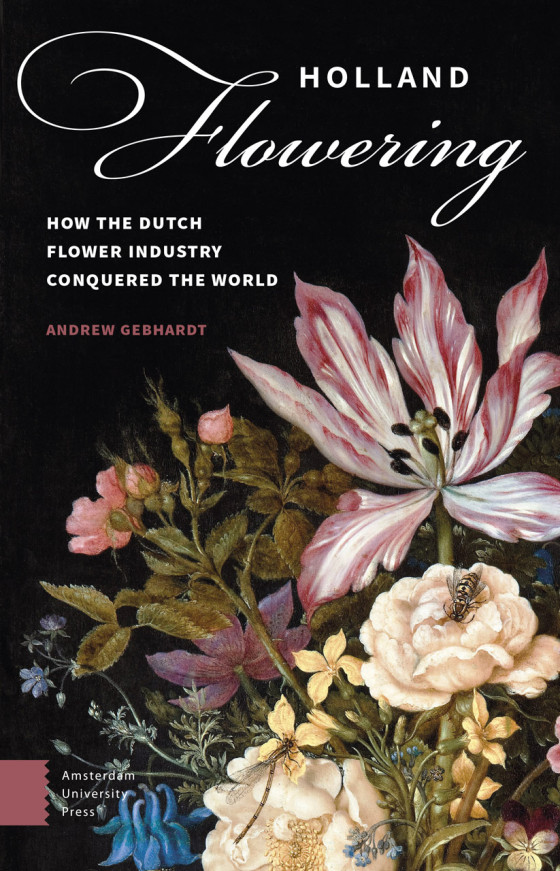 Holland Flowering – How the Dutch Flower Industry Conquered the World is a new book by Andrew Gebhardt and published by Amsterdam University Press (2014). As the title suggests, the book focuses on the Dutch flower industry, specifically FloraHolland, and the influence the industry has had both locally and internationally.
Andrew Gebhardt is an American writer based in Amsterdam. With an obvious deep fascination for the flower industry, Gebhardt tackles the subject matter from all angles: including the anthropology of cut flowers, the early beginnings of the Dutch flower horticulture business and its growth into an international flower-selling business, and the effects on other countries and cultures resulting from the globalisation of the Dutch flower industry.
FloraHolland
Primarily, this book is centred on FloraHolland and its Aalsmeer-based auction house. Integral to this research are the author's interviews with numerous staff members at all levels of this organisation. While the facts and figures present a dry description of the organisation, quotes from these interviews permit an insider's view into the working environment of FloraHolland.
One interviewee describes the industry as: 'Not only white and male and all that: there are a lot of religious people, too. There's a bedrijfsgebed, a company prayer, along with daily news items, that appears in people's inboxes.' (p255)
Nasty Weeds
From a wider perspective, the book investigates flower plantations in Africa and South America which are also reliant on FloraHolland to sell their produce. These plantations are often Dutch-owned – and sometimes staffed by locals paid less than the daily minimum wage to work in harsh conditions. It reeks a little of former Dutch colonialism.
Other unsavory topics involve market competition seemingly controlled by Dutch airlines increasing freight costs for growers outside the Netherlands, or Schiphol refusing landing rights to airlines offering cheaper freight to these growers.
Tying together the ends
Holland Flowering is a difficult book to categorise, being a mix of history, interviews and social commentary. The introduction is a long ramble covering 45 pages and giving little clue to what argument the author is going to follow in the ensuing pages. A lack of headings and paragraphs often results in the reader becoming lost in the text. Distracting, albeit extremely interesting subjects like sodomy on board VOC ships (p258), further detract the flow of the text and the reader's understanding of the central subject matter.
Yet undoubtedly, flowers continue to bring beauty into the lives of many people. Birthdays, anniversaries, Valentine's Day, Mother's Day and dinner invitations are marked with the giving of flowers, so guaranteeing the continued longevity of the flower industry. Reading Holland Flowering offers an insight into the industry that drives these flower-giving traditions.
 Ana McGinley
DutchNews.nl has been free for 13 years, but now we are asking our readers to help. Your donation will enable us to keep providing you with fair and accurate news and features about all things Dutch.
Donate via Ideal, credit card or Paypal.