Join the scrum: best places to watch the Rugby World Cup in NL
Lauren Comiteau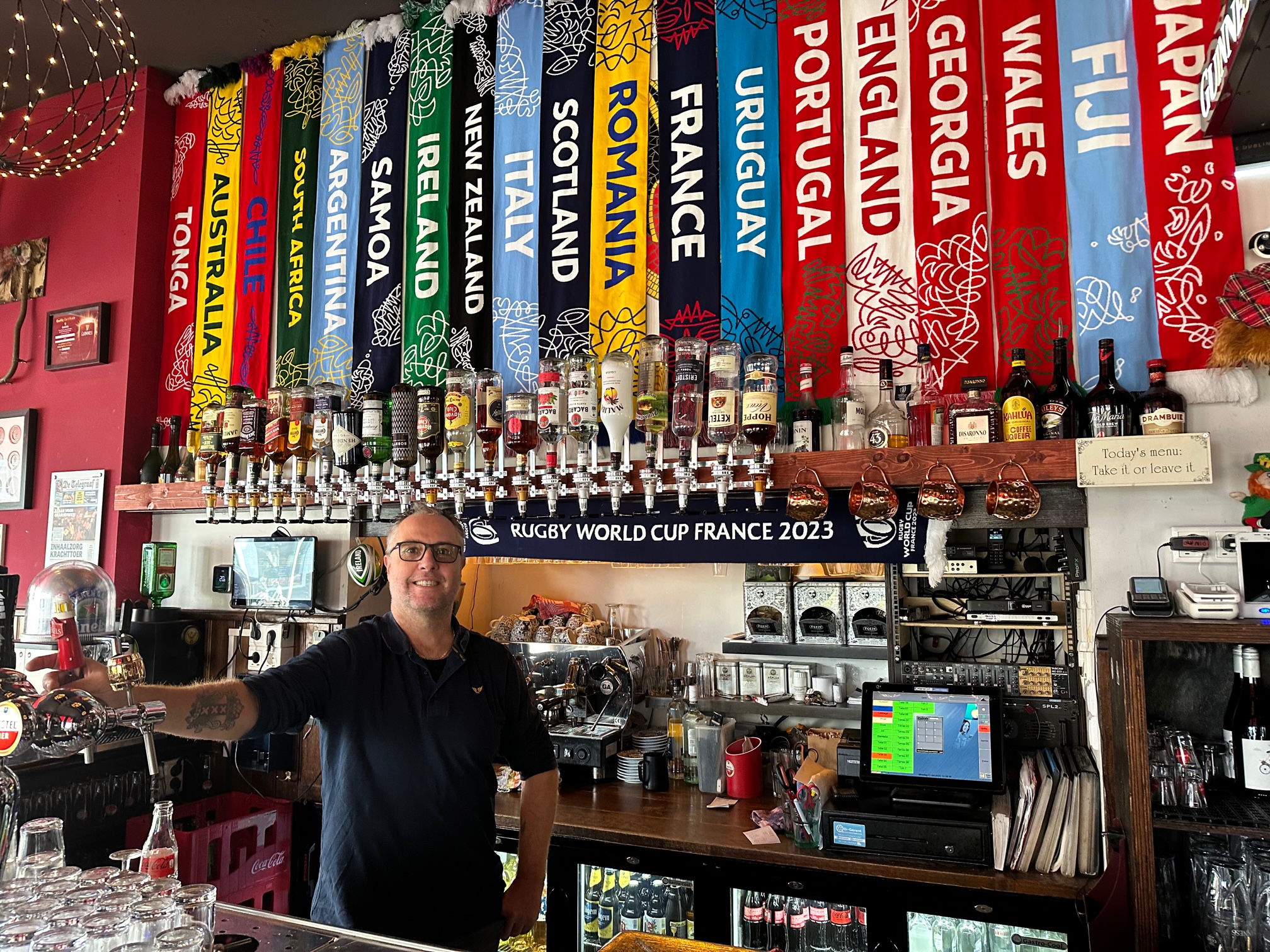 On a recent Saturday night, crowds spilled out of the Café de Oude Schaeper in Amsterdam west, blocking the sidewalk on Tweede Hugo de Grootstraat.
Typical for a big Ajax match perhaps, but that night in mid-October it was a game of rugby projected on the four television sets and one big screen of owner John Sijmons' bar—Ireland vs. New Zealand to be precise.
"Irish games are the most popular," he says of the standing-room only crowd in his "Dutch pub with Irish influences".
And although Ajax games still bring in the biggest crowds, rugby is his number two draw. "Maybe it's nicer to watch rugby in a Dutch pub than an Irish one," muses Sijmons of his patrons. "We've become increasingly popular with expats. And people watching rugby drink more beers than those watching Ajax, with the Irish drinking the most."
Ireland lost that quarter final to New Zealand, but Sijmons is expecting big crowds this Saturday, when world number two the New Zealand All Blacks meet world number one South Africa (Springboks) in the Rugby World Cup 2023 final.
"A hooligan game played by gentleman"
Although not traditionally a Dutch sport, rugby has been gaining traction in the Netherlands, although perhaps more as a spectator sport than as a world class competition.
There are more than 100 rugby clubs in the country, and players including Tim Visser, his brother Sep and Zeno Kieft have gone on to compete on the world stage. Former female player Kelly van Harskamp also had a large following. Currently, the national team Oranje competes in the second division of European rugby nations.
"Rugby is small compared to football and field hockey, but it's becoming more popular," says Mike van der Horn, a non-playing member of AAC Rugby, Amsterdam's international rugby club founded in 1930. "People are getting fed up with football. The World Cup also helps boost the sport. And Ziggo now broadcasts rugby matches, so you don't have to have a British channel to watch them."
As for increasing the number of players, Van der Horn says it's a tough sport, which scares off some parents. "But rugby rules are clear, and if you start young, you can't do what you see on TV, you can't tackle," he says. "As the saying goes: 'Rugby is a hooligan game played by gentleman, whereas football is a gentleman's game played by hooligans'".
Come this weekend, Van der Horn will be cheering on the All Blacks at Café De Gouden Florijn in Amsterdam, owned by one of his club's members.
Fans
"I'll definitely be watching the finals at the Irish pub," says Daniel Taylor of South Africa, who moved to Amsterdam earlier this year and has made O'Donnell's Irish pub on the Heinekenplein his local. He'll be rooting for his home team. "An Irish pub logically shows a lot of rugby, a lot of colonial sports, if you will. There are lots of New Zealanders, lots of Australians and English—expats—in Amsterdam. So the vibe is good."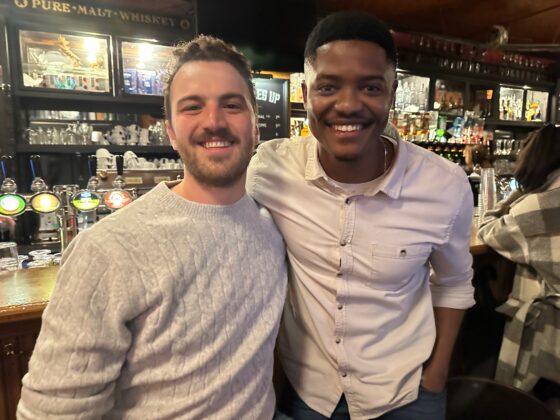 Connor from New Zealand was also at O'Donnell's last Friday night to cheer on his home team in the World Cup semi-finals, where they routed Argentina 44-6. "We're winning, so it's going great," he said of the night. For the finals, he'll head to Saint-Denis outside Paris to watch the match live. "I'm a massive rugby fan."
Where to watch
If you plan on watching the final at 9pm Saturday (or the Bronze Final on Friday at 9pm), here's the lowdown on where to go. Thanks to our Dutch News readers for their help!
Coco's Outback: The home of "lousy food and warm beer" in the heart of Amsterdam's city centre on the Rembrandtplein broadcasts all sorts of live sports, rugby included.
"Come a couple hours before the match starts if you want to get in, especially when South Africa plays," one worker advised.
The Kiwi: On the Nassaukade in Amsterdam west lies The Kiwi. Enough said.
And from our readers (although please confirm before heading out):
"O'Shea's Irish Pub in Eindhoven with lots of expats from different countries."
"The French (used to) gather at Goos at Maastraat 74 in Amsterdam. But otherwise, the Irish pubs are the go-to places! Mulligans and O'Reilly's."
"Coco's Outback / Lion's Head [South African Restaurant and Brewery] / Rugby Club Haarlem (Springbok supporters!)"
KuierKos in Bloemnendaal, a "Springbok FanZone".
"Rugby Club Hilversum is showing it. And, the Hippo in Hilversum is also a fab rugby pub with loads of expat followers."
Café Parck – PingPongParck on the Overtoom in Amsterdam. "Great staff friendly atmosphere".
Duke of Oz in Leiden.
Rugbyclub The Vets in Valkenswaard in the south of the Netherlands.
"Peter's Irish Pub in Maastricht is always a hot spot for South Africans to watch rugby together."
Belushi's Bar in Amsterdam, on the edge of the Red Light District just off Dam Square.
Thank you for donating to DutchNews.nl.
We could not provide the Dutch News service, and keep it free of charge, without the generous support of our readers. Your donations allow us to report on issues you tell us matter, and provide you with a summary of the most important Dutch news each day.
Make a donation