Geothermal heating project breaks new ground in Delft
Senay Boztas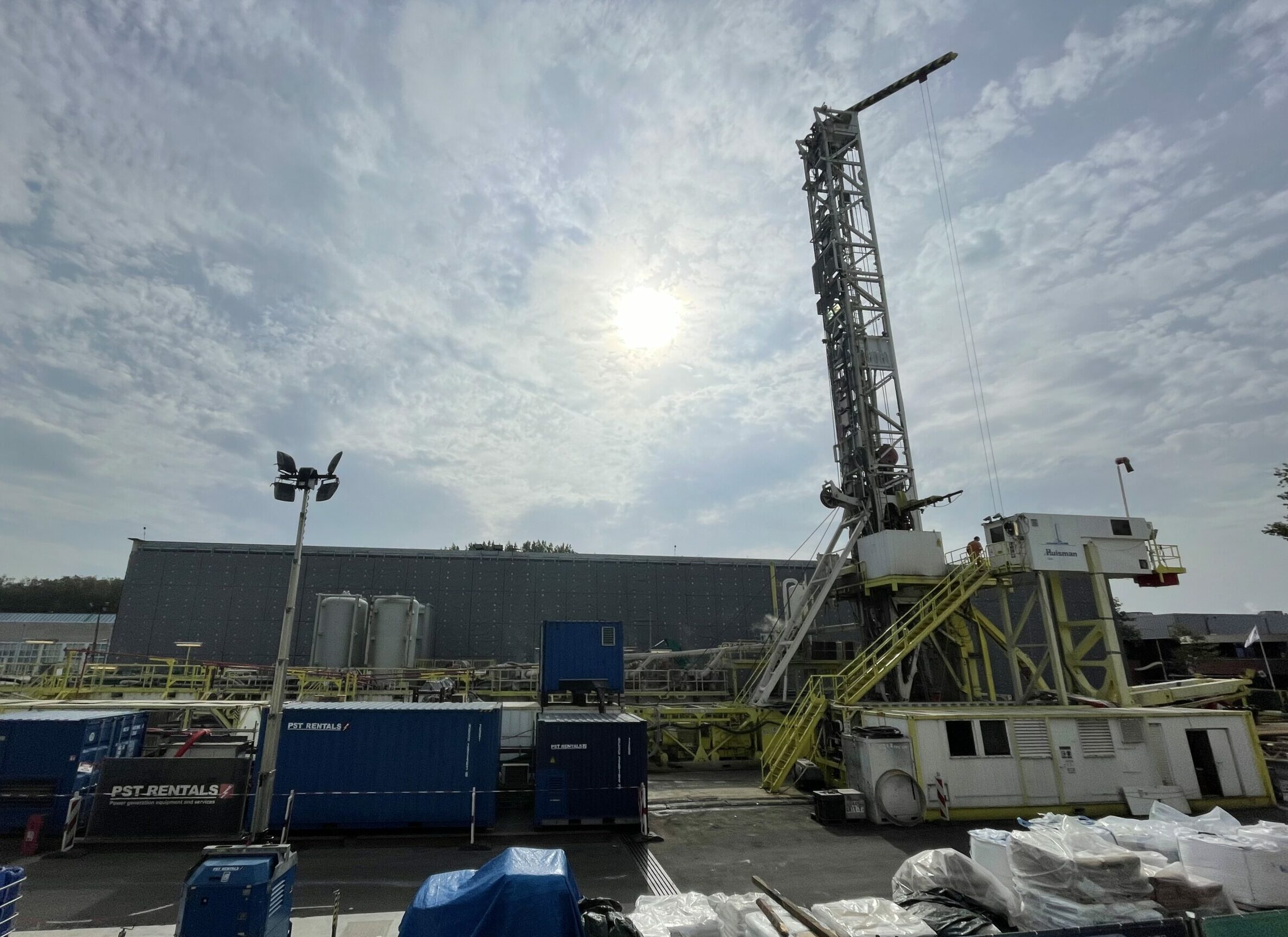 An arm slowly rises on a massive drill rig, carrying a 13 metre long pipe. Phil Vardon, professor of energy geomechanics, checks a dashboard on his phone. "So, we're now exactly 2,131 metres along the pipe," he announces.
This is not any old pipe. Delft University of Technology is involved in an extraordinary geothermal project. After a three-month drill and year-long build, it expects to open a geothermal plant that will heat all of its university buildings and thousands of homes nearby. But it is also installing all kinds of sensors and monitoring systems so the world can learn more about geothermal energy itself.
Earlier this month, the Netherlands turned off the tap to Europe's largest gas reserve deep below Groningen, which in six decades has earned the country €360 billion but also caused more than 1,600 earthquakes and destabilised some 85,000 buildings.
There are dozens of locations around the country (and off shore) where the part-public, part-private Nederlandse Aardolie Maatschappij (NAM) has dug (and is still operating) for oil or gas. But the side-effect of this, exploiting fossil fuels, may also open the doors to a new era of sustainable energy: at great cost, the Netherlands has already mapped much of its subsurface and this data is critical.
Geothermal energy uses the fact that the earth itself is a consistent source of heat and the deeper you mine, the hotter it is. In places like Iceland, which sits over a rift between continental plates and has underground reservoirs replenished by rain, you can simply drill down to find abundant hot springs. These can be converted to energy to generate power and heat homes – and 99% of the country's power comes from geothermal and hydropower sources.
Heat for homes
The technique in Delft is different. Two wells are being drilled into a natural reservoir that sits 2.5 kilometres below the university, where water flows through gaps in the sandstone and is heated by the thermal energy of the rocks to around 85°. This liquid will be pumped up a production well, the heat extracted with a heat exchanger and the cool, saline water pumped back down an injection well to repeat the process: if all goes well, the completed system will generate heat for at least 30 years.
"It's probably about one year from now to production," explains Vardon, standing on a platform above the drill. "First, these will finish, they'll be tested, and then the surface facility will be built, connections have to be built, and a new heating grid will also be made.
"We have a heating grid here on campus. That's about 50% of the heat demand. Another around 50% will go underneath the canal, and then a heating grid will be made on the other side. It will go to the older buildings in the city, to the equivalent of about 10,000 houses."
The campus aims to be carbon neutral by 2030 and this project is a big part of it: currently, 50% of its emissions come from heating a mixture of buildings with its own gas-fired furnace. Part of the project is to retrofit all of its buildings so they can be heated with water at a lower temperature – this heat energy from geothermal. But the offer of energy for the city is apparently what sold it to the local council in Delft.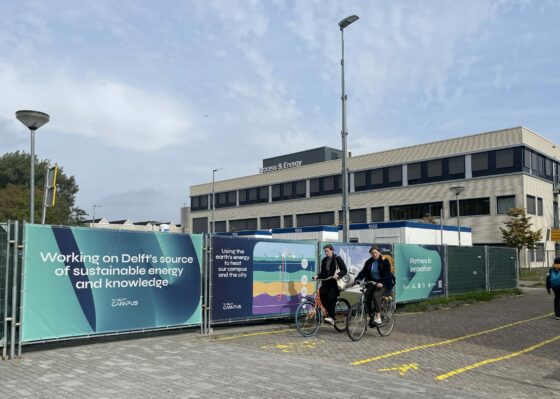 Maaike Zwart, head of sustainability, work and the economy, sees the geothermal project as part of a wider goal to become "climate neutral" by 2050 and ensure a fifth of homes are gas-free by 2030.
"In the years ahead, Delft municipality wants to scale back the use of gas to heat homes and other buildings," she explains. "A geothermal source is being developed with a heating net that can provide 15,000 homes with clean heat. By developing the geothermal source, this net comes a step closer…with reliable, affordable and sustainable heat for homes."
Across the country, geothermal energy is seen as a resource with a lot of potential. Energie Beheer Nederland (EBN), a public energy company that is one of the Geothermie Delft partners, is increasingly moving its focus from gas extraction to geothermal. About two fifths of the demand for energy in the country is to heat homes, utilities, factories and greenhouses – and greenhouses are in fact a frontrunner in exploiting this aardwaarmte, literally the warmth of the earth.
"EBN views geothermal energy as the key resource in making existing and future Dutch district heating networks more sustainable," a spokesman explains. "Around 25% of the total heat demand of the built environment in the Netherlands could potentially be met with geothermal energy supplied through district heating networks."
There are 26 working geothermal energy projects right now, most supplying greenhouses between The Hague and Rotterdam. "In the city of The Hague, in the Leyweg district, a few hundred households are heated making use of a dedicated geothermal doublet," he adds. "The government's aim is to have at least 15 petajoules of geothermal production capacity available by 2030, opposed to today's 6.8 petajoules."
Given that one petajoule is the average electricity and gas consumption of 150,000 households and the Netherlands has more than eight million of them, there's a long road to travel. One geothermal doublet – as this two-well technique is called – can supply heat to up to 7,000 houses, but these homes need to be both properly insulated and part of a heating network grid that can transfer warm water to homes.
Questions
But while the Netherlands knows a lot about its subsurface – and a government SCAN project is trying to fill in the gaps – there are also questions about geothermal energy that the Delft project hopes to solve. The first is the impact of the whole process, especially with the nervousness about earthquakes and seismic activity in the Netherlands with its experience in Groningen.
"Whenever you go into the subsurface, you change stuff," explains Vardon, back at the drill. "Even in a non-seismic area, there's some seismicity. Things are just moving a little bit. So we have installed a local seismic monitoring station system network, so you should be able to locate seismic activity and be a bit more predictive."
Cost and coordinated infrastructure are other challenges: the well will cost around €15 million, a surface plant to extract the heat will be another €10 million. Then there's a heat pump which will make the system more efficient at a price tag of around €20 million, plus a €7 million high temperature storage system – a well (or high-temperature aquifer thermal energy storage) around 200 metres deep, to store hot water for periods of peak demand.
Plus there's the cost of retrofitting buildings on campus to work with cooler water, and building the new heating grid. "To get the systems to tesselate in the most efficient way is quite a challenge," admits Vardon. "We have the university, the investment partners, the technical partners, the heating grid, housing associations that want to connect their buildings, and all of that is quite complicated."
Gas
But standing at the university, the drilling process itself is  – surprisingly – probably a lot less noisy than your neighbour's renovation. One of the seismic monitors will be installed 500 metres deep, far away from surface noise, to really monitor the impact of the project.
Bodies such as SodM (the mining inspectorate) will be watching closely. "Exploration and extraction of geothermal energy brings with it environmental and safety risks," says a spokeswoman. "We are currently seeing plans for geothermal energy in built-up areas throughout the Netherlands, and we can and must learn from all of the knowledge and experience of recent years, especially in horticulture."
Another side-effect of geothermal is a small amount of gas production, Vardon adds. "What you also see is that the water that we bring out will have dissolved gas in it, so we actually get a fairly substantial amount of gas [although] nowhere near as much as a gas project. We're going to clean it up and inject it into the gas grid."
This side effect means the geothermal isn't quite as sustainable as it sounds, although you could see this gas byproduct as effectively offsetting other production. In the long-term he suggests using the gas as a chemical feedstock and capturing the carbon dioxide (CO2). That's one of the smart things about geothermal for greenhouses, he adds.
"For them, the gas is perfect because they'll make electricity, they'll make heat but they also collect the CO2 and enrich the atmosphere so the plants grow faster. We can't do that. We don't have any greenhouses…and students don't react very well to CO2."
Thank you for donating to DutchNews.nl.
We could not provide the Dutch News service, and keep it free of charge, without the generous support of our readers. Your donations allow us to report on issues you tell us matter, and provide you with a summary of the most important Dutch news each day.
Make a donation