"Amsterdam is such a beautiful and magical city"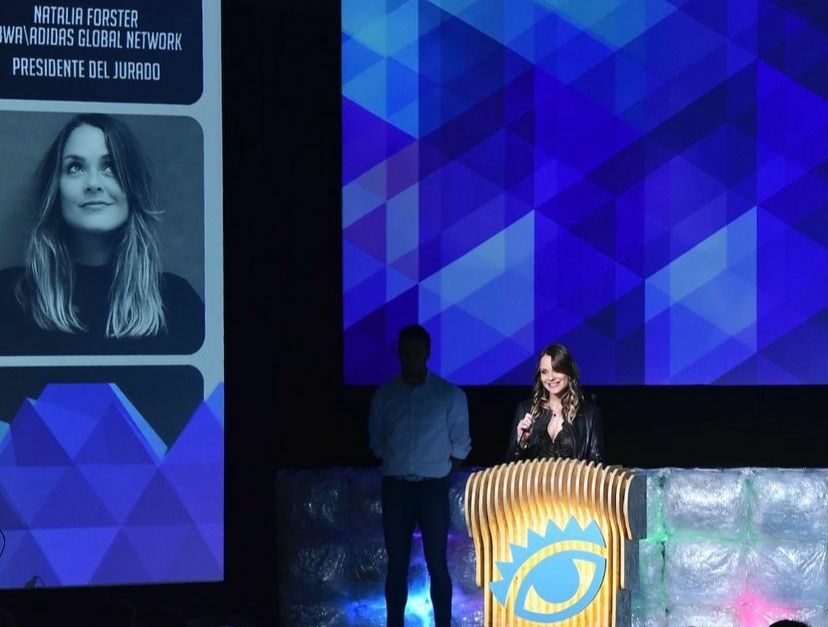 Natalia Forster is from Buenos Aires and moved to the Netherlands after she met a Dutch guy. She now lives in Amsterdam where she works as a managing director for the advertising agency GUT. She loves the word doei, says she is a reformed expat and worries about the Netherlands being below sea level.
How did you end up in the Netherlands?
At the age of 24, I started to have this urge to explore the world. I'm Argentinian and Europe has always been somewhat connected to my family. We've got European roots and what not and we would always travel once a year. So I had that sort of urge to explore across the pond and see what was out there.
I had a few years of advertising experience under my belt and I was toying with the idea of going to the UK, but then I met a Dutch boy. We ended up in Amsterdam, which was a hub where our love developed. It was also a fantastic city where I could really start the international side of my career at a company that became StrawberryFrog and then 180 Amsterdam where I spent several years learning and working with tons of different nationalities.
How do you describe yourself – an expat, lovepat, immigrant, international?
I don't think I've ever actually heard the word 'lovepat.' As I said, I did come over here for love and to explore the world, but I don't think lovepat would describe me anymore. I'm definitely not a lovepat.
What would I be now? I think I'm a sort of reformed expat. I own my own house and my daughter is half Dutch and half Argentinian. I think the issue with us expats is effectively that we never feel like we quite belong either here or there. There's always something missing but, if you're a glass half full sort of person, you think you've got the best of both worlds. Of course, I still travel back home and I've got a great life here. Will I ever fully feel that I belong here? Probably not, but that's part of the nature of those of us who leave our home countries.
How long do you plan to stay?
My little girl is eight. She's going to school here and she's perfectly happy. At the very least, we'll stay here long enough until she's ready to travel and then we'll see. I have dreams of owning a little house somewhere with tons of dogs and working remotely, but it wouldn't be for another ten years or so. For the foreseeable future, it looks like I'll be based in the Netherlands.
Do you speak Dutch and how did you learn?
I do, but I would say it's a very childish Dutch because, as you've probably experienced yourself, people here default into English. I studied for months and I'm pretty good with languages, but I'm not fluent by any means. I can carry on a conversation, but my Dutch isn't good enough to have a business-type conversation. It's a hard language.
I do remember though, when I first learned the basics of Dutch, I thought, 'Oh my god, they think different.' The construction of the sentences are the other way around. It's very important to understand how a language is built so you can understand the local mindset. So I'm not fluent, but my daughter is also trying to teach me and corrects me.
What's your favourite Dutch thing?
I think it's the word doei [an informal way of saying 'good-bye']. I've never experienced so many different ways of saying a single word or so many intonations for one. I find it absolutely fascinating. There's tons of them and there's meanings that can be applied in different ways. It's very endearing. I use it all the time and apply all the different intonations I've experienced over the years. Doei, dooooei, doo-ooo-ooei! They're all different and you've got to pay attention to those differences.

How Dutch have you become?
Zero Dutch. I am 100% Latina in every possible way. I am not Dutch at all. I could not be less Dutch if I tried. For example, there's the weather. I have lived here 15 years and it's 15° outside even though it's summer. How does that happen? 'Summer' should go with quotations. It's never really summer here. So the weather is something I'll never be able to fully embrace.
The directness is something that I respect, but we Latinas try to find alternative ways versus  just saying 'no' or 'yes' or being more straightforward. I don't know if it's something I'll ever let go of. There are other things like the practical mindset of the Dutch that I've tried to adopt, even though it's not necessarily something that would define me.
Which three Dutch people (dead or alive) would you most like to meet?
King Willem-Alexander. I think I would like to meet him because he's married to an Argentinian and has managed to coexist in a beautiful way with a different culture while raising three wonderful kids. I would love to learn what interested him about our culture enough to make Maxima the queen of the Netherlands. That's quite spectacular once you think about it.
Marco Borsato. He's a singer and he's an icon for the masses. I'm fascinated by music and he's such an iconic presence in the Netherlands. I find that quite interesting. I would want to understand more about what drives his music and the lyrics and what doesn't.
One of my daughter's teachers. She's not famous and I won't say her name. I would love to, well, I guess I could eventually meet her, but she has been unwell and hasn't been teaching for a year. I would want to ask her about education and how the Dutch system for a Montessori school is conceived. I want to know more about the differences between schools and what makes a Dutch student happier or stronger. I would love to meet with her and get to know her more and learn a bit more about the Dutch educational system.
What's your top tourist tip?
I would tell them to go on a boat ride through the canals. It depicts the city in a completely different light. Amsterdam is such a beautiful and magical city. I think spending the whole day on a private one is the best way, just hopping on and hopping off. Not a guide-y thing, go out with a local if they can.
There are also all the beautiful parks and I would encourage them to visit any of them or just walk as well. Just walk and get lost and not really have a map. There are all kinds of little corners of beauty and magic literally everywhere in this city. It's almost like Disneyland. We're very lucky.
Tell us something surprising you've found out about the Netherlands.
I think it's how under water we are and how freaky that could become in the near future. That was quite a piece of information to come across.
If you had just 24 hours left in the Netherlands, what would you do?
I would want to spend them with friends just having fun. I would go to Duke of Tokyo for a good night 'sesh' with karaoke. I would have a portion of bitterballen. Even though I've been a vegetarian for 13 years, I would have some bitterballen with a cold beer.
I would go to Cafe Winkel 43 and have the appeltaart with that cream that's absolutely out of this world. Then I would do a boat ride. I would have my little boat ride and stop for a pizza somewhere and just carry on cruising with a boom box I would need to turn down because all the neighbours would complain.
You can learn more about GUT and their projects here.
Natalia Forster was talking to Brandon Hartley
Thank you for donating to DutchNews.nl.
We could not provide the Dutch News service, and keep it free of charge, without the generous support of our readers. Your donations allow us to report on issues you tell us matter, and provide you with a summary of the most important Dutch news each day.
Make a donation