The longest serving mayor in the Netherlands calls it quits
Brandon Hartley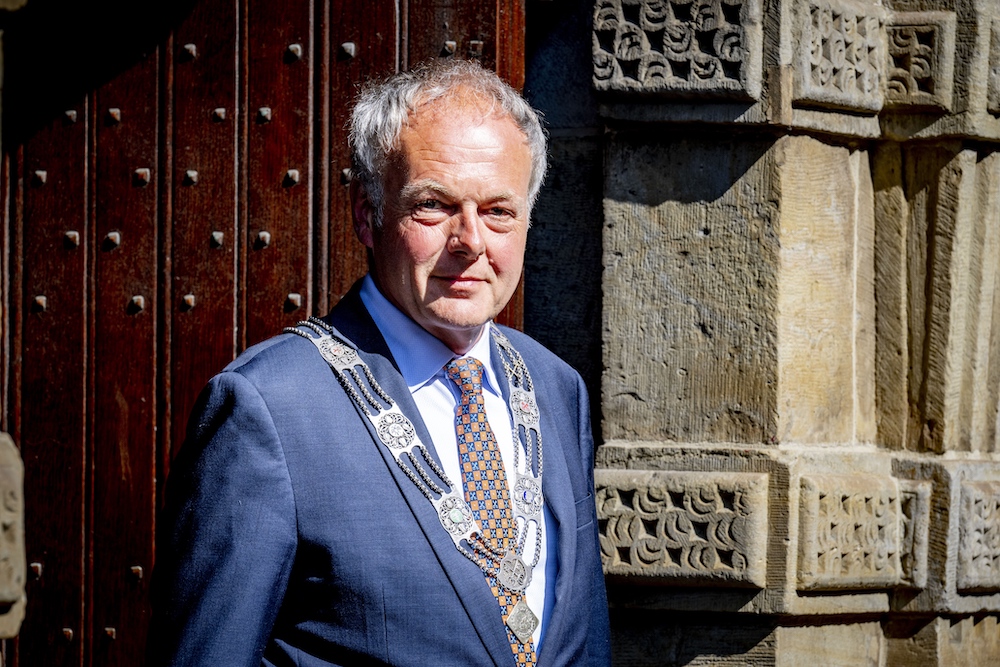 Leiden mayor Henri Lenferink's first day on the job was way back in May 2003. His last one is scheduled for 1 September.
He'll be wrapping up a tenure that made him both the longest serving mayor in the country and the longest serving mayor of Leiden in two centuries. Lenferink announced his departure during a city council meeting last March and said he'd officially asked king Willem-Alexander to grant him his resignation.
The PvdA politician is still keeping busy as he winds down his 20+ year run in the city's stadhuis, shutting down a controversial sex club on the Herenstraat earlier this month after hard drugs were found on the property. His time as mayor was largely marked by similar hands-on battles over liveability as he fought to improve the city.
Lenferink repeatedly clashed with the owners of Leiden's cannabis cafes and a complicated legal entanglement with one has been ongoing for 10 years. He even got involved in a controversy over the placement of a simple bench on a canal in 2022.
Cafe owner Edwin Dietz recalled an escalating series of confrontations with Lenferink and other city officials in 2017 that made national news.
"They changed the rules about terraces, about what you could and could not add, and even colour-wise," he told Dutch News. "There were new rules for my benches, flower pots, and windscreens. I was sick of it all and I called the newspaper. They did an interview about these rules. I wasn't the only one. So were a lot of my colleagues."
Dietz repeatedly spoke with the mayor, who finally agreed to a meeting with him and over a dozen other local business owners. A compromise was eventually reached, but he said it was eventually a moot point.
"Four months later, after the elections, the new rules were cancelled," he said. "Everything went back to the old ways. All that energy and money and time for nothing."
One of the most popular projects during Lenferink's tenure, the overhauling and upgrading of several properties near Leiden Centraal and the station itself in order to improve what serves as a gateway to the city, has also not been without its complications and controversies.
Squatters and other critics decried the project as 'gentrification' while others ignored safety barriers or painted them with snarky graffiti. Officials and various local organisations continue to debate over how best to manage the chaotic bicycle, taxi, and bus traffic in front of the station.
Nevertheless, what has been described as 'the ugliest building in Leiden' was finally torn down across the street from the station earlier this summer after several delays. This will pave the way for an apartment complex with a conference centre, restaurants, shops, a cinema, and a bicycle parking area with nearly 3,000 places.
Looking back
The mayor talked to Omroep West about the most difficult moments of his time in office. These included the death of a seven-year-old girl who was hit on her bicycle near the Lido Theatre in 2021 and his decision in 2014 to allow a convicted paedophile to live in Leiden.
Omroep West also noted that Lenferink lost not just one but two mayoral chains over the years, the ornate silver necklaces worn by Dutch mayors during official ceremonies and other events. There was also the time he apparently fell asleep while seated next to the acclaimed author Salman Rushdie during a 2010 lecture in Leiden.
On 1 September, Lenferink is slated to hand things over to acting mayor Peter van der Velden. His successor will spend a portion of his first day kicking off a 24 hour exercise bike 'spinning' marathon in front of Leiden Centraal.
And what are the soon to be former mayor's plans after he steps down?
"I'm going to prepare for a vacation I have planned," he told Omroep West. "And then I'm going to the market, but I'm not going to buy much because, two days later, the fridge has to be empty again."
Thank you for donating to DutchNews.nl.
We could not provide the Dutch News service, and keep it free of charge, without the generous support of our readers. Your donations allow us to report on issues you tell us matter, and provide you with a summary of the most important Dutch news each day.
Make a donation