Make the time: Maarten Baas show at the Voorlinden
Senay Boztas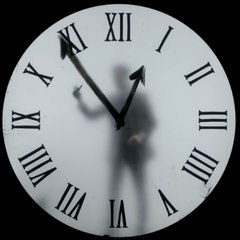 In the middle of the room is a spindly ladder leading up to a door. "It's a ladder for the man in the clock," says artist Maarten Baas, gesticulating to what appears to be translucent glass clockface, and a man in the box behind it writing in the time.
This is the conceit of the Dutch artist-cum-designer that has taken his creations all around the world. A 12-hour video, often recorded in real time, plays behind a clockface, with a human being literally marking the hours, minute by minute.
One of his clocks is at the Rijksmuseum in Amsterdam, another is at Schiphol airport, and there's one at Paddington station in London. Yet another has been booked for Peter Gabriel's goodbye tour.
Opening a new show at museum Voorlinden in Wassenaar near The Hague, Baas is tickled that many people get confused. "We regularly get mails from people who take up the cause of the man who has to sit all day in a little corner," he chuckles. "They don't realise that it's a film." And so this little ladder is a nod and a wink.
"It's about time" is a whimsical exhibition taking up just four rooms of the Voorlinden. The works make people laugh ("geweldig" chuckles a woman, looking at the ladder) but, like the artist, they also have a more thoughtful side.
He isn't obsessed with time, he says – just as he wasn't obsessed with burning furniture, which launched him onto the international stage in 2004 and led the way to famous fans and worldwide museums. "Time is a nice way to express my ideas," he muses. "I'm caught between design and art. There's a bit of theatre. Time is a place where I can work intuitively."
Circles
Dressed in a flat cap, black jeans and T shirt, with kind eyes and a hint of beard, Baas cuts a modest picture. He trained as a designer, his graduation collection was taken up by the influential Moss gallery in New York, and launched onto the world stage, he has steadily moved further to marry design, performance and art.
One of his early works, Sweepers clock, is on show, from a series launched at a Milan exhibition in 2009. In a 12-hour performance, different people show the time in different ways, including a man sweeping up dirt from the ground. This was the germ of the idea that gradually grew into the man-in-a-clock.
"I think it's interesting that the time is given by a person, because it's never the same, despite the fact that it is always 60 seconds, and we have decided together that this is the same." he says. "But it's always a different experience. Every minute is unique.
"It also relates the length of something to a human life: a minute is pretty short, but 10 years is pretty long, whereas if we had a thousand years to live, that relationship would be different. The dust is of course the image of passing time, with the circular movement of the man who goes round in circles."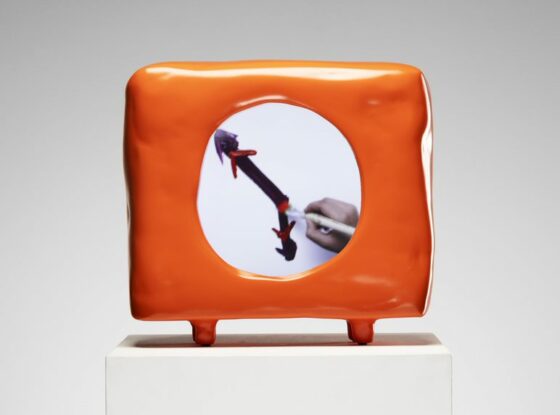 Joyful sadness
Other clocks on show feature sketches by 720 Dutch children from different backgrounds, with 60 seconds each to draw their minute onto a circle. Some are hesitant, some create a whole picture. "Every child actually has their own story to tell in that minute," he says.
Then there's a series of 'grandfather' clocks with Baas as himself, roughly now, drawing in the time, fast forwarded to the age of a grandfather and as a 10-year-old boy. There's a digital clock, with a man drawing in what should be a cliché of precision and mechanisation, and a video of 'confetti' clocks.
Although the images are funny, joyful, there's also a kind of sadness in the room. "We go from party to party, things can't be hedonistic enough, but then there's a man there all the time with a little broom sweeping all that confetti up and into the next minute," says Baas.
"That sentence from the Beatles comes into my head: Eleanor Rigby picks up the rice where a wedding has been…the image of someone who does their daily work while a party is going on."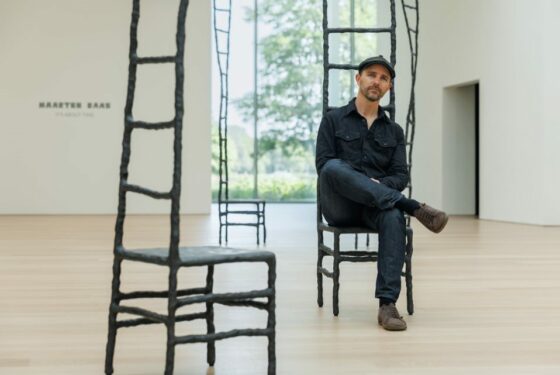 No climbing
The show features a large work, based on The Empty Chair, made for Amnesty and inspired by the empty chair that represented Chinese Nobel Peace Prize winner Liu Xiaobo who was unable to receive the prize in person as he had been imprisoned. Here, in a hall in the Voorlinden, chair back rests become ladders that like ideas seem to explode through the roof.
In another room is a new work, "I think, therefore I am" – multiple screens with clips of all kinds of people from politicians to pundits saying "I think". The room merges into a waterfall-shaped installation composed of images of waterfalls. Together, they are a representation of the modern experience of encountering nature or reality through the world of social media, where people also seem to justify their existence by expressing an opinion.
But before that sounds too pompous, there's an anecdote to tell about how it was all made, for example the euros paid to nieces and nephews to sweep YouTube for "I think"s or that Sweepers Clock filmed in the car park of FC Den Bosch. "They had some spare space because they don't have so many fans," according to Baas.
Suzanne Swarts, director of the Voorlinden, believes the works and their performative aspect fully deserve their space in the gallery. "Maarten is known for all kinds of reasons, and one of them is that he makes fantastic clocks," she says.
"We really wanted to present a few of his clocks but the discussion was so enthusiastic that all kinds of ideas came along too. With the making-of films it's beautiful to see how much time, attention and effort goes into the performance." Of course – she warns – the chairs are not for sitting on and the ladders aren't for climbing.
But before you know it, half an hour of your life will have passed. "Time is something," says Baas, "that talks to us all."
Maarten Baas will be giving a talk at the Voorlinden on August 12
Thank you for donating to DutchNews.nl.
We could not provide the Dutch News service, and keep it free of charge, without the generous support of our readers. Your donations allow us to report on issues you tell us matter, and provide you with a summary of the most important Dutch news each day.
Make a donation