Breaking bread, breaking the chains: ritual meals open dialogue
Senay Boztas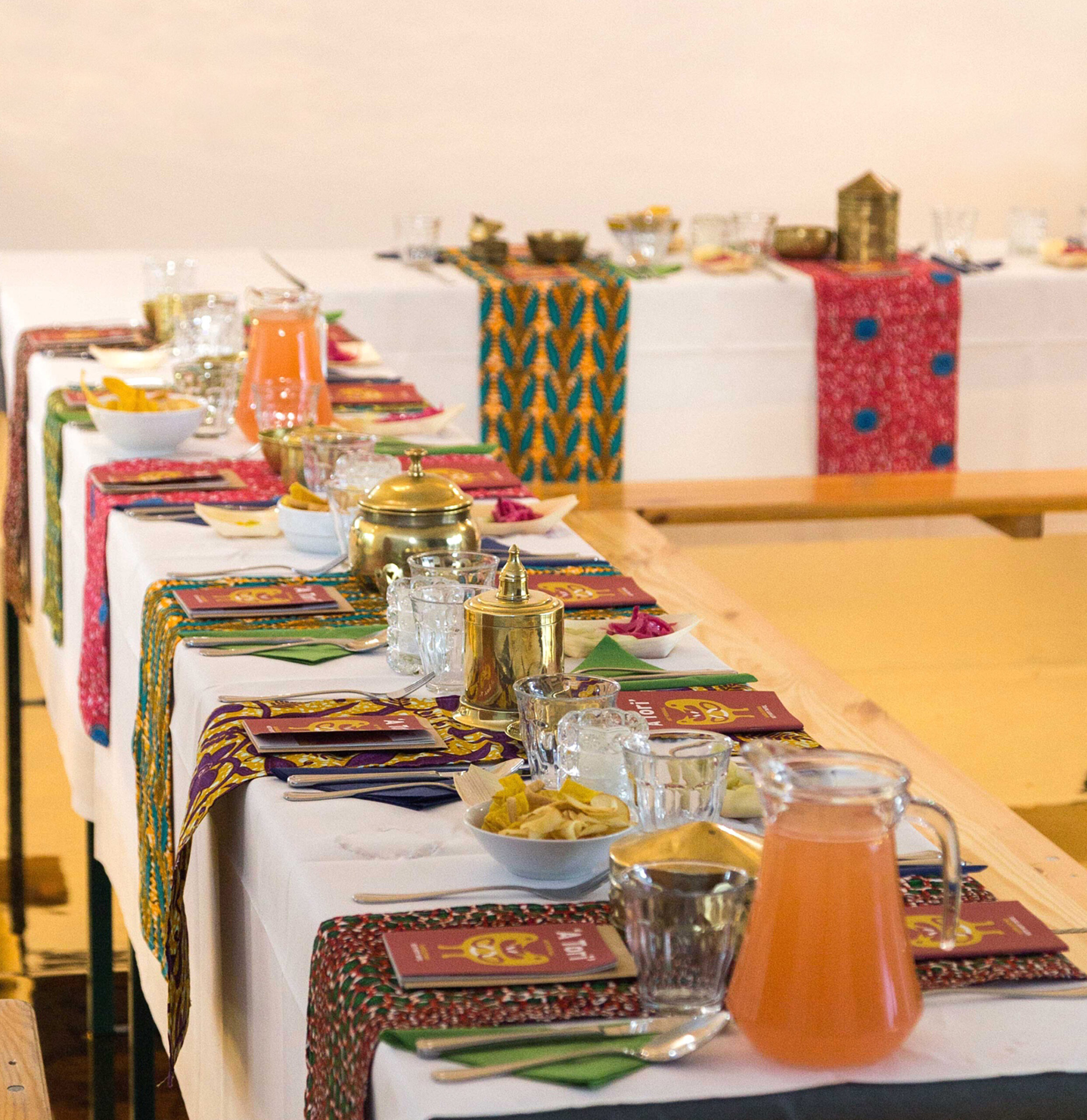 When a police officer asks you to hold out both wrists in front of you, it's hard not to feel nervous. But instead of a pair of handcuffs, the stranger opposite me took a dab of coconut oil and carefully massaged it into my lower arms.
This was the start of a Keti Koti Table, an extraordinary experience aiming to broker a dialogue about discrimination as people from different communities literally break bread. Here, at a police station in Zaandijk, 75 police officers, hospital staff, council workers and locals of all kinds and colours sat down at a series of tables.
During a Surinamese meal, with Politie crockery, songs of enslaved people's suffering and liberation and not a drop of alcohol, complete strangers sat opposite one another to share personal memories and feelings about exclusion.
Mercedes Zandwijken, founder and director of the Keti Koti Tafel foundation, was inspired by the idea of the Jewish Passover Seder meal and its rituals about enslavement and freedom. "For 3,000 years, Jewish people have remembered that they were once slaves in Egypt, and every year people celebrate the Exodus story worldwide in the Seder table, or Passover table," she says. "Families sit at a beautifully decorated table, with symbolic processes, rituals, songs and discussions about freedom and the lack of freedom."
Zandwijken, whose husband is Jewish, was deeply impressed. "I always said I wished that my family had this kind of moment in the year…and my husband said: why don't we develop this kind of table for the history of Surinamese slavery? This became the Keti Koti Table."
Since the first event at a Surinamese café in Amsterdam in 2010, there have been more than 300 tables around the Netherlands – from museums, councils and government departments to an annual table in Amsterdam's Muiderkerk on July 1, the slavery abolition day of Keti Koti, "breaking the chains". Some are for an invited public, some are open. They are all based around created rituals on a past of slavery and modern-day repercussions: discrimination, racism, but also prejudice based on all kinds of difference and disempowerment.
Bitter
People from contrasting backgrounds sit opposite one another, chewing a piece of bitter bark to remember a bitter past, then rubbing each other's wrists with coconut oil as people might to relieve the pain of cuffs and binds.
After songs from a choir, accompanied by traditional instruments, people are asked to talk about three questions around discrimination and how to avoid it. We heard stories of a man overhearing appalling racism from a table of laughing fellow holiday makers or a Dutch child offered extra language lessons at school solely because of his skin colour. As the meal progressed, ever more people took the opportunity to respond to everyone.
Sherwin Tjin-Asjoe, chief of police in Zaanstad, wanted to host a table after attending a previous event. "Every time is a new discussion, and I am also further in my thinking in relation to the theme of racism, discrimination and how we deal with a history of slavery," he says. "It's about how you value people in your organisation, people you work with, but also criminals you are in contact with."
While a recent documentary revealed persistent racism in the ranks, he believes there are other stories too. "The other side, the side that was visible in that documentary, is there. But these stories, these perspectives can inspire us as well as being confrontational: the most important thing is that they give us fuel to do things better."
Emotional
Lesley de Boer, operational expert on the police team in Zaanstad, said the evening opened his eyes. "I know from my work of course that this history is still alive to people, but during the dialogue sessions, I really saw how heavily it weighs and how hard and emotional it is to look back at this history," he says. "As a person, I am open and interested in other cultures, but as someone in a management role in the organisation, I want to share this. If you know what is going on with others, you can better understand their feelings and needs, both internally and externally."
Not only Dutch people are welcome: tables are planned in English and Hussein Adau Dia, a German of Lebanese extraction, is now a volunteer helping to lead sessions.
"They give a space to talk about discrimination and just share emotions, and this also has a therapeutic effect," he says. "The beauty is because it is so personal, and sometimes you share things you don't even share with all your friends. At the table, you really are sitting with people outside your own bubble, talking."
Laughter
For the founder of the tables, it is a setting that listens to all kinds of voices – including her own. "As a child in a Surinamese family, I was confronted with the traces of a history of slavery, a very authoritarian upbringing where the practices of the plantation happened in the home: people shouted and the worst thing was I felt that I was not allowed to use my own voice," says Zandwijken. "At school, I never got my turn, I couldn't water the plants, I could never get the teacher's coffee. I felt invisible, and unheard."
One of the most unexpected parts of the Keti Koti Table is a series of minutes of silence, where people are asked to think about what most touched them in what they just heard: a moment to reflect, before responding.
Last December, prime minister Mark Rutte officially apologised for the state's role in slavery. On July 1, king Willem-Alexander is widely expected to make his own apology for the enrichment of the Oranges. Earlier this month, Princess Eloise hit the headlines with an outburst over racism she overheard at a restaurant. The question hangs: when you recognise this shared past, what next?
At the end of the Keti Koti Table is the "ritual of the feet" – an invitation to sing a catchy song of freedom, to get up, perhaps, to dance. People take selfies of themselves and their conversation partners. There is laughter and lightness. "I go away from this," says police chief Tjin-Asjoe, "with hope."
Thank you for donating to DutchNews.nl.
We could not provide the Dutch News service, and keep it free of charge, without the generous support of our readers. Your donations allow us to report on issues you tell us matter, and provide you with a summary of the most important Dutch news each day.
Make a donation