A zegel for the history books: the conclusion of the stamps saga
Molly Quell
Our regular columnist Molly Quell has ingeburgered a little too close to the sun and collected zegels for the latest Albert Heijn actie. She thought the ending of her story would be purchasing her buitenservies but that was just the start.
At the end of my previous column, I was just preparing to head to my local Albert Heijn to cash in on my zegel windfall and bring home more buitenservies than any reasonable person could need. 
The acquisition of my bounty did not, however, go smoothly. 
As you may recall, I don't do the shopping in my household and my household doesn't regularly shop at the Albert Heijn. So to get my greedy paws on the zegels, I had to create an Albert Heijn, install an app, and spend half of a Sunday afternoon figuring out how to acquire the e-version of the stamps. 
Which is to say, it should surprise no one that when I turned up to the register like an alien visiting earth for the first time. 
In an effort to avoid marital strife, my husband and I sketched out a plan before we headed to the supermarket. The Albert Heijn website helpfully had all of the wares on offer, complete with prices. Unlike the dysfunctional Peter and Marjan from my earlier column, we had a list. 
Like the good Dutch people we are, we hopped on our bikes and headed out. Five minutes later, I realized my husband was not with me. I slowed down along the bike path, concerned he had bailed out on me. He'd already expressed some zegel skepticism. 
Moments later, he appeared. We had each headed in the direction of a different Albert Heijn. This trip was not off to an auspicious start. 
Like our predecessors Peter and Marjan, we too obtained a shopping trolley. My husband, who rightfully cannot stand grocery shopping with me as I have ADHD and wander off frequently like an irritating toddler, reminded me that while he was willing to tolerate this excursion for the buitenservies (and this column) I shouldn't push the limits of his generosity. 
I did not pull a Peter and abscond with the shopping trolly to the booze section. Instead, we headed directly to the display with the buitenservies. 
List in hand, we quickly discovered that there weren't enough cups to fulfill our mission. 'Maybe our instinct to go to two different Albert Heijns was a good one,' I joked weakly. My husband cut me a look. 
Fortunately, he's not the type to abandon the plan even if he, himself, is not fully committed. He went off to find an Albert Heijn employee to see if more cups could be found in the back. I promptly got distracted and went off to see what flavours of halloumi this particular Albert Heijn stocked.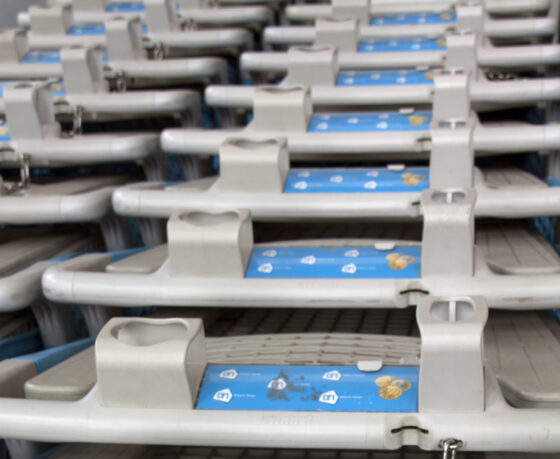 When I returned, I found a frustrated husband who informed me there was another display in a different part of the store. 
That display, fortunately, had the remainder of what we needed and, with our shopping trolley piled with enough buitenservies to supply a small nation with outdoor plates, we made our way to the til. 
It is, of course, the year of our lord 2023, and therefore there was one checkout with an actual human and approximately 25 self-service kiosks. We didn't want to wait in the 15-person deep line to interact with an actual person and arrogantly headed to the self-checkout. 
We rang up our excessive purchases and then faced a conundrum. How to tell the robot machine that we had all of these zegels? The app showed the zegels but didn't show how to send them to the till. 
After five minutes of awkward fumbling, we finally called over the teenager keeping a disinterested eye on the self-service checkouts. With the disdain only a teen could muster towards people he considers to be boomers (neither of us has cracked 40!), he showed us in seconds how to bring up the electronic bonus card in the app that we could scan. 
That sorted, we finalized the checkout process. As he went to pay, my meticulous (read: cheap) Dutch husband noticed an additional charge. Eleven euros for koopzegels. 
'What is a koopzegel?" I asked. 
I scammed my Twitter followers out of their zegels, I wasn't supposed to be paying for them. 
'I think it's something else,' my husband said. 
With a line now growing behind us and the aforementioned teenager nowhere to be found, we made the quick decision to finish the transaction and then take our receipt to the customer service desk. 
Just as we paid, an employee – this time an older woman – rounded the corner and we flagged her down. 
She explained that a koopzegel is something completely different from a spaarzegel, extolling the virtues of the koopzegel. Clearly, she knew how to toe the party line. When we explained we didn't want any koopzegels, she was shocked. 'Maar ben je echt zeker?' (But are you really sure?), she asked, plainly confused as to why on earth we would make such an obviously poor decision. 
My husband confirmed we did not and then gave me another look. 
This look clearly conveyed that if I said 'Rot op met je zegels' he was going to divorce me on the spot. 
I somehow managed to keep my mouth shut. The helpful woman directed us to the customer service desk where we could return our unwanted zegels. 
We were again met with surprise at the choice to return these precious digital stamps. The employee conducting the return, another older woman, again expressed shock, trying to tell us just how valuable they were. 
My husband, as if to drive the point home, asked why they were added to our bill in the first place. 
She explained that the app automatically added them unless you opted out. He asked if she could show us how to rid me of that burden, and I dutifully passed her this woman my phone to show me, a digital native, how to use an app. 
'Yes, rot op met je zegels,' I said, under my breath, as I handed over the phone. 
'Sorry?' the woman asked politely. 
'Thank you for the assistance,' I said. 
I hope everyone I know enjoys their buitenservies Christmas present. 
Thank you for donating to DutchNews.nl.
We could not provide the Dutch News service, and keep it free of charge, without the generous support of our readers. Your donations allow us to report on issues you tell us matter, and provide you with a summary of the most important Dutch news each day.
Make a donation