How I became too ingeburgered and learned the truth about zegels
Molly Quell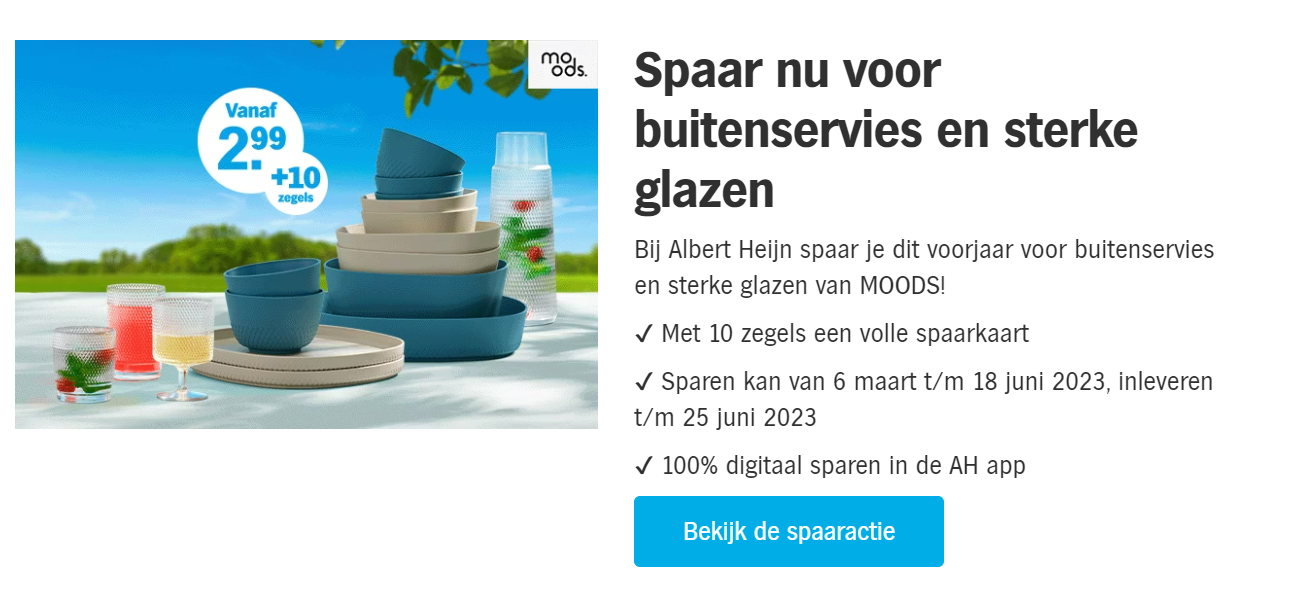 Our regular columnist Molly Quell has ingeburgerd a little too close to the sun and is currently collecting zegels for the latest Albert Heijn actie. She feels a deep sense of shame but also really wants these buitenservies plates, bowls and glasses.

Many years ago, when I was first enrolled in a Dutch language course, the class covered a section on grocery shopping. The lesson was about interactions you might have while paying at the register. 
It's titled 'Samen boodschappen doen. Ja, gezellig!' 
Spoiler alert: It will not be gezellig.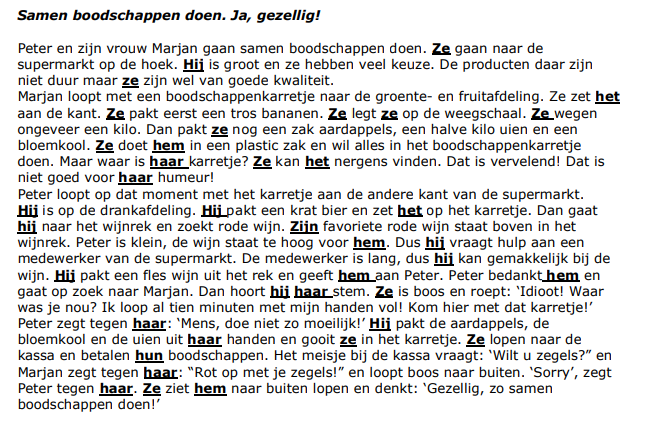 The setup is a husband and wife team, Peter and Marjan, go together to the supermarket to get groceries. This is, of course, the first mistake. You're better off trying to assemble Ikea furniture together at gun point than going together to the Albert Heijn for a weekly shop. 
While responsible Marjan is buying bananas, her good-for-nothing husband has wandered off to the booze aisle, with the cart, where he's spending all their hard-earned money on wine (and probably women, though the text doesn't mention this explicitly).

Side note: Peter is too short to reach his favourite red wine so he has to get an employee to help him. This has no bearing on the story itself. 
Peter's alcoholism has left Marjan without the shopping trolley and now she's got an armful of bananas and potatoes and cauliflower and nowhere to put them. 
She eventually locates her loser husband and yells at him for wandering off with the cart. Peter tells her to 'stop being so difficult' (and thus setting up Marjan's ironclad defense for murder), chucks the veggies in the cart next to his copious amounts of booze and they head to the checkout. 
After ringing up the purchases, the woman working the till asks the couple if they want stamps (zegels).
Marjan, who has clearly had it with her husband's uselessness, shouts at the poor innocent bystander cashier 'Rot op met je zegels!' (Fuck off with your stamps) and storms out. 
This unhinged dialogue physically implanted itself in my brain and I've never been able to free myself of it. 
Between this traumatising experience, and having learned the lesson early in life that shopping with your partner is a terrible idea, I artfully relegated the grocery shopping to my husband at the outset of our relationship. Which is why I have no bonus card, have never collected zegels and haven't actually set foot in an Appie in years. 
Until I became obsessed with the AH buitenservies. 
For several years I have been searching for a nice set of outdoor plates to use for summer dinners in the garden, but had been unable to find exactly what I wanted. Nothing quite fit the bill. 
Then a friend texted with a photo from the Albert Heijn. 'Isn't this what you were looking for?' she asked, sharing a picture of the current spaaractie from the supermarket chain. 
For those of you less integrated, when you shop at Albert Heijn you can get stamps with your purchases. Back in the day, these used to be paper stamps that you placed on a card. Now it's all done online. If you collect a certain number of stamps, you can pay a small amount (Did you think this was going to be free? It's the Netherlands) and get yourself a pan or knives or, in this case, plastic camping crockery.
These were, in fact, exactly what I wanted. Muted colors. Plates with a lip. Several options. 
The only problem was that my household doesn't shop at the Albert Heijn. I had no stamps. I didn't have an app. I didn't even have a bonus card. 
Fortunately, the editor of this esteemed website is a zegel-obsessed cheapskate whose entire kitchen is stocked with the proceeds of various spaaracties. So I inquired as to whether or not she had any stamps available to share. 
I then spent the better part of a Sunday afternoon installing the app, setting up and account and working through how one shares the now online zegels. She had plenty, I was pleased and I began working out which sets I wanted. 

Embarrassed at my level of integration, I turned to Twitter to poke fun at myself. 
Twitter, being what it is, found a way to poke fun back. Suddenly my DMs were filled not with the unsolicited opinions of men and cryptoscammers, but zegels. It turns out you can just send people zegels. And now I had more zegels than I knew what to do with. 

I begged people to stop sending them, but this only encouraged people more. 
When the fervor eventually died down and I looked at the damage. Sixty-four full spaarkaarten. That meant 64 different plate sets or bowl sets or cutlery (after a small fee, of course).

Reader, I assumed this would be the end of the column. I'd take my (electronic) stack of zegels off to the local Albert Heijn, collect my bounty and enjoy my summer of garden dinners. 
Instead my Albert Heijn experience involved three employees, raised voices and me muttering under my breath 'Rot op met je zegels!'
You will have to turn in for the June installment of my column for the conclusion. 
Thank you for donating to DutchNews.nl.
We could not provide the Dutch News service, and keep it free of charge, without the generous support of our readers. Your donations allow us to report on issues you tell us matter, and provide you with a summary of the most important Dutch news each day.
Make a donation