'They'll just throw in 'WVTTKje?' I find it really funny'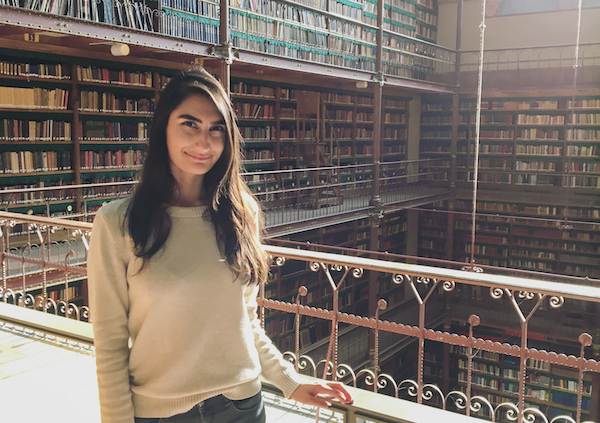 How did you end up in the Netherlands?
I met my girlfriend and now wife in the US. She's Dutch. We started dating and, at some point, she expressed interest in coming back to the Netherlands because she didn't plan on staying in the US long term. I'd always wanted to go abroad and we'd been here on a few trips. I thought that it seemed like a nice place to live. I finished my PhD, got a job, and moved over. That was a little over three years ago.
How do you describe yourself – an expat, lovepat, immigrant, international?
I would say I'm a lovepat just because I have a lot of friends who are internationals and I see that there's a difference in how I've experienced my transition and life in the Netherlands versus how they've experienced theirs. While I think those aren't mutually exclusive, my partner is Dutch and I feel like I do have access to a lot more of Dutch culture, Dutch society, and a Dutch network than maybe an international does. That's why I identify myself as a lovepat. Also: I did move for love. I wouldn't have moved to the Netherlands in particular if it wasn't for my partner.
How long do you plan to stay?
For the foreseeable future because I love it here. I think I've found my home away from home and I really like my life in the Netherlands. I think everything is really gezellig. It's my favourite thing about this country.
Do you speak Dutch and how did you learn?
I do speak Dutch. It didn't help as much as I would have liked that my partner is Dutch. I mostly took a lot of courses and spent a lot of time watching Dutch TV shows and news. At home, we mostly speak English. Now that my Dutch is quite good, we're speaking Dutch more and more in restaurants, for instance, because everyone around us is speaking Dutch.
My partner's network really helped. In the beginning, I was a bit frustrated because most Dutch people would just switch to English while we were speaking. But with her network I'd find myself with a bunch of Dutch people all together. That's helped me learn all sorts of fun things. I also speak Dutch at work and it's something that's been really amusing.
I don't know if you've worked in a Dutch environment, but I started a job two and a half years ago where people really speak Dutch at work. That was fun. There's a whole sort of Dutch work lingo that I had to learn. For example, there's WVTTK. It stands for wat verder ter tafel komt. It basically means 'is there any further business'? They'll use it in everyday speech. They'll say, 'WVTTKje?' and just throw it in. I find it really funny.
What's your favourite Dutch thing?
It's actually gezelligheid. I just love that it's so important here and the focus around it. In the US I would always seek out hipster cafes or the really cute and cosy ones. That was always really important to me, but I was an exception.
Here though, everyone finds that important. Even if you're just trying to have a nice evening at home, people will make an effort to have things be gezellig. It's not just the lighting and the atmosphere, they'll also try to have nice conversations. There's always little drinks everywhere so everyone is always drinking something that's gezellig. I just really enjoy this focus within Dutch culture.
How Dutch have you become?
I would say just a little bit, even though I do a lot of Dutch things. I still feel like I'm really American. I might do a lot of things the way the Dutch do but, at my core, I'm still American.
I think I like that though because I am American. It's nice to adopt certain things from Dutch culture and integrate, but I want to still stay true to who I am and not necessarily try to completely change and become a different person.
For example, I still do a lot of small talk and not the kind of small talk that people here do.
I think Europeans have an impression that Americans just love to say 'Hello, how are you?' and then not actually wait for an answer. Sometimes they'll just walk away or start asking superficial questions. I consider small talk as a conversation starter. You'll chat about a few things at the beginning before you get into deeper questions.
I can't just go straight to those questions like they do here with people I don't know. That feels really disingenuous to me. If I slowly chip away at those layers, that feels more natural to me. I'll have random conversations with strangers, but it's always the small talk kind. I'm not going to go up to a random person and say something very direct and personal. That is something that Dutch people do and I'm still startled by it.
But I have definitely noticed some changes in myself. I mentioned the whole gezelligheid drink thing. I have never drank so many fluids in my entire life as I have while sitting in a circle at parties. I can adapt easily but, in terms of changing who I am, that hasn't happened yet. 
Which three Dutch people (dead or alive) would you most like to meet?
 Arjen Lubach. I think it would be a pretty fun conversation. He could tell me about all the things that are wrong with America and the Netherlands. We could chat about all of that. It would be great.
Queen Maxima. I think meeting her would be really interesting. She's lived in New York and I find that intriguing. I would love to know more about her history and life in Argentina.
Robbert Dijkgraaf. He's the current minister of education. I would like to talk to him about his policies for education because I work in higher education. He was also once a professor in the US. I have an academic background and it would be interesting to talk about that as well.
What's your top tourist tip?
Something that's a little bit different is visiting one of the terraces here, if the person and their friends or family drink. There are some that are touristy and others that are not touristy, but they can be really fun. You can have a great time and you'll be in a mix of Dutch people as well as internationals. It can be a great experience.
The other thing I like to do is rent a boat and go boating on the canals as opposed to buying a ticket and riding one of those tourist boats. There's nothing wrong with them, they're still fun, but I really like renting a boat, buying a lot of food, and having a borrel with people and then maybe dock at a terrace and just plop.
I'll give you two examples. There's Pllek in Amsterdam. Hannekes Boom is another cool one. You can get a boat, dock there, and have a beer. I love it.
Tell us something surprising you've found out about the Netherlands
That would be doe normaal [just be normal] culture. As an American, I find that quite different. There are good sides and bad sides to it. Conversely in the US, everyone is encouraged to stand out. You're always told to stand out, be true to yourself, and do everything you can to shine. Here you're told to blend in, be one with the public, and not to show off too much.
For me, that was really surprising. Rich Dutch people, for example, you don't really see them. They're not very visible. You may see their big houses but those, even on the outside, maybe look big, but you don't see anything that's obscene. There's nothing ornate and everything's very plain. You never see a Dutch person walking out of them fancily dressed. It's definitely not as common as it would be in New York City where I'd see people walking around in their 'day heels' as we would call them.
If you had just 24 hours left in the Netherlands, what would you do?
Probably just going to a museum where I really enjoy the art. I've been to a few in The Hague and I like a lot of the ones in Amsterdam. I especially like the Rijksmuseum and its library. I think it's so beautiful.
After that, maybe we'd go for a nice borrel, on a boat if the weather is nice, and dock at a terrace to have a drink. I'd also want to get some vegetarian bitterballen because I'm vegetarian. There's so many cafes that I like so it would be tough to choose. My partner and I really like going for lunch at Rabarber in Utrecht. It's a really nice place. 
Ava was talking with Brandon Hartley. You can check out her Instagram page via this link and her YouTube series over here.
Thank you for donating to DutchNews.nl.
We could not provide the Dutch News service, and keep it free of charge, without the generous support of our readers. Your donations allow us to report on issues you tell us matter, and provide you with a summary of the most important Dutch news each day.
Make a donation