'Nationality is fast becoming an outdated concept'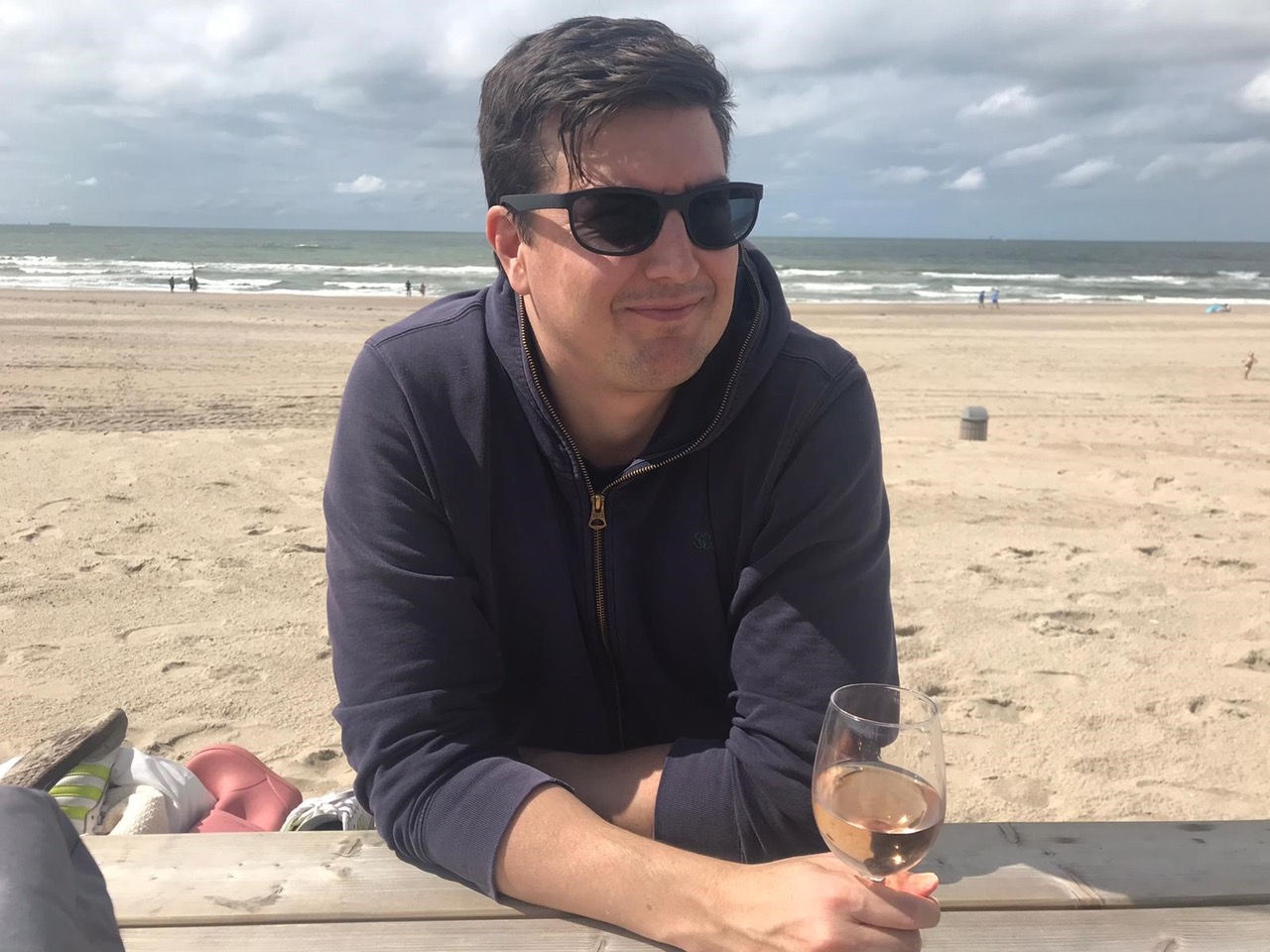 Henri Colens is a Belgian Brit, born in Brussels, raised in Dorset, England. After spending 15 years working in European politics, Henri moved to The Hague when his Dutch wife got a job at UNICEF. Currently he's trying to be a screenwriter and spends his free time writing and directing plays.
How did you end up in the Netherlands? 
My wife Femke and I had been living in Brussels for 10 years and we both wanted a change. Brussels is the kind of city which is great at the start of your career, but it can wear you down a bit – it's cosmopolitan, energetic, but messy and weirdly irrational. Femke got a job in the UNICEF office in The Hague and the company I was working for at the time had its head office in Rotterdam. We moved in 2017 and settled into a flat in the The Hague. Two years later we had bought a house, had a child and were both on the verge of quitting our jobs.
How do you describe yourself – an expat, lovepat, immigrant, international? 
Definitely a 'lovepat' (as seedy as that might sound), but I think I would answer to all of the above terms. I believe 'expat' is just what Brits living abroad call themselves – somehow the term 'immigrant' doesn't apply to them. It might have something to do with the political climate back in the UK, but I find it unfair (and kind of dangerous) that we should demonise this word or its oft-used variant: 'migrant'. Labelling groups of people continues to be an unfortunate part of the world we live in.
Femke's family hark from Haarlem, and before we settled here I always enjoyed making the trip up to see them. There was something so comfortable about The Netherlands, and the only daunting thing about it was the language.
I'm Belgian, but growing up in the UK I was never really exposed to Dutch. Our wedding ceremony was only ever going to be in the Netherlands, mainly because it's so pretty and the added bonus was that the Belgians all decided to stay away! Funny that, my British friends loved it, and most of them made a holiday out of it.
How long do you plan to stay?
I guess as long as our mortgage – so about another 25 years, then! I'm happy here. I'm actively involved in an amateur theatre group in The Hague and recently took up a seat on the Board. The AATG puts on shows in English catering for a variety of tastes: we do a pantomime at Christmas time, a spring show and a murder mystery charity dinner, as well as various spotlight events. I recently quit my job (public relations for a Brazilian petrochemical company) and I'm working freelance, but I'd like to be a writer, specifically a screenwriter. 
Do you speak Dutch and how did you learn?  
My Dutch is bang average. After five years it should be a lot better, and Femke regularly picks me up on it. The only explanation I can give is that I got into the very bad habit of not speaking it when I arrived. It's something I'm keen to rectify but you need to dedicate quite a bit of time to it on a regular basis. So if anyone out there is keen to do Dutch conversation with me one or two times a week then please get in touch! I'm also keen to experience the Regina Coeli course (de nonnen van Vucht) which I gather is excellent. I think this is the year when I take the plunge.
What's your favourite Dutch thing?
That's easy: my daughter. She's 3-and-a-half, and is very much the centre of my world. I could never fathom, pre-child, how much my life would change. We're so naive, and that's understandable in a way, because if we were aware of the oncoming storm we might never dare to become parents!
But there are so many other Dutch things that I absolutely adore. I love walking and cycling around my hometown: the concept of free movement seems to be sacred to the Dutch. I love the sea air, and while I'm far from being a beach bum the possibility of having a meal or a glass of rosé with front row seats to the sunset is endlessly appealing. Is it perfect here? No. But in a world which seems to be constantly teetering on the brink of oblivion the Netherlands is as reassuringly straightforward and pleasant as it gets.
How Dutch have you become? 
My Dutch friends will snicker here – they would say I have a long way to go! That's partly due to the language barrier (see previous answer), and partly due to the fact that my heart belongs to the UK: I will always be a Dorset boy.
I have a theory on nationality: that it is fast becoming an outdated concept. Think about it: modern people move about and increasingly one's sense of self is less defined by one's passport, and more by one's experiences. For me, nationality is just an administrative construct. In the last 50 years, with plane travel ubiquitous, most people have the opportunity to see the world: studying, working and holidaying outside of Europe is doable for most of us.
Look at me: I was born in Brussels, grew up in the UK, I turned 21 in Argentina, I spent the years working in Madrid. Now I live in the Netherlands. I take bits of these places with me wherever I am. I will never be fully Dutch but I will always be part-Dutch.
Which three Dutch people (dead or alive) would you most like to meet? 
Dirk Kuyt. As a Liverpool fan, I could easily pick fellow Dutchmen Virgil Van Dijk, Erik Meijer or Cody Gakpo, but Dirk is the one player I may have a realistic chance of eventually meeting. He became head coach of ADO Den Haag last year and after a glorious career as a player I wish him all the best as a manager. I would probably kick off by asking him what it felt like scoring a goal at the Kop end at Anfield.
Anton Corbijn. I used to be a massive U2 fan. Growing up, I would wait outside Woolworths on the morning of the release of the latest album or single. I devoured everything about the band, and much of the images of them were taken by Corbijn, who seemed to have the best job in the world: working for the famous music magazine NME, to hanging out with famous rock stars and making them look effortlessly cool in his photographs.
Jurjen Beumer. Jurjen was a pastor, writer and activist in Haarlem who ran Stem in de Stat, a drop-in centre in the middle of town. He was also my father-in-law, but he died before I could really get to know him. I expect we would talk a lot about his grand-daughter, and I'm sure he would have some wise words.
What's your top tourist tip?
Nowadays I am a very poor tourist. I'm the kind of person who just likes hanging out in cafes and restaurants, soaking up the local atmosphere. And when you live in a place, you can easily forget to actually do the exhibitions and tourist hot spots.
Having said that, I have a very big soft spot for the Mauritshuis in The Hague. It's such a cosy museum, crammed-full with masterpieces, and I like to go back every six months. I remember the first time I saw Girl with a Pearl Earring. She was just a shy little girl in the corner. Now she's getting to be a mischievous friend, with something new to say every time we meet.
If you had just 24 hours left in the Netherlands, what would you do? 
I'm not an early bird, but today I make an exception! I would probably head to Amsterdam, having booked tickets for the Rijksmuseum, which I've never been to before. Hopefully Femke and my daughter are in tow, so we'd go somewhere to get a sweet treat (papa, mag ik iets lekkers?). After a light lunch (broodje kroket?) on the go, we'd head back to The Hague, ending up at the seafront and nibbling on some kibbeling.
In the evening, I would hope there might be something good on at the theatre, perhaps something by the AATG or maybe something in Dutch (I'd be fluent by then!) The Hague's nightlife isn't world-renowned unfortunately, but I don't mind. I'd settle in for a few jars at The Fiddler, Gekke Geit or Huppel The Pub (I'm a sucker for anywhere with good live music) or somewhere along Oude Molstraat.
Last round in my local: Joris en de Draak. I'd try to stay up for the sunrise, and then, with a heavy heart (and probably a sore head too), make my way to Hoek of Holland in time to catch the Stena ferry.
Thank you for donating to DutchNews.nl.
We could not provide the Dutch News service, and keep it free of charge, without the generous support of our readers. Your donations allow us to report on issues you tell us matter, and provide you with a summary of the most important Dutch news each day.
Make a donation