From Moore to treasure and a Japanese garden: 12 great things to do in April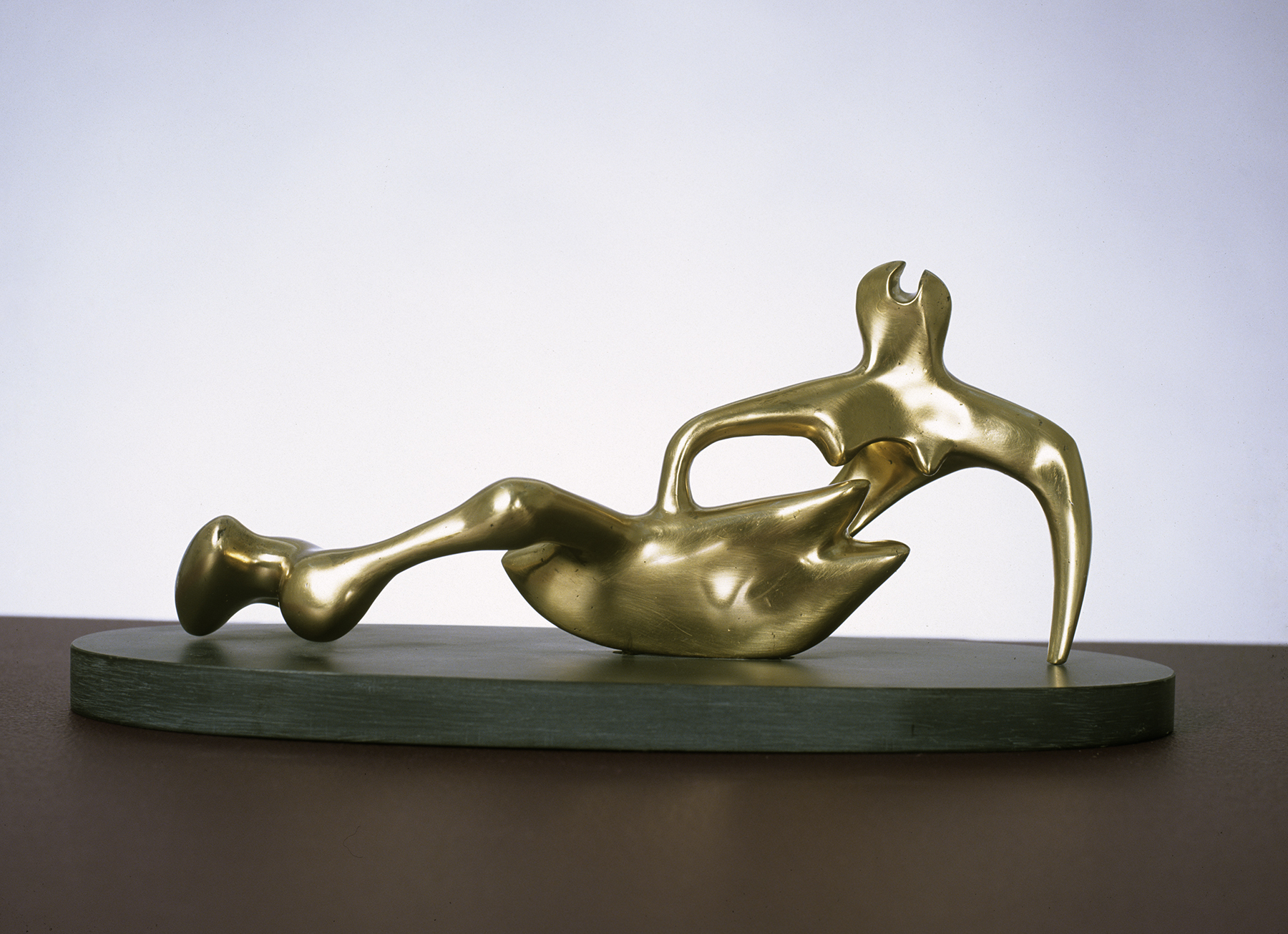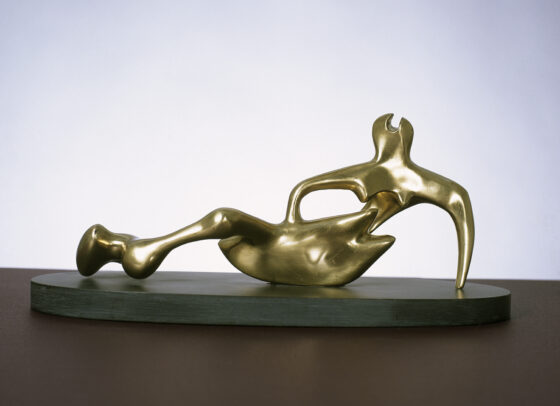 Spring is finally here, so if you are not out checking the bulb fields or queuing up to visit the Vermeers and other blockbuster shows, here are some suggestions of things to do in April.
Get some Moore
Beelden aan Zee at Scheveningen is showing some 70 sculptures and objects made by English artist Henry Moore. Set in a dune landscape overlooking the sea, the museum is well-placed to trace the influence of the natural environment on many of Moore's sculptures. The selection also sheds light on Moore's choice of materials and the area between figurative and abstract art that he explored. From April 6. Website
Go for an egg hunt
It's the Easter break again and you will be looking for ways ways of getting rid of your little ones, ensuring of course they have a wonderful time. The Kasteel Hernen in Gelderland offers just the thing, with an egg hunt, some very educational info on Easter in the middle ages and, weather permitting, a good tiring stroll in the garden. April 8,9 and 10. Website
Meet the birds of a feather in Rome
The Bentvueghels, literally a motley collection of odd birds, were a jolly band of 17th century artists working in Rome united by their love of booze and women (vogelen was a 17th century euphemism for copulating) but above all by a love of the city they had come to paint.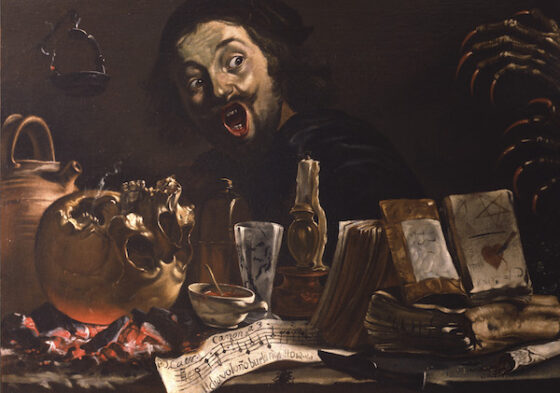 Members of the rowdy art society came from the the Southern and Northerns Netherlands and were all given nicknames. Jan Miel became Honingh-bie, for obvious reasons, Jan Asselijn went by Krabbetje (crab) because of his deformed hand while Adriaen van der Kabel or Geestigheid must have been good to have around not because he was funny but because he kept his wits about him. Their paintings and their history are on show at the Centraal Museum in Utrecht. Until June 4. Website
Call on Calamus
English-language company Strike me Pink Productions sets out to present classic and new material with a queer point of view. This time it is combining Walt Whitman's most overtly homoerotic Calamus poems with the repressed longings of the characters in Tchechov's The Seagull. In both works societal constraints are reining in personal fulfillment. The question Calamus asks is how far people are willing to go to break the bonds. At the Amsterdams Theaterhuis on April 28, 29, 30 and May 6. Website
Celebrate Koningsdag
It is, of course, Koningsdag on the 27th, time to get your unwanted tat out and foist it on someone else and, if you have enough energy left, go to one of the many festivals and street parties that are taking place across the country.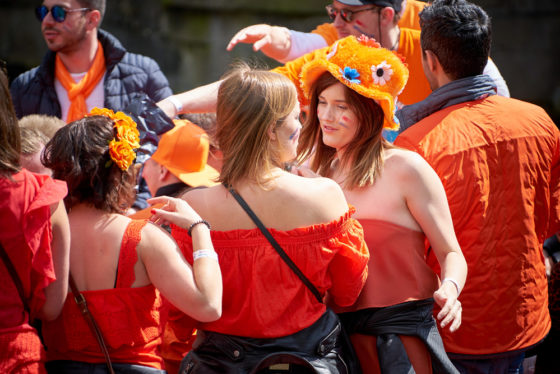 In Rotterdam, where the king will be welcomed with the slogan 'We are all kings & queens', there's the Kralingse Bos festival while in Amsterdam Loveland van Oranje will get folks moving. As usual The Hague starts celebrating the night before with the The Life I live festival. Every city, town, village and hamlet has its own activities so check online for yours.
Look at it from Malvolio's point of view
At the Koninklijke Schouwburg in The Hague the STET English language theatre is staging two performances of I, Malvolio by Tim Crouch who is giving much put upon and maligned Malvolio from Shakespeare's Twelfth Night a chance to give a complicit audience a piece of his mind.  April 22 and 23. Website
Bring you sunglasses
How can you not be fascinated by colour if your name is Pantone? Former graffiti artist Argentinian-Spanish Felipe Pantone is showing his trademark combination of colour, movement and light in his site specific installation at the Kunsthal Rotterdam. If it weren't so…aging, his work could be called 'psychedelic', so mindblowing is his unrestrained exploration of the colour spectrum, which, faithful to his graffiti roots, livens up many a public building. The Kunsthal promises 'optical vibration', so hold on to your specs.  Prospective is on from April 29. Website
Find the Hoogwoud treasure in Leiden
There is nothing so exciting as a treasure hunt and last year a young historian armed with a metal detector struck it lucky in Hoogwoud near Alkmaar. What he found was a medieval treasure dating from the year 1000 consisting of some beautiful gold ornaments and a pile of silver coins.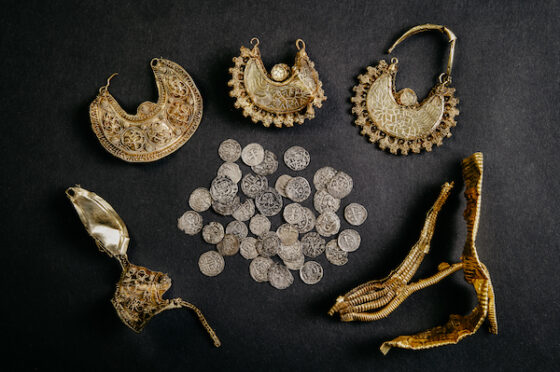 The Leiden archaeological museum tells the story behind the find. Until June 15. again from October 13 as part of a temporary exhibition called The year 1000. Website
Get (not very) near to Vermeer
There is not even a snippet of a ticket to the Vermeer blockbuster to be had so why not head for the Nijenhuis in Zwolle to look at some of the works which were wrongly, inexplicably (with hindsight) and with tragic concequences, attributed to the 17th century master. It was Dirk Hannema, who founded the Fundatie museum in Zwolle, to which the Neijenhuis belongs, who remained convinced until his death that six works in his collection were painted by Vermeer.
Apart from the six 17th century works that are not by Vermeer, also on show is the infamous Christ and the adulterous woman (not part of Hannema's collection) which was found among the art looted by Herman Göring after the war. An investigation led to forger Han van Meegeren who admitted having painted not only that painting but the Emmaüsgangers as well, which Hannema bought in his capacity of director of what is now the Boijmans Van Beuningen. It has to be said the Mauritshuis was keen as well. Zoeken naar Vermeer is on until June 11. Website
Say sayonara to winter at the Japanese Garden
Spring is about to unpack its bags at the Japanese Garden in The Hague, with azaleas, rhododendrons and Japanse cherry trees showing their delicate blooms. The garden will open between April 29 and  June 11. Website.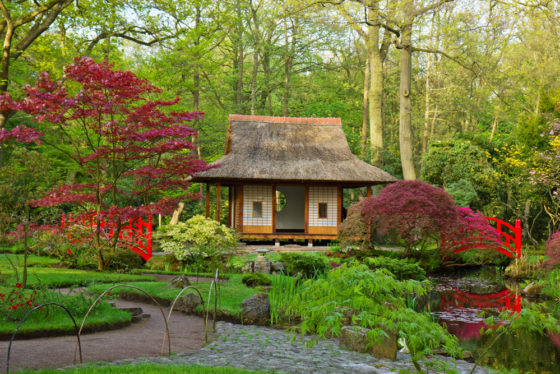 Consider the animals
The relationship between animals and people is having an art moment, with two shows dedicated to the subject. The Voorlinden in Wassenaar has a video on a loop showing Flemish actor and director Herwig Ilegem tentatively laying his head on an animal's head wondering, as the audience does, what it makes of this uninvited intimacy.
At Nieuw Dakota in Amsterdam a group of eight artists cast an ironical look at how people use and exploit animals by calling on the animals to 'do that little bit more' to help solve today's pressing lack of personnel. Head to Head is on until May 29. Website and Pigs and Sheep and Beasts until April 23. Website
Get your work clobber on
The Nieuwe Instituut in Rotterdam is presenting Workwear, the history of the clothes people wear when they are at work and which are often so flattering and well made fashion designers have wasted no time adopting and adapting them. In fact, I'm typing this wearing my designer overalls, with 24 handy pockets for pens and… things. On show are vintage classics and futuristic experiments by designers Massimo Osti and Nigel Cabourn, artists Lucy Orta and William Morris. Until September 10.  Website
Save the date
It's 30 years since Boom Chicago pitched its tent in Amsterdam and that calls for a celebration. From July 5 to 16, Boom Chicago presents the 3rd edition of the Boom Chicago Comedy Festival featuring special guests Mayor Femke Halsema and Arjen Lubach, leading to a star-studded Alumni Weekend (6 to 9 July) with headliners Seth Meyers and Brendan Hunt and their fellow alumni Amber Ruffin and Heather Anne Campbell.  Get your tickets here!
Thank you for donating to DutchNews.nl.
We could not provide the Dutch News service, and keep it free of charge, without the generous support of our readers. Your donations allow us to report on issues you tell us matter, and provide you with a summary of the most important Dutch news each day.
Make a donation