Ukrainians in the Netherlands commemorate one year of war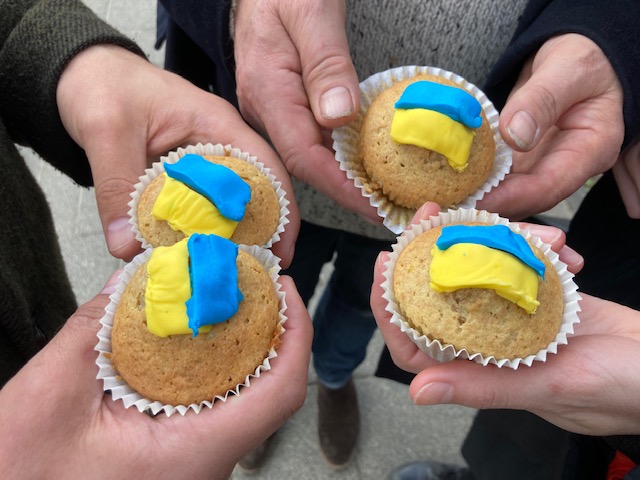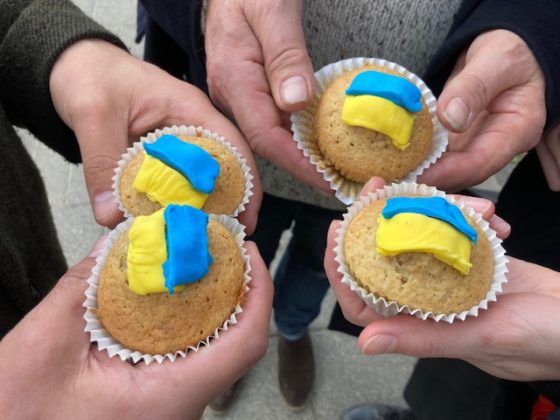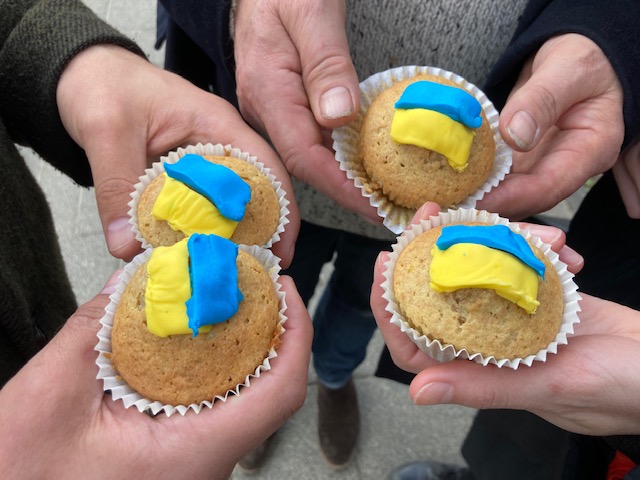 An estimated 65,000 Ukrainian refugees (aged 15 to 64) are currently living in the Netherlands. As Russian attacks on Ukraine's inhabitants and infrastructure continue, many of them are using the one-year mark as a way to draw attention to the continuing conflict.
February 24 marks one year since Russia invaded Ukraine. The UN estimates that more than 7,000 civilians have been killed in Ukraine over the past year, with another 12,000 injured. 'This is almost certainly a low estimate,' the UN's Emergency Relief Coordinator Martin Griffiths said recently.
There are several events in the Netherlands commemorating that day—from marches and remembrances to meet-ups—including these in Amsterdam, The Hague, Utrecht and Groningen. For a more in-depth look at a few, read on.
Tour De Ambulance
The Tour De Ambulance is a travelling exhibition featuring an ambulance that was destroyed in Kharkiv, Ukraine and tells the stories of 12 medics who were killed in the line of duty. It was created by the Stichting Zeilen van Vrijheid (Sails of Freedom), which was founded in March 2022 to send ambulances and medical equipment to war-torn Ukraine.
'When Russia invaded Ukraine, the first thing they did was destroy medical facilities and steal from and shoot at ambulances,' says the non-profit's founder Veronika Mutsei, an IT specialist who was raised in Kyiv but has been living in the Amsterdam for the past five years. Her sister is a medic on Ukraine's front lines.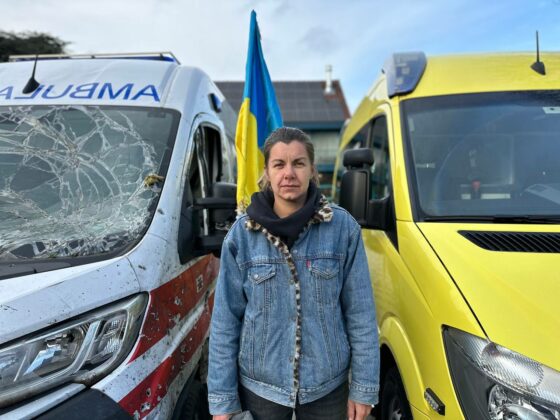 'We had lots of medicine, but didn't know how to get it there. We started by buying two used ambulances, packed them with medical supplies and drove them to Ukraine.' Private individuals and corporate donors supply the funds.
In its 11 months of existence, the foundation has sent 132 ambulances to Ukraine—some driven by Mutsei herself—including five neo-natal units, two paediatric ones, a fire truck and more than 300 tonnes of medical and humanitarian aid. The organisation has also sent generators and some 1,000 bicycles from Amsterdam. 'It's hard to accept that in the 21st century, a major city is without water and energy for 72 hours,' Mutsei says.
'Normalisation'
The foundation is made up of some 300 volunteers mostly from Ukraine, Belarus and Russia who have been living in the Netherlands. When Tetiana Mannbro, originally from Ukraine's Donetsk region, isn't working her day job with Ikea software developers, she's Stichting Zeilen van Vrijheid's event coordinator in the Netherlands.
'Ukraine is my country. I'd like to do anything I can to support and help,' she says of her volunteer work. 'Even though it was my choice to leave 12 years ago, I can't stand seeing the people suffering. It's my way of helping Ukraine.'
As for the awareness-raising touring ambulance, its goal is to pay homage to the medics and first responders killed and, says Mannbro, to show how close the war actually is to the Netherlands.
'This ambulance is being brought to the peaceful, quiet streets of old and new towns around the Netherlands, creating cognitive dissonance and a sense of surrealism,' she says. 'What we have noticed is how normalised the state of war has become for Ukraine throughout this year. This ambulance should not belong in the 21st century, and yet it does.'
The exhibition opened on Friday  at Leidschendam's Westfield Mall of the Netherlands and will visit cities throughout the country until March 1, including Amsterdam, Leeuwarden, Eindhoven and Delft.
'Ukraine, People, Courage, Posters'
That's the title of a recently opened exhibition of 48 wartime posters by contemporary Ukrainian artists at The Hague's Design Museum Dedel running through May 21.
'It's the biggest Ukrainian wartime poster exhibition ever,' says its curator, art historian Daria Lisenko. It also features rare Ukrainian war posters from the museum's collection that date back 100 years.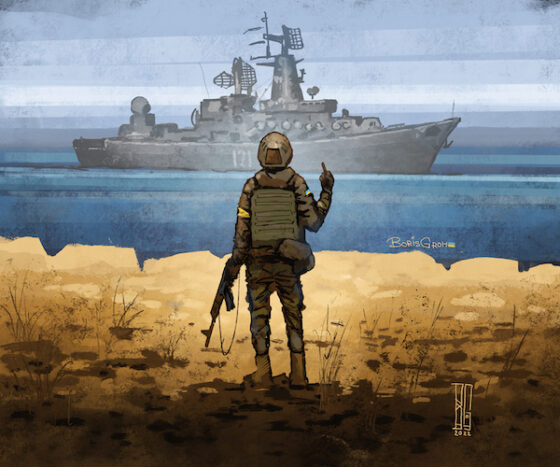 Before the invasion, Lisenko worked at the National Art Museum of Ukraine in Kyiv. Now, she's a refugee in The Hague.
'There was a such a huge tension before the invasion that it was sometimes hard to breathe,' she says of pre-war Kyiv. Unable to bear it, she left for the western city of Lviv, thinking she'd return home in a few days. Then the war started. 'I decided to take my little suitcase and join my parents in The Hague.' She hopes to return home one day but, for now, lives in a state of uncertainty.
Curating the exhibition has kept her grounded, allowing her to fulfill both her goals of helping Ukrainians while contributing to the Dutch cultural landscape. Proceeds from the sale of the limited-edition contemporary posters will go towards the artists, the museum and Ukrainian war relief. Entrance is free for those holding a Ukrainian passport or ID card.
From brick walls to virtual ones
The artists are all well known in Ukraine, where they still live. And their posters, says Lisenko, were all created as immediate reactions to wartime events. 'That makes them different from other wartime posters through the centuries,' she says. 'In the former Soviet Union, posters were used as tools of propaganda—ordered by the state and hung on buildings. These were made by the artists because they wanted to make them, and they immediately shared them on social media.'
And that, says Lisenko, has changed both the form and function of wartime posters. 'They're more interesting, useful and empathetic. They are put on Instagram and Facebook walls. They are the main tools of Ukrainian artists right now, making them more important than ever.'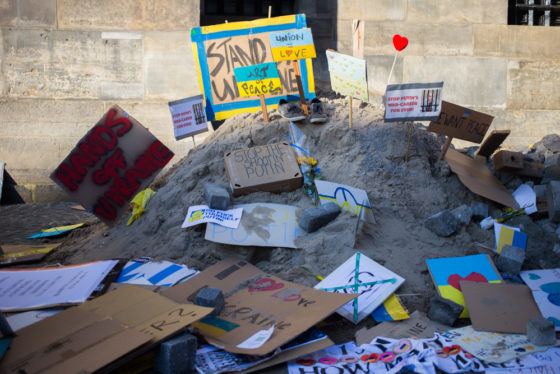 Solidarity & Benefit Concert for Ukraine
A benefit concert featuring Ukrainian musicians will be held in Amsterdam's Lutherse Kerk—and livestreamed—on February 24. An initiative of the University of Amsterdam, the TRIDA Foundation and others, the organisers hope to raise tens of thousands of euro for food and medicine for Ukraine, as well as scholarships for Ukrainian children studying music at The Hague's Davidsbündler Music Academy.
Some of them will perform at the benefit in front of Amsterdam mayor Femke Halsema, the minister of foreign affairs Wopke Hoekstra and the Ukrainian ambassador to the Netherlands.
But another aim of the concert is to combat so-called 'compassion fatigue.'
Compassion fatigue
'There's relatively little attention being paid to Ukraine in the media now,' says UvA professor of Slavic studies Ellen Rutten, who is one of the concert's organisers. 'We understand, with the earthquakes in Turkey and Syria, that full support is needed there. But the war is continuing, and on February 24 at least, all eyes will be on Ukraine.'
As co-founder of the University of New Europe—a soon-to-be, global-oriented academic institution that provides space for at-risk students and artists from Ukraine and beyond—Rutten says traditional Slavic studies have misunderstood Ukraine.
'Russian violence against Ukraine has been going on for centuries, and it's impacted our curricula,' she says. 'We've followed the dominant Russian narrative. But Ukraine has its own rich musical traditional that's been neglected far too long.'
Now that people want to host Ukrainian musicians instead of the Russian musicians in demand pre-war, she says organisers want to use the opportunity to set the historical record straight. 'Now that people are ready to hear them—listen!' she says. 'All ears will also be on Ukraine that night.'
Thank you for donating to DutchNews.nl.
We could not provide the Dutch News service, and keep it free of charge, without the generous support of our readers. Your donations allow us to report on issues you tell us matter, and provide you with a summary of the most important Dutch news each day.
Make a donation