Amsterdam erotic centre plans: 'extraordinary' or 'madness'?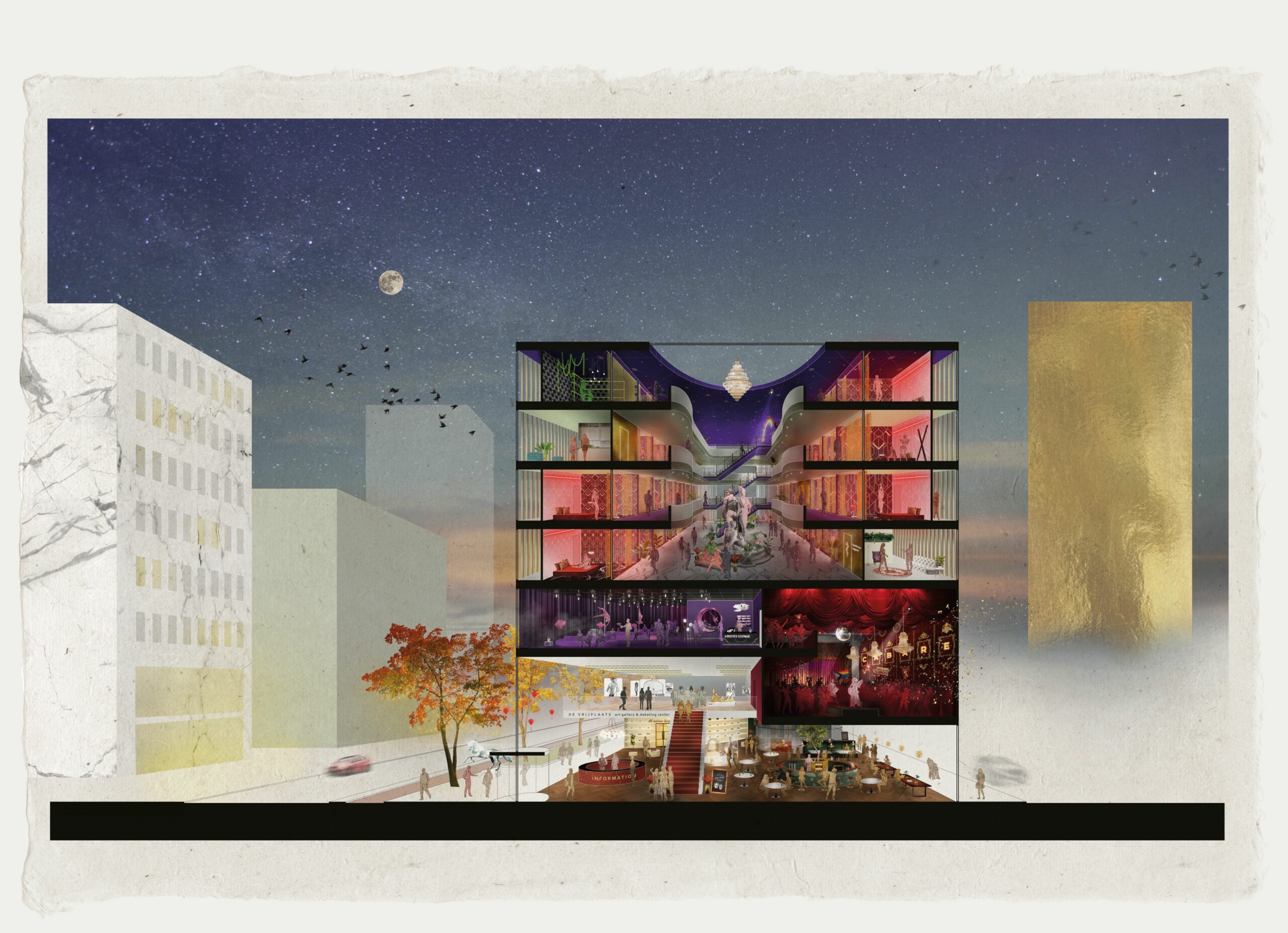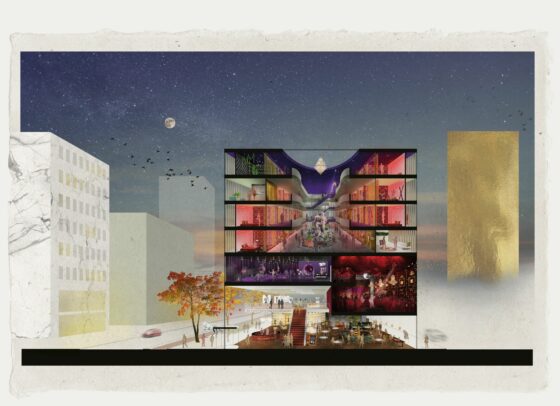 The trendy NSDM wharf in north Amsterdam or the heart of Amsterdam's conference district in Zuid will host an erotic centre, according to city plans announced on Thursday.
Following consultations with police and extensive research, mayor Femke Halsema has announced the top three locations for a new erotic centre. But while some welcome moves to improve sex worker safety, others say the idea is 'madness' and would worsen Amsterdam's attraction to nuisance tourists.
The city plans to replace 100 of the 249 brothel windows in De Wallen red light district with a multi-storey centre for prostitution and erotic entertainment, built by a private developer on city land.
'Sex work belongs to Amsterdam and it will never go away,' said Halsema in a press release. 'But the situation in the inner city is unsustainable. Liveability has been under pressure for years for residents due to the stream of tourists who regularly misbehave and cause nuisance.
'By setting up an erotic centre, we will lessen the pressure on De Wallen and at the same time create an extraordinary place where sex workers can work safely, legally and undisturbed, and visitors can expect a wide offering of erotica, culture and entertainment.'
Tantric yoga and tea
Last year, Halsema told Dutch News she was inspired by seductive imagery in the Bas Luhrmann film Moulin Rouge. 'I'm not interested in diminishing or reducing the amount of legal sex workers because I know that there will be more illegal sex workers,' she said.
'But it's important in future that sex work is out of the atmosphere of crime, of shame. I hope it's possible to create an erotic centre that has some class and distinction and isn't a place where only petty criminals, the most vulnerable women gather but also people who are not ashamed to go there.'
Text on an artist's impression of the erotic centre describes an unusual offering. 'There is always something to do in the erotic centre,' it says. 'A programme aimed at sexuality and eroticism (for example, a lecture about femdom and feminism, a boylesque party, a tantric yoga course).'
There will be an 'All Welcome House' for every sex, gender and sexual orientation – with afternoon tea meetings – plus culture and education evenings, erotic entertainment and painting courses for Amsterdammers and visitors. Sex workers will be located on the upper floor, while the building is intended to be part of 'everyday life' in the city and neighbourhood. 'You can walk in any time of day to have a drink, buy something fun for your partner or see a new art exhibition,' the artist's impression adds.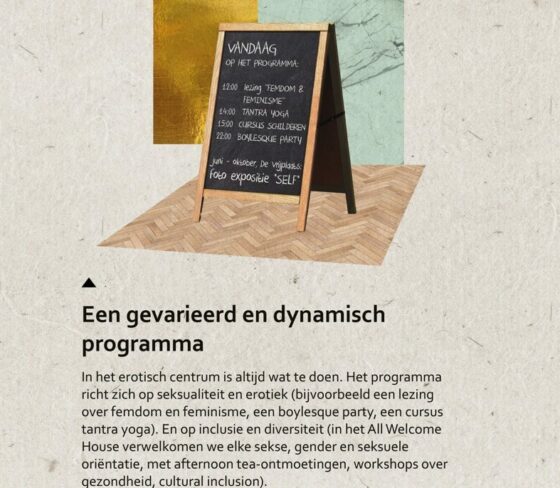 Reservations
However, the location is still a challenge. Director of the Rai Paul Riemens told the Parool that he has deep reservations about a location near his business centre. 'The value of property will go down, and conferences hardly expect an erotic centre at the door,' he said.
Ilana Rooderkerk, head of the local D66, told Dutch News they would study the latest proposals, but that a new approach entirely was needed. 'What I completely fail to see is how this improves the position of sex workers who now work in the red light district, and a concrete plan for moving the windows from the city centre,' she said.
'As far as I am concerned, the erotic centre must go hand-in-hand with a historic change in the red light district. This is badly needed to reduce the nuisance caused by crowds of tourists with their disrespectful behaviour towards sex workers.'
'Madness'
Others said the focus should be on protecting women from exploitation and abuse. Diederik Boomsma, head of the local Christian Democrats, told Dutch News that it was dangerous to romanticise prostitution: 'It should long have been obvious that the red light district, with its displays of young women in the windows, was not a glory or an achievement, but a disgrace,' he said.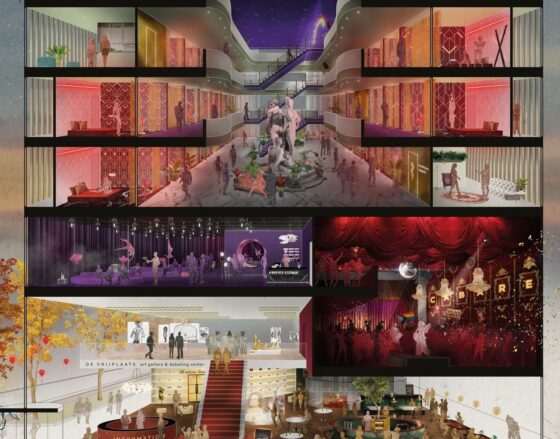 'The madness of these plans is that you might end up not closing down the red light district but instead just construct another sex-Disneyland attraction, which just serves to further cement this disastrous image of Amsterdam as prostitution destination!'
Phoebe Marsh, a coordinator at the Prostitution Information Center (PIC), said that a 'potentially dangerous' erotic centre could increase stigma and discrimination towards sex workers without improving safety. 'The locations proposed proliferate the narrative that sex work is something shameful, that should be pushed to the far end of the city, and be "out of sight and out of mind", rather than something which should be embraced as a normal part of human existence,' the PIC said in a statement.
There will be a consultation period on the proposed locations, De Groene Zoom and Europaboulevard near the Rai conference centre, and Docklandsplot in Noord,  before a city council vote. If agreement is reached, bids will be open to possible developers. The city will provide the land on a leasehold basis, but the centre itself will be private.
Thank you for donating to DutchNews.nl.
We could not provide the Dutch News service, and keep it free of charge, without the generous support of our readers. Your donations allow us to report on issues you tell us matter, and provide you with a summary of the most important Dutch news each day.
Make a donation