Loitering with a newspaper or a laptop: what's the difference?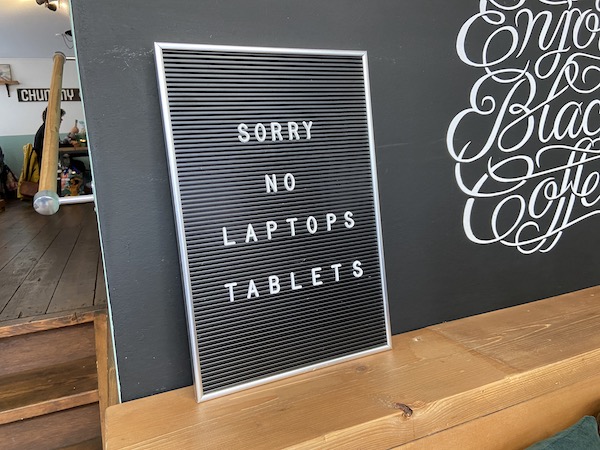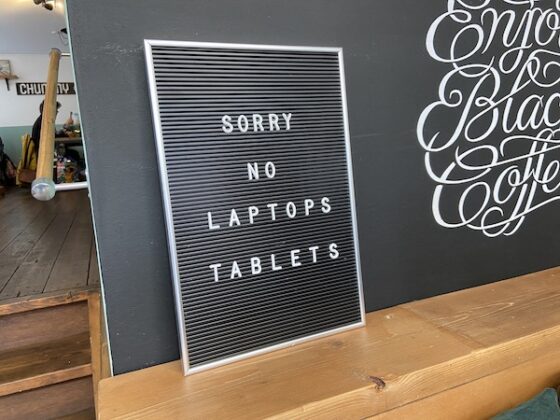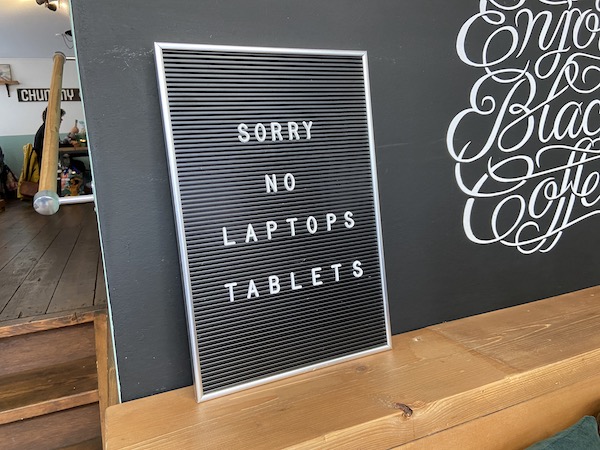 'No Laptops' signs have become increasingly common in Dutch cafes. Dutch News contributor Brandon Hartley urges the country's waiters and baristas to take them down. 
On a recent weekday morning, I stepped into a quiet cafe in Leiden. The only other patrons were an elderly guy reading a newspaper and two women chatting.
The trouble began when I reached into my shoulder bag to get my laptop. I might have received a slower reaction from the staff if I'd pulled out a rabid wombat instead. A waitress appeared beside me before the computer even touched the table. 
'Goedemorgen, our cafe has a laptop policy,' she told me.
I ordered a flat white and agreed to vacate the table before the lunch rush got underway. The ladies and the guy with the newspaper were still there about 45 minutes later, each sitting next to an empty cup, as I made my way past a dozen unoccupied tables and paid the tab.
Digital nomads
'No laptops' or 'no laptops on the weekends' signs have become increasingly common in cafes in the Netherlands over the past several years. The debate surrounding this issue is nothing new and it's not one that's unique to this country. Articles about the best places for 'digital nomads' to work or study regularly appear in publications around the world.
Cafe owners argue that customers with laptops tend to loiter for hours and hog tables after only ordering a cup of coffee or the cheapest thing on the menu. Others have gone so far as to pull the plug on their wireless modems or simply refuse to give out the password, much to the chagrin of both digital nomads and tourists in search of free wifi.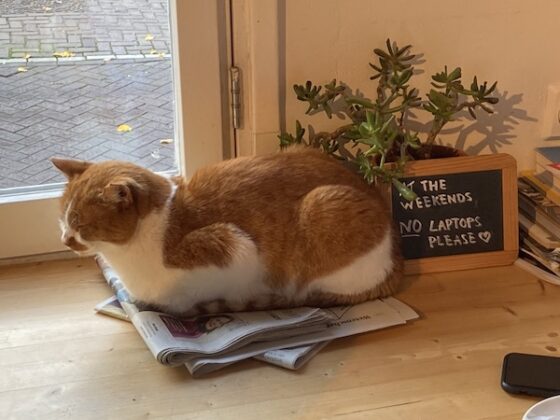 There's also the argument that those typing away quietly on their laptops 'spoil the conviviality' of these establishments. On top of this, the global restaurant industry is fighting to bounce back from nearly three years of painful setbacks due to the Covid crisis. Students, remote workers, and others with laptops are unlikely to help them make up for lost time and revenue. Then again, neither are others unwilling to vacate tables when their cups run dry.
Dilly-dalliers
People linger in cafes for all sorts of reasons, perhaps even more so on weekdays. Step into one anywhere in a Dutch city at 10:30 on a random Thursday morning and you'll encounter everyone from weary grad students staring at an essay in Google Docs to stay-at-home parents battling both cabin fever and their toddler's determination to spill Chocomel on other customers.
It doesn't matter if it's a literal hipster coffeehouse like Back to Black near the Rijksmuseum in Amsterdam or a traditional Dutch cafe, there's bound to be a retiree leisurely reading a copy of the Volkskrant, housewives (and increasingly househusbands as well) gossiping after a workout at a nearby gym, and more than a few day trippers staring at their smartphones.
People are more likely to hang out for even longer on weekends. On a recent Sunday afternoon, I spent time at Heilige Boontjes, a popular cafe in Rotterdam. Every table was taken and several families were treating the place like their own backyards.
The parents chatted as their kids cheerfully chased one another around. A group of twenty-somethings at one table were even playing a complex board game beside a few empty coffee cups. They looked like they'd been there since the night before.
Regardless of which day of the week it is, aside from those eager to eat a quick lunch, few patrons in a cafe before 5pm are likely to be in any sort of rush. But there is one type of lackadaisical customer who will no doubt irk the staff and that's whoever is brave enough to break out a laptop.
Coffee houses
During my university days back in the United States, I used to spend tons of time in coffeehouses where I'd spend hours working on essays and/or procrastinating with Wikipedia pages about random indie bands.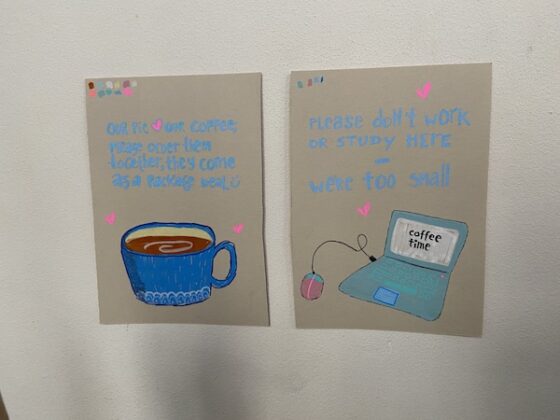 The unspoken rule of these establishments was that, provided customers ordered something every hour, they could stay as long as they liked. It should go without saying that I built up an incredible caffeine tolerance that would put the coffee-craving characters on Frasier and Friends all to shame.
But the line between what's a coffeehouse and what's an eatery is blurrier in the Netherlands, even after you take into consideration the term coffeeshop typically means 'marijuana dispensary.' Many alleged coffeehouses in this country have longer lunch and dessert menus than coffee-related ones. The logistics of keeping them profitable and attracting regular customers must be mind boggling.
Regardless of how you define them, these establishments serve as a much needed oasis for students and remote workers. If my own semi-nomadic lifestyle is any indicator, many of the latter would rarely leave their homes if it weren't for the allure of complimentary wifi, lattes and, god willing, a barista with a few great Spotify playlists.
Replace 'laptops' with 'loitering'

The problem isn't laptops, it's loitering in general. It's time for the baristas and waiters of the Netherlands to unite and target the dawdlers not the Dells and the motionless instead of the MacBooks.
But if you regularly find yourself plopped in front of a laptop in a cafe, you've got to realise these places exist to make money, not to serve as your workplace or library. Hit the road if they get packed, order something every hour, and/or have the good sense to drop a few coins in the tip jar.
That said, I'm getting a death glare right now from a barista as I type this. Guess it's time for me to order another koffie verkeerd.
Thank you for donating to DutchNews.nl.
We could not provide the Dutch News service, and keep it free of charge, without the generous support of our readers. Your donations allow us to report on issues you tell us matter, and provide you with a summary of the most important Dutch news each day.
Make a donation