Trouble on the tracks: train travel is becoming a nightmare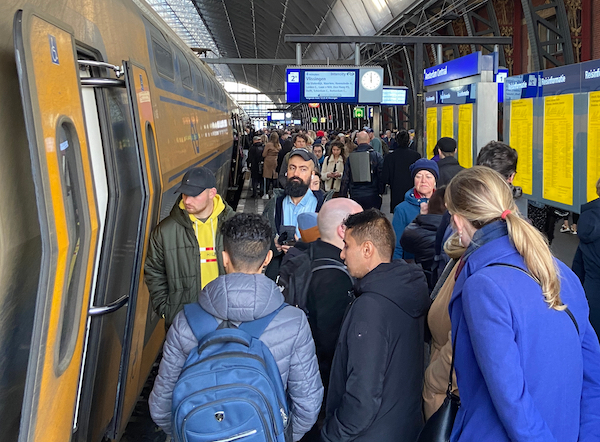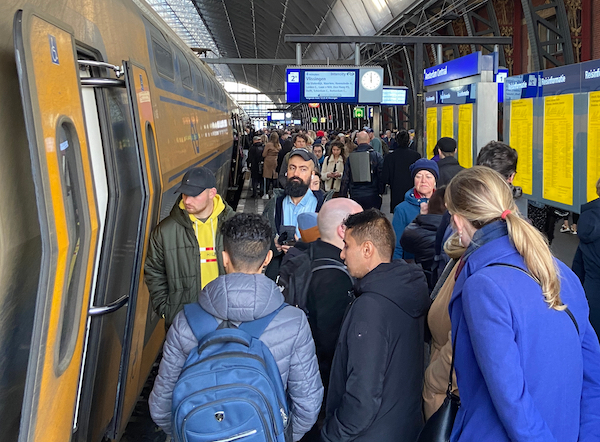 As daily commuters steadily return to their offices, the Netherlands' biggest railway company is struggling to handle a severe staffing shortage, overcrowded trains, and other issues. This has left many passengers and employees at their wits' end as the New Year approaches. Dutch News readers have been sharing their experiences with Brandon Hartley.
On a recent Wednesday night at Leiden Centraal, a group of passengers on Platform 4 started moving when they spotted their train coming down the tracks. As it slowed and stopped, they broke into groups and began gathering in huddled masses by the doors. Each jockeyed for a good position as they impatiently waited for the passengers inside to exit.
As the last one stepped onto the platform, the battle for the few remaining seats in the second class compartment began.
If you're a daily commuter in the Netherlands and travel by rail, you're probably  accustomed to these rugby-like skirmishes and the aggravation that ensues as you attempt to find an open seat without a briefcase or bag sitting on it. Rush hour is not for the faint of heart on the NS.
Rail commuters have complained for years about overcrowded carriages and the passive-aggressive antics of their fellow passengers. Many are saying conditions have gotten much worse in recent months. Overcrowding on trains with reduced carriages due to staffing issues and other problems have made their commutes downright hellish.
Overstuffed carriages and other aggravations
Crystal describes herself as a 'tired passenger from The Hague.' She travels back and forth between the city and Leiden three days a week and has been frustrated by what she's encountered lately.
'I definitely see overcrowding, especially if I have to take the train to Leiden from The Hague Laan van NOI,' she said. 'That train is always filled with people going to work or people with luggage because it stops at Schiphol too.'
Train schedules and delays during her commutes have also worsened. The large timetable screen at Leiden Centraal hasn't been helpful. She says it has broken down at least twice over the past several weeks.
'I used to like travelling by train because it's just faster and more gezellig,' Crystal said. 'Now I dread it.'
Commuter Kevin has also been exasperated by crowding in and around Leiden Centraal. 'The intercity from Haarlem to The Hague Laan van NOI gets so full at Leiden you have to swim through people to get off,' he said. 'It's so lovely the way people sit on the stairs and refuse to move to let you pass safely.'
'Like a mosh pit'
Pooja is another frustrated commuter. She travels two or three days a week from The Hague to Bijlmer Arena on the outskirts of Amsterdam. 'It has been very bad, especially due to the extended shut down at Amsterdam Zuid,' she said. 'It's close to being in a mosh pit, if you get my drift. It gets worse when these short late trains then get cancelled midway.'
Aarti describes herself as 'a frustrated commuter looking for solutions.' She travels between Hilversum and Hoofddorp several times each week.
'The other day I was taking an intercity from Schiphol to Hilversum and it was so crowded that people had to be dragged out and were yelled at by the conductors at the station to stop them from entering the carriage,' she said.
Short on staff
NS spokeswoman Anita Middelkoop told Dutch News the company is doing all it can to reduce the problems. Adjusting the timetable is one method but it is difficult because hybrid work schedules make it difficult to predict passenger numbers.
'Passenger numbers are still lower than in 2019,' Middelkoop said. 'At the moment, we are at about 80% capacity compared with 2019.'
Despite reduced passenger numbers, trains on many routes are overcrowded, especially during rush hour. Along with fewer passengers, NS is also struggling to cope with staff shortages.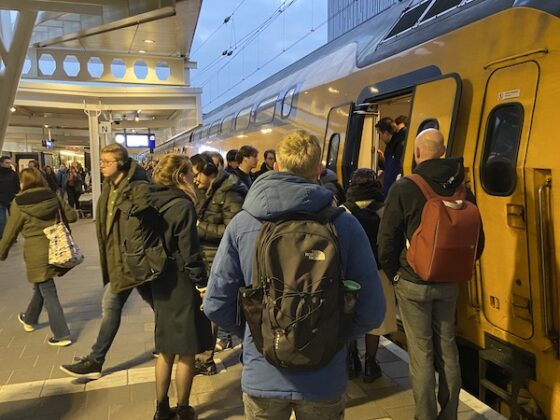 'As you may know, we, like many other sectors, are dealing with a tight labour market and therefore a shortage of colleagues,' she said.
The NS has a workforce of around 20,000 employees, but it had over 2,000 vacancies in October. The demand for conductors is so high the company was asking its office workers to help out on the trains.
A desperate hiring bonanza
To attract new staff, the NS ran television, internet, and radio campaigns throughout 2022. They've also been trying less traditional methods. Simulators were placed in several stations last summer to give applicants an idea of what it's like to drive the trains.
'We have also asked colleagues if they know anyone in their area who might be interested in working for the NS. In short, we try to introduce people to working at the NS in many ways,' she says.
Conductors' wages are not meagre, but they're also nothing to brag about. According to a job posting for a conductor based at Amsterdam Centraal, beginning in January 2023, the starting salary is up to €2,719.80 gross per month based on a 36 hour weekly schedule, but a conductor's age plays a big part.
There are also bonuses for those willing to work irregular hours, the statutory 8% holiday allowance and a 3% end-of-year bonus.
The NS's problems have become something of a Catch 22. Finding employees willing to work for the company is nearly impossible with conditions being so rough and they can't improve those conditions without enough employees around to do so.
The lack of conductors is a big problem
It should go without saying that commuter complaints have soared and the increased price of many tickets next year is unlikely to improve their moods. Others have expressed concerns about safety and say they rarely see conductors on their trains, especially after dark.
'I usually don't see anyone, especially during the evenings,' said Kanika, a commuter who travels back and forth between her office near Amsterdam Zuid and Utrecht Centraal twice a week.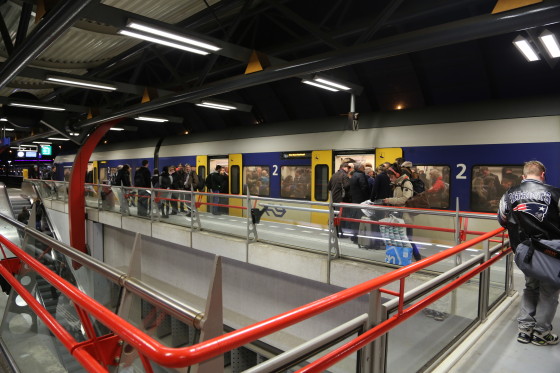 With a commute that takes in the Ajax football stadium, Kanika says the lack of conductors has become a safety concern. 'I actually dread the days when I have to take the trains when there's a match,' she said. 'There are always hooligans on the trains. The beer is overflowing and you can't say anything. I try not to listen to them. They're just looking for people to fight or say something to.'
Technical issues and delays
If all of this wasn't bad enough, some commuters say they've become downright exhausted by their trains being routinely delayed or various issues with the NS app including unreliable alert features. Stuart, the author of the popular blog and web comic Accidentally Dutch, is one of them.
'On top of the personnel shortage, my route has been affected by the damage from the massive power cut near Lelystad back in September,' he said. 'I have to take a different route now and the NS mysteriously changes that route and timetable every few weeks.'
He says the issue was originally scheduled to be fixed by October. The latest estimate is mid December.
'That added half an hour to my journey,' he said. 'Then they started changing times and platforms that trains left from Zwolle to find a better solution, but that gave me only two minutes to run from one platform to another. So then they changed things again and I have to change over at Hilversum. Like I said, it feels like they randomly change the 'solution' every few weeks.'
Aarti said his commute has become downright awful.
'It's been so chaotic, long, and tedious,' he said. 'Most of the time trains are cancelled at the last minute. They are even slower in updating things on the NS app and communication from their end has been abysmal. It's excruciatingly frustrating to go through the same drill over and over again three times a week hoping that they won't mess up again.'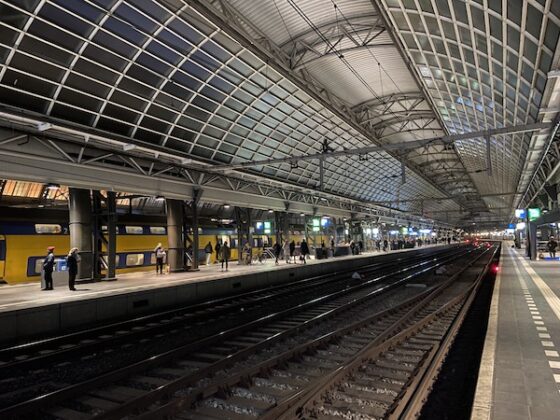 NS says it is doing what it can to improve conditions. The company announced in early December it would soon extend the length of one third of its trains.
Nevertheless, things aren't likely to improve anytime soon for commuters, especially during peak hours. Despite their efforts, this would only improve the chances of passengers finding a seat by 3%.
Commuters say they are thankful they currently only have to go to their offices a few times a week. Others said they've had to significantly change their work schedules to accommodate delays and other problems involving the NS.
Aarti said the impact on her has been more substantial.
'When I decided to take a job in Hilversum, I thought it would be a good idea to explore life out of Amsterdam as an expat and the NS is ruining every bit of that experience single-handedly,' she said. 'I'm now in talks with my workplace to reduce my working days in the office to two, which is a pity because I really look forward to working with my colleagues there.'
As the Covid pandemic, hopefully, continues to fade away in the months to come, the amount of commuters on the rails is bound to increase as employers begin requiring their workers to spend more time at the office. Will the NS be ready to handle them? Many are not optimistic.
'Trains randomly just get cancelled and you cannot rely on anything that runs on tracks in the Netherlands these days,' Aarti said.
Thank you for donating to DutchNews.nl.
We could not provide the Dutch News service, and keep it free of charge, without the generous support of our readers. Your donations allow us to report on issues you tell us matter, and provide you with a summary of the most important Dutch news each day.
Make a donation