Still holding out? Amsterdam's toilet troubles continue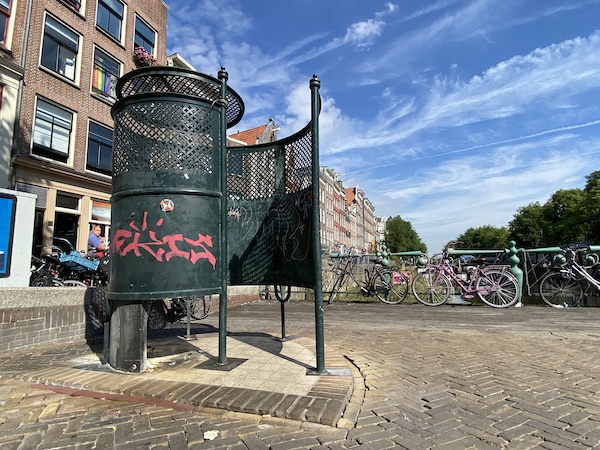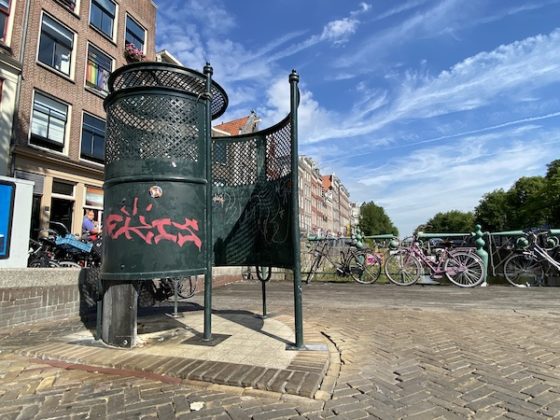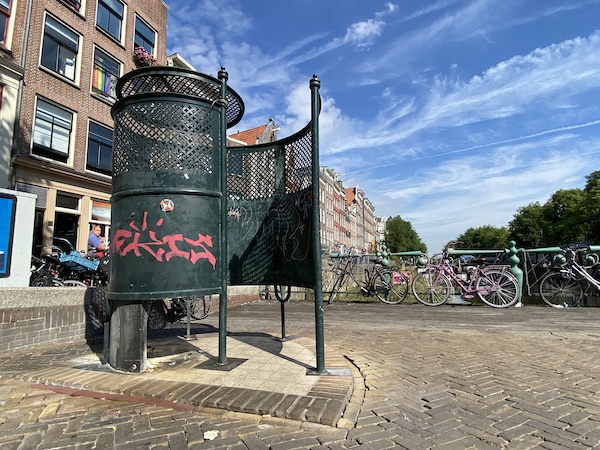 Finding a public toilet in Amsterdam has been a problem that's pestered locals and visitors alike for generations. As year-round tourism returns to the nation's capital, here's how city officials, businesses, residents, and folks who just need a loo are all dealing with a desperate situation.
On a recent sunny afternoon a young tourist walked up to the automated public toilets on the Leidseplein near the Apple Store. She became frustrated and angrily stormed away when its automated pay system rejected her credit card. Written in blue graffiti on the doors was the suggestion: Pis Op De Staat (which roughly translates as 'Piss on the state').
Across town in De Wallen, the city's red light district, a dishevelled man carrying a Dirk shopping bag opts to urinate in a corner on the Oudezijds Achterburgwal instead of using a nearby pissoir that looked like it hadn't been cleaned in days.
Elsewhere around the district, other public urinals are equally filthy. Their drains are clogged with faeces, vomit, toilet paper, and in the case of one over by the Oude Kerk, uneaten French fries.
The hunt to find a place to pee in the capital can be a difficult and uncomfortable one.
19th century
Efforts to discourage citizens and others from using Amsterdam's streets and waterways as toilets date back hundreds of years. Samuel Sarphati was a physician and urban planner who lived there in the 19th century, an era when diseases like cholera were common in the city's poorer districts and the canals were used as commodes perhaps more often than anything else.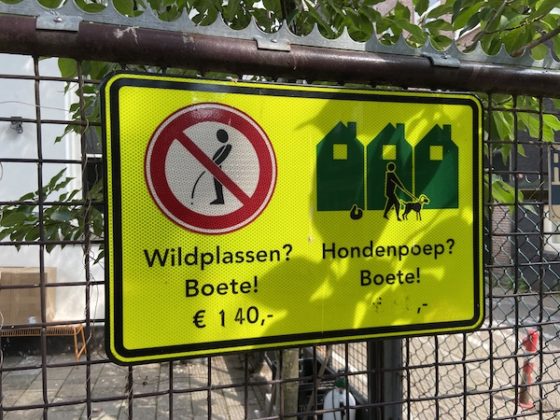 He dedicated much of his career to improving hygiene standards among impoverished residents and boosting their overall quality of life. Along with promoting projects like garbage collection services and a bakery for the poor, Sarphati managed to convince city leaders to start installing public toilets prior to his untimely death at the age of 53.
His influence and good deeds can still be seen around Amsterdam. You can visit a park named after him in the Oud-Zuid district. A group of Dutch water organisations also began the Sarphati Sanitation Awards in 2013, which was later redubbed the Sarphati Sanitation Challenge. It rewards projects around the world devoted to improving sanitation.
Modern problems
The cleanliness of Amsterdam's streets have improved greatly since Sarphati was striving to keep them tidy, but many problems remain. While pissoirs are plentiful in the red light district, it can be tough to find any in other corners of the city. Steep fines for public urination aren't much of a deterrent either, especially late at night if you're a female tourist with a bladder full of Heineken.
'Amsterdam aims to ensure that a toilet is available every 500 metres in busy pedestrian areas,' said city council spokeswoman Poppy Savenije.
'These can be municipal public toilets on the street, but also toilets at authorities, shops, or catering establishments that are open to passers-by. We think it is important that everyone, man, woman, people with disabilities, can find a public toilet within 500 metres in busy pedestrian areas.'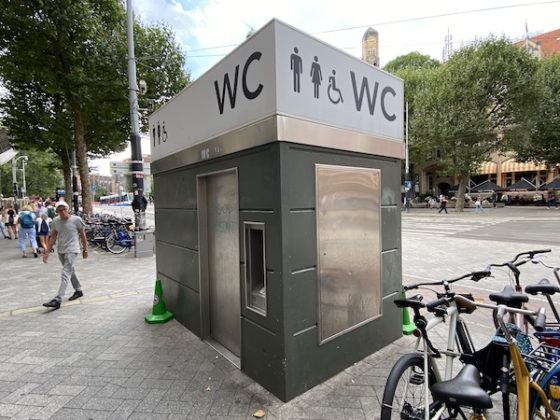 But not every shop or cafe is willing to put up with tourists and others dropping by just to use their toilets. If they do, they typically request a small fee paid with euros instead of bank cards even though a decreasing number of people carry coins and cash with them.
The American Book Center allows customers to use its toilets on the second floor, and, says senior buyer Tiemen Zwaan, opening them to the public have caused few problems.
'We did have to close off the bathroom window with chicken wire,' he said. 'We got a phone call that someone was throwing books out of the window. They had an accomplice picking them up off the ground.'
Petition
NIMBYism is another hurdle to improving the supply of places to pee. Many residents near the Noordermarkt have protested about the construction of a public bathroom on the square. A 'Save the Noordermarkt' petition received hundreds of signatures during the summer months.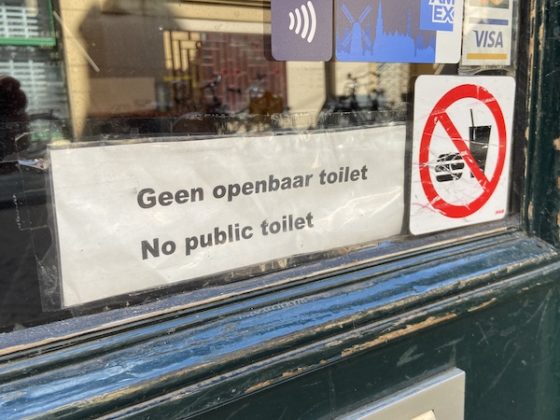 'The plans for the public toilets near the Noordermarkt have not been cancelled,' Savenije said. 'But it is a difficult place and because local residents have indicated that they are not happy with the plan, we are not just going to implement it. We are in discussions with the neighbourhood about this.'
The council has installed new public toilets on the Rembrandtplein and in a bicycle shed on the Beursplein and has plans to invest €4 million in wheelchair-friendly toilets in parks and other recreational areas.
But many of these newer toilets don't accept currency and often reject cards, especially ones from other countries.
'The self-cleaning public toilets do not accept coins as the coin-operated machines are very susceptible to vandalism,' Savenije explained. 'They are broken open or otherwise smashed to get the coins out. This leads to high repair costs and ensures that the toilets are temporarily unusable. That is why we do not install coin machines in new public toilets.'
Nevertheless, these toilets – if you can find one – are more user-friendly than pissoirs and can be used by women as well as those with mobility issues.
Five years ago Geerte Piening unsuccessfully fought a fine for public urination in court after being caught short during a night out. At the time, there were 35 public urinals for men in Amsterdam but only four public toilets suitable for women. The judge told her she should have used one of the urinals instead.
'It's ridiculous that men have so many urinals and they're so stinky and women have none,' said Julia, an Amsterdam resident, following a request for readers' experiences.  'Sometimes I try to find some construction toilets that aren't locked to use. I don't love it, but sometimes you gotta do what you gotta do.'
Amsterdam designer Elise referred to the filthy state of the temporary loos in parks over the summer months. 'Since a visit to Helsinki, which has perfect, clean, accessible, safe toilets, I think we live in the Middle Ages when it comes to hygiene and public toilets here,' she said.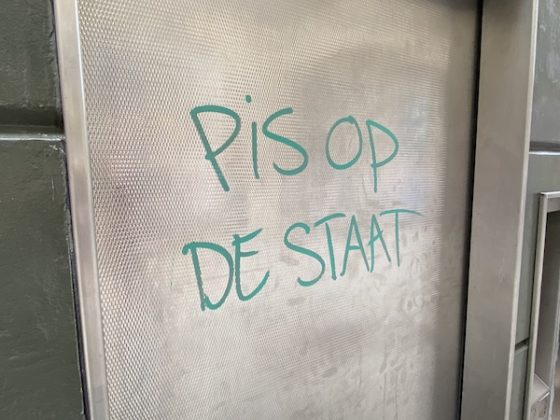 Double standards.
'Women in the Netherlands should go on strike, since everyone else is these days,' one anonymous reader said, referring to recent protests involving farmers and NS staff.
'When cafes were open for takeaway only, I had to beg a pizza shop to let my daughter use their toilet,' one mother reported. 'We all wanted our kids to have fresh air and exercise, but the logistics were really challenging, toilet-wise!'
'Dina', out with friends two weeks after a miscarriage, was turned down by various cafes when she was caught short.
'Even though my husband lied and said I was pregnant, most places still turned us down,' she told Dutch News. 'It was the Italian deli where they took pity on my miserable self and let me use their toilet. Of course we purchased something on our way out. It was a humiliating experience.
'I felt so ashamed but also so thoroughly disappointed by our fellow Amsterdammers. It was during Covid, of course, so we understood that made things a bit more difficult, but man, oh man.
Technology

There are some technological aids to hand. HogeNood (very urgent) is a popular app that guides users towards public toilets around the country. And software engineer  Adnan Hodzic recently created one solely devoted to bathrooms in the city called the Amsterdam Toilet & Urinal Finder.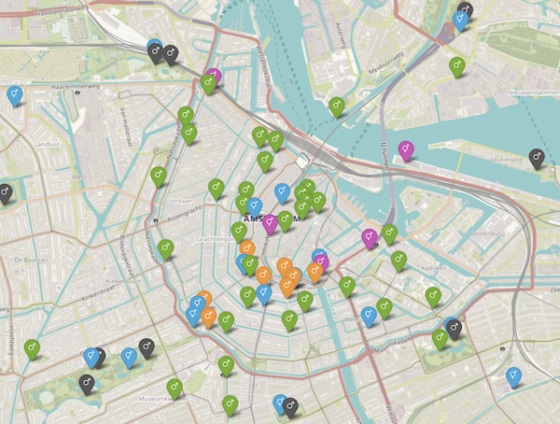 Hodzic has been living in the city for over a decade and has witnessed more than his fair share of public urination. 'The map will be automatically updated as soon as the council adds a new toilet or urinal,' he says. 'But besides that, if any of the users send me coordinates to a toilet or urinal, I'll add it to the map. I created this project in an 'open' manner so anyone could add one.'
Red light

Sex theatre Casa Rosso has also gotten in on the act and set up a separate company to operate a public toilet in the red light district.
Sexy Loo is located on the Oudezijds Achterburgwal and costs €2 a visit. The toilets for both women and men feature cheeky video displays. A large screen over the urinals includes footage of women pretending to clean the genitalia of users or point and laugh at them. One even walks across the screen with a long pair of garden shears before lowering them menacingly.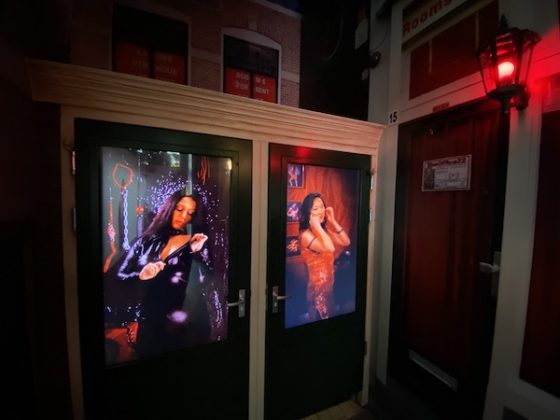 Nevertheless, the designers did manage to include access for the disabled and nappy changing stations for parents.
Improvements

Things may be beginning to improve in Amsterdam as far as public toilets go, but it's an ongoing project.
'In order to increase the number of available toilets, the municipality is also focusing on the availability of semi-public toilets at, among others, catering entrepreneurs and social institutions,' Savenije said.
'For example, the libraries and various police stations have opened their toilets to passers-by at our request. The municipality has also opened the toilets in the seven city counters to passers-by with a sticker next to the front door of these buildings indicating that everyone can enter to use the toilet.'
Despite these efforts, many women and others still feel the need to plan their bathroom breaks before visiting Amsterdam or map out public toilets beforehand.
'You can't go out without planning where to access a toilet,' Dina said. 'Not ever.'
Thank you for donating to DutchNews.nl.
We could not provide the Dutch News service, and keep it free of charge, without the generous support of our readers. Your donations allow us to report on issues you tell us matter, and provide you with a summary of the most important Dutch news each day.
Make a donation