Let the fright one in: Has Halloween invaded Holland?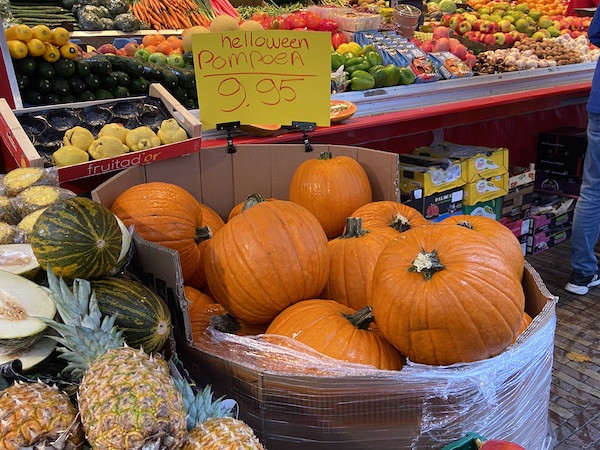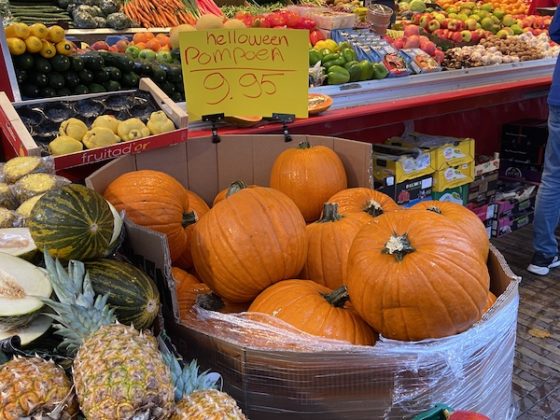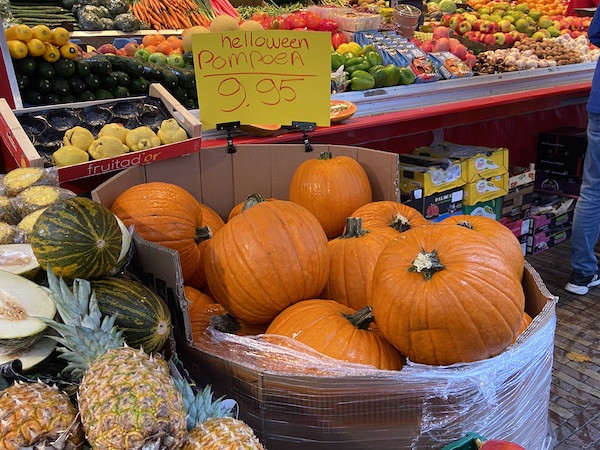 Some people love it, others loathe it, but it looks like Halloween might finally be here to stay in the Netherlands. Here's a look at the history of the holiday and its lantern-carrying 'rivalry' with Sint Maarten.
Every October, big orange pumpkins start showing up at the weekend markets. Shop displays full of witches and ghosts line the front windows of at least a few stores along the high street. Scary movies like Halloween Ends and Smile start sneaking onto cinema screens.
Everything from peanut butter to coffee suddenly has pumpkin spice stuffed into it. You might even have kids from around your neighbourhood showing up on your doorstep in search of sweets while dressed as Spider-Man or a Disney princess.
And, with each passing year, there seems to be more and more of all this. Halloween is gradually becoming an annual tradition here in the Netherlands. Many people, especially those under the age of 30, seem to love it. Others though are ambivalent at best.
The early days
Halloween is a relatively recent arrival in the Netherlands, although it's difficult to pinpoint when jack-o'-lanterns and trick-or-treaters first began materialising around the country.
The origins of Halloween date back centuries and its historical ties are connected to Roman festivals of the dead and Christian feast celebrations along with Celtic and pagan customs. Samhain, a Gaelic harvest festival, also played a big part.
Many modernised traditions like trick-or-treating are largely credited to Scottish immigrants who brought them to America, where they became increasingly popular throughout the 20th century both there, and eventually elsewhere around the world.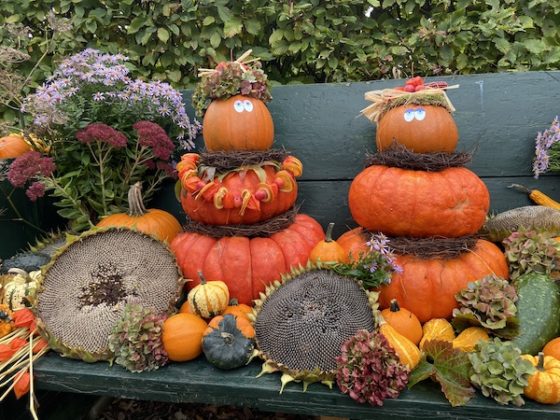 Excerpts from late 19th century and early 20th century newspapers note the Dutch were at least aware of the holiday back then. A 1901 article in Provinciale Overijsselsche, for example, offers an account of the author's experiences in America and the Halloween activities that he witnessed in Kansas that included teenage pranks and apple bobbing.
Despite its popularity overseas, the Halloween bug never quite bit the Netherlands. One of the primary reasons why is because it has Sint-Maarten, another candy-centric holiday that has been widely celebrated here for over a century every 11 November.
Canadian Tamar Bosschaart moved to Amsterdam in 2000. Prior to becoming the CEO of the marketing firm EdenFrost, she began hosting Halloween events in reaction to the limited seasonal offerings around the city.
'At that time, the only other party that I knew of was at Paradiso,' she recalled. 'I went to that party but found it a bit underwhelming as there weren't that many people in costume or nice decorations around.'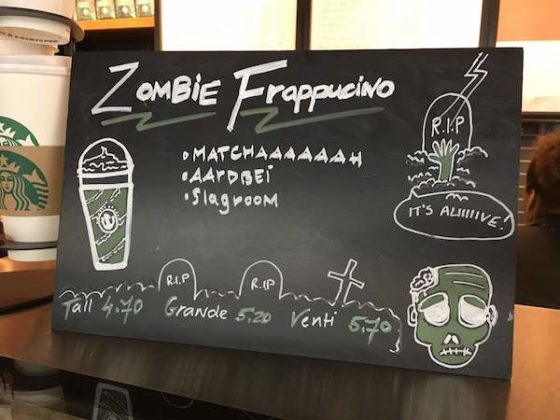 The disappointing evening inspired her to start organising Halloween events at the comedy club Boom Chicago. The first one drew about 200 people and led to additional events in the years that followed at other venues around Amsterdam.
'In total, I organised 20 Halloween parties and seven Halloween festivals in Amsterdam,' she said. 'The festivals drew in about 5,000 people and included horror movie nights, kids' events, haunted houses, processions, and themed dinners.'
Bosschaart's events helped popularise Halloween in the nation's capital as other groups started hosting other annual gatherings that have included outdoor escape games and pumpkin carving competitions.
Outside Amsterdam it was difficult to find Halloween events until well into the 2010s, aside from a few 'spooktacular' costume parties for adults in nightclubs or small community events for families with small children. However, theme parks including Walibi World have shelled out big bucks for events like Fright Nights for many years now.
Candy crazed kids
Expat groups have hosted Halloween parties for years, but trick-or-treating – or guising if you come from Scotland –  is an even more recent tradition in many neighbourhoods around the country.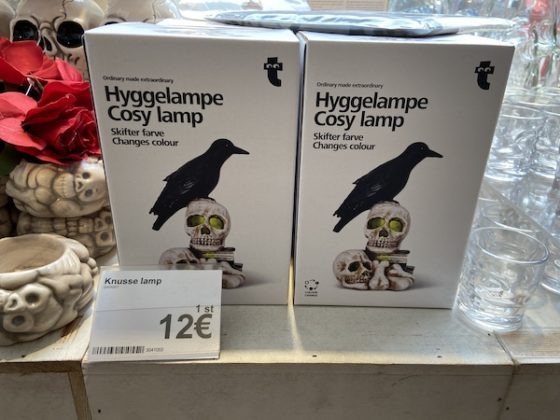 'Halloween has only been a thing here for about the last 10 years,' a reader named Debbie van Hees recalled. 'I used to take my kids to Wassenaar for trick-or-treating hosted by the American School of the Hague, which was great.'
'Our neighbourhood in the suburbs of Utrecht goes all in,' Beatrice Murch, a photographer and web designer, said. 'It was great last year and our son is looking forward to it again this year.'
And it's not just expat-filled neighbourhoods in the Randstad that have been getting into the Halloween spirit in recent years. Readers from communities further afield also sent in reports of trick-or-treaters popping up in their areas.
'Our street in Breda is full on Halloween with kids and sometimes with parents keeping a discreet distance behind,' a reader named Simon said. 'They're dressed up, doing trick-or-treating at houses, of which there are many, that are decked out accordingly.'
But is this just another annoying 'American' holiday?
Not everyone feels gregariously ghoulish this time of year. Many Dutch people dislike Halloween and consider it the holiday equivalent of an invasive species. Some say it goes against doe normaal, (act normal) and gezellig (keep things nice and cosy), two entrenched customs that continue to serve as guiding principles for many natives of the Netherlands.
One reader went so far as to compare Halloween to the corporate-driven Black Friday, the infamous American pseudo-holiday that promotes rampant consumerism.
'As far as I'm concerned, Halloween is like Valentine's Day and Mother's and Father's Day,' another reader named Karin said. 'It's yet another excuse for shops to sell stupid stuff that gets thrown away a day later.'
For many years, Halloween fans in the Netherlands had to visit specialty party shops like Amsterdam's Louis Wittenburg to pick up costumes and decorations. Its basement is currently devoted entirely to Halloween gear. There you can find everything from skeleton napkins to two metre tall animatronic clowns that screech at anyone who dares go near them.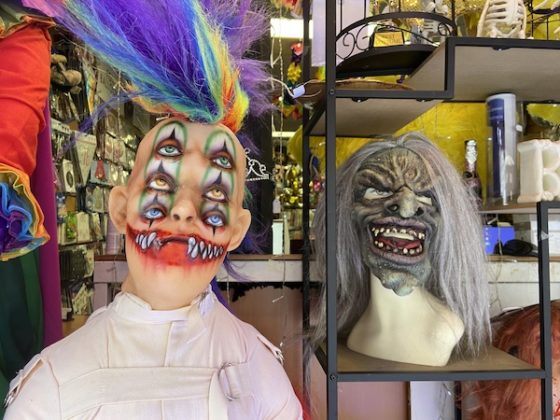 But now large chain stores like HEMA and Lush are also cashing in. You can currently purchase soap shaped like mummies, pumpkins, and Ghostface from the Scream movies at the latter.
'It's rubbish blown over from the US, in my opinion for purely commercial reasons,' reader Tim Smit said. 'I really have nothing to do with it.'
Sint Maarten vs. Halloween
There's also the question of whether or not the Netherlands 'needs' another candy-centric holiday since it already has one. In many Dutch communities, children go from door to door on the evening of Sint Maarten with paper lanterns, singing songs to earn their sweets. The holiday's namesake is also the patron saint of Utrecht and the city is hosting a week-long Sint-Maarten celebration this year.
'For some, Halloween is seen as competing with this tradition,' a reader named Jan van der Sluis noted. 'Also there are Dutch people who are disgusted by every influence and copying of American ways of life. It's complex.'
Another reader, Anna Nachesa put it more succinctly. 'Sint Maarten: ja, Halloween: nee,' she said.
Ben Farrell, an Amsterdam based designer, offered an historical analysis of why many Dutch people aren't too keen on Halloween.
'Halloween is rooted in paganism,' he said. 'The Netherlands doesn't feel like a country that has a sense of dark, old things in its bones in the same way the UK, Ireland, or even the US do. Not that it doesn't exist here. It's just not celebrated as part of Dutch cultural identity. Maybe that lack of darkness comes from the fact that it's a well run country with a strong sense of society and doe normaal. Scary stuff isn't a natural part of life here. '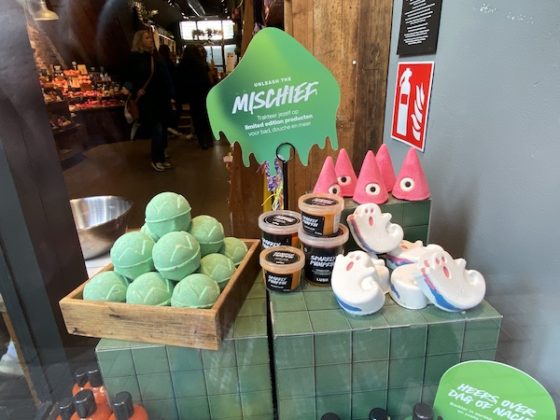 A potentially frightful future
As anyone who has ever set foot in a Flying Tiger this time of year can tell you, Halloween filtered through a continental lens can produce some unusual results. The shelves of the Danish chain are selling 'cosy' raven lamps this year.
'Hello-ween' pumpkins were also recently spotted at the Leiden Saturday market. The ones over at Albert Heijn have helpful markings on them so their customers don't have to think about what to carve.
With each passing year, an increasing number of naysayers in the Netherlands could be persuaded to dive into the Halloween hoopla if it adopts more of a Dutch spin.
'My Dutch girlfriend didn't like it at all, seeing it as a cheap American invasion,' Stephen, who hails from Ireland, said. 'Yet I'm Irish and we love it, so this year she's fully onboard.'
Thank you for donating to DutchNews.nl.
We could not provide the Dutch News service, and keep it free of charge, without the generous support of our readers. Your donations allow us to report on issues you tell us matter, and provide you with a summary of the most important Dutch news each day.
Make a donation