New looted art claim for €3 million salt cellars by master silversmith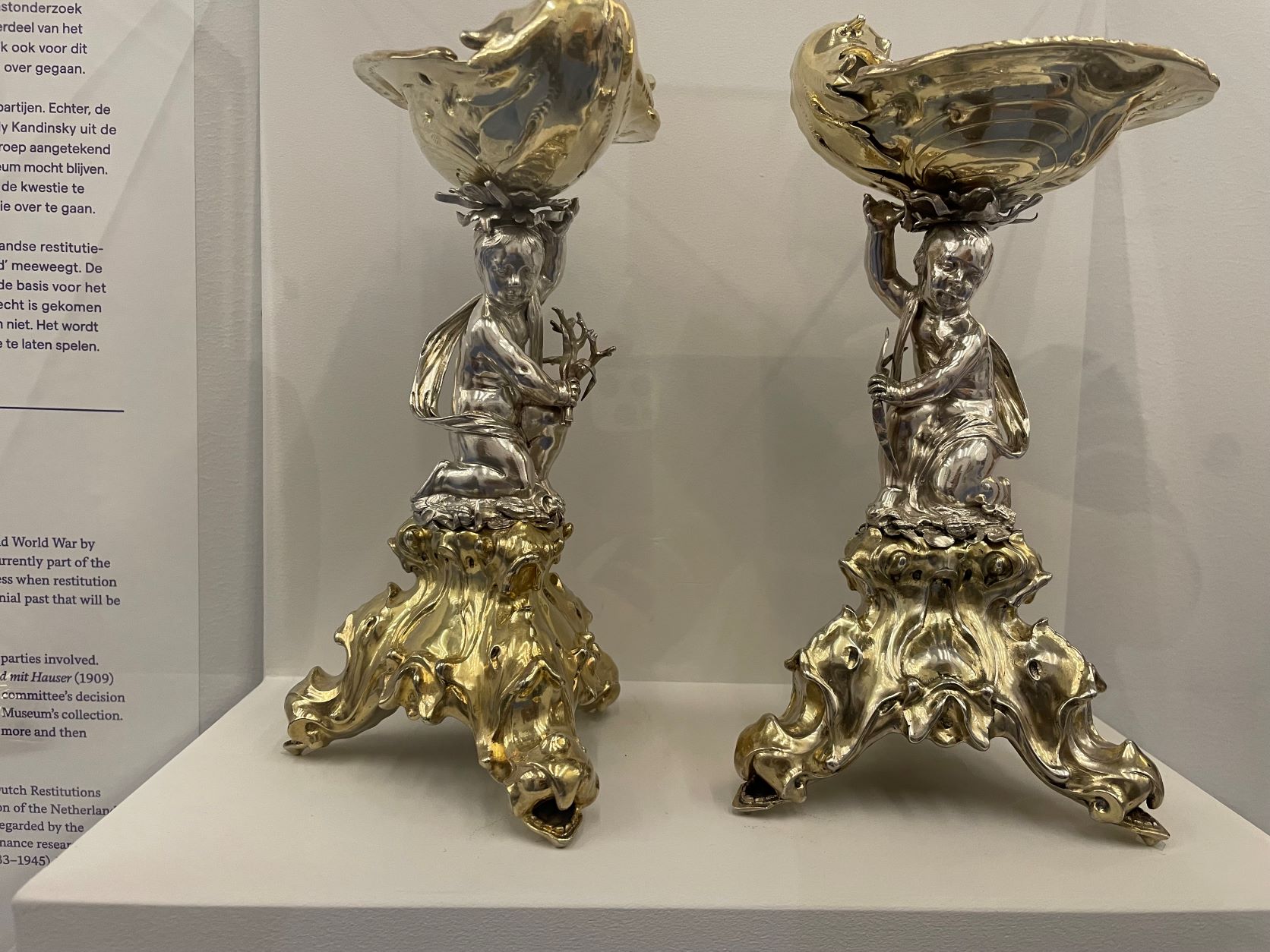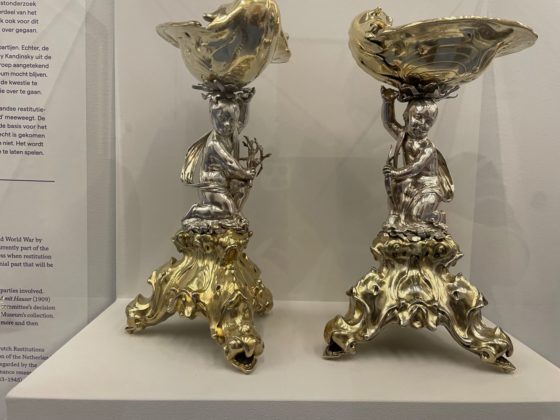 They are a glittering reminder of the wealth of the Dutch 'golden age', where the well-to-do held extravagant dinners in their marble-lined canal houses.
But four 17th century silver salt cellars created by master craftsman – and friend of Rembrandt – Johannes Lutma have been claimed as looted art.
At a restitutions committee hearing, descendants of a Jewish woman from Hamburg, Emma Budge, claimed the €3 million set now at Amsterdam Museum and the Rijksmuseum, were wrongly taken from the family in Nazi Germany.
A previous restitutions committee ruling in 2018 has already returned a bronze sculpture that was part of the same collection, and sold at the very same auction. Meanwhile, the Amsterdam Museum's display on the Amstel labels its two Lutma silver cellars as items with a 'problematic' origin that 'can be considered as involuntary loss of possession.'
Boxes in the cellar
The set was once owned by Emma Ranette Budge-Lazarus, a wealthy Jewish resident of Hamburg, who had American citizenship. 'The Budge collection was huge, she was a very wealthy lady, buying like crazy,' explains Lothar Fremy, a partner at Berlin law firm Rechtsanwälte Rosbach & Fremy.
'She had a huge villa in Hamburg but couldn't display all the pieces she bought, so a lot of them were packed in boxes in the cellar. The Nazis couldn't touch her property because she was an American citizen and [had] lived with her husband in the US. They left her alone for some time.'
But it was a different story after she died, according to Steven Schwab, 81, an American lawyer and great-great-nephew of Budge, who had no children. 'The Nazis came and took everything out of the house, the entire collection,' he claims. 'It went to Berlin and was auctioned off – I have the catalogue. From the sale, it lists in detail every item in her collection that at least got to the auction. It's astounding.
'Everybody always jokes about how specific the Germans were, so concerned about keeping detailed records – and in this case, they did. Now it's pretty obvious what the situation was. This was stolen from our family.'
'Justice'
The auction took place at the Paul Graupe/Hans W. Lange firm in Berlin on October 4, 1937, says Fremy, and more than 40 descendants of Budge and her husband now claim that all 1020 objects represent a 'loss due to persecution' – a form of Nazi-looted art. Her will had said that although she authorised her Jewish executors to donate items from her art collection to museums, she did not want an auction in Germany, and divided her wealth among 13 Jewish beneficiaries.
For Schwab, who was asked by his 101-year-old aunt and Holocaust survivor Marianne Schwab to shepherd the claims for his branch of the family, it is a clear question of justice. 'The most important thing, of course, is that they were illegally taken,' he says. 'It doesn't matter how many years have gone by – the objects were stolen from the Budges and therefore the Budges should have a claim on them.
'The danger is that people will say: "This has been so long and they have recovered what they should recover and now it's fair game." But I think that the principle of chain of title exists worldwide in any civilised, Western country. Some of the heirs might be more interested in the money, but in our family's case, we think what's fair is fair and this is part of our heritage.'
Reassessment
Margriet Schavemaker, artistic director of the Amsterdam Museum, agrees and says museums have a duty to continue investigating their collections. 'We are changing as a society and not just accepting the way it is, but understanding that all kinds of systemic power plays have been at stake in the world,' she says.
'Museums might have these collections, but can I assume that they are rightfully there and should be there for ever? Maybe we really need to assess that and talk about the future.'
After working on an exhibition at the Stedelijk Museum on 18 pieces that changed hands under the pressure of the Nazi rise, she asked actively about pieces of dubious provenance at the Amsterdam Museum. While keen to 'do the right thing' when the restitutions committee reaches a binding opinion, she said it is important to retell this history as part of their two Lutma salt cellars' story – which are now in a display on the Second World War.
Humanity
'On the one hand, they represent the immense richness of the Dutch in the 17th century, that they have these wonderfully decorated salt cellars that you put on the table for a luxurious banquet,' she explains. 'They are beautiful in craftsmanship, and that is the story that was told about them.
'[We turn] that into a story of a transfer of ownership, because there were Jewish owners who had to leave the country. Many Jewish collectors had to sell stuff to get money to flee, or stashed it in case they would come back… Amsterdam had a fantastic Jewish community and it was almost all annihilated, and their objects were sold. That is showing that story as well.'
A spokeswoman for the Rijksmuseum said that the two silver salt cellars are currently on show and researchers have shared extensive research on their provenance with the Dutch heritage organisation, Rijkdienst voor het Cultureel Erfgoed. Welcoming a new approach to restitutions based on more 'humanity' in 2020, general director Taco Dibbits said it was a 'positive development' that justice would lead decision making about looted art.
Frustration
However, there is some frustration amongst family members of Budge that assessing the Lutma claim has taken some five years, and counting – especially given the previous verdict to return another item from the same sale.
'My father knew them very well, the Budges,' says Schwab. 'He knew many of the objects, admired the collection, and felt the same way we do: that these were collected by our relative and they belong to us. Because these objects are so beautiful and meaningful, having them displayed in museums is fantastic – but they should make a settlement, and there should be in the description of the object a remembrance that these were stolen by the Nazis.'
A spokeswoman for the restitutions committee told Dutch News there is no date for publication of the 'binding opinion' that will decide the fate of the salt cellars.
But thinking back to the stories of his family, and the scars of the wartime, loss, looting and flight, Schwab adds: 'It's important that people remember.'
Thank you for donating to DutchNews.nl.
We could not provide the Dutch News service, and keep it free of charge, without the generous support of our readers. Your donations allow us to report on issues you tell us matter, and provide you with a summary of the most important Dutch news each day.
Make a donation