Street life in Leiden: The big, bad, bureaucratic bench battle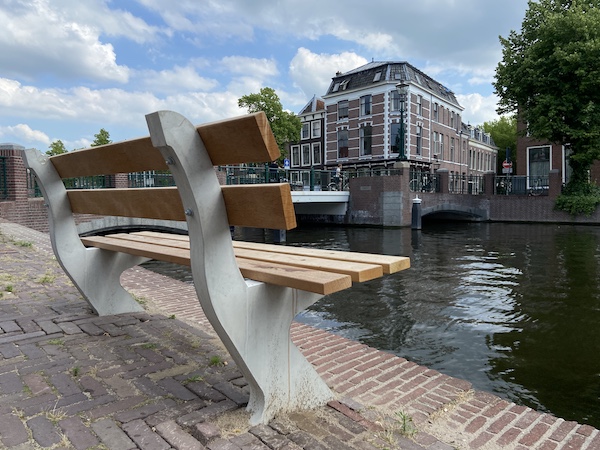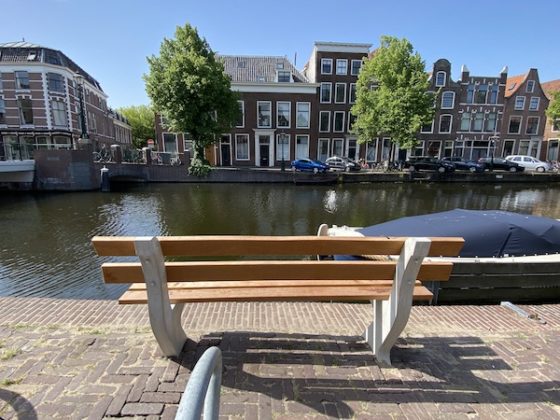 It may look harmless and perfectly benign, but this bench has tormented dozens of residents in the centre of Leiden for over a decade.
It was 11:30am on a sunny morning last July when a woman dropped her pants and attempted to use one of our front windows as a toilet.
She had been drinking on a nearby public bench for at least an hour. My partner and I stood in our living room a few feet away, aghast, as she walked over to the window, placed a large plastic bottle of vodka on a planter box, and slid her pants down to her ankles. Her butt was pressed up against the glass when we finally realised what was happening.
I pounded on the window and shouted words that cannot be printed here. The woman prioritised the vodka above all else. She tossed it into her backpack before lifting her pants back up and staggering off down the sidewalk.
Once she was gone, we turned and looked at one another.
'That bench has got to go,' we said in unison.
City living
We live in an old canal house in the centre of Leiden mere footsteps from taverns and houses stuffed full of university students. We've grown accustomed to standing-room-only boats full of undergrads cruising down the waterway in front of our home at all hours hooting and hollering with their stereos turned up to volumes worthy of the main stage at Pinkpop.
On summer days, everyone from retirees and homeless people to picnickers and random breeds of waterfowl line up and down the water to soak up the sun and wave at passing boats. Folks routinely use our doorstep as an ashtray. We've had to clear countless fast food containers and beer cans out of our outdoor plants when local dogs aren't busy peeing on them.
In short, we knew what we signed up for when we moved here back in 2014. However, we do draw the line at anyone attempting to defecate on one of our windows when we're both trying to get through our work days on the other side of the glass.
A magnet for trouble
The problem: a seemingly normal public bench located on a nearby corner along the canal. Over the years, it's become something of a hotspot for what many Dutch people might call asos or hufters.
They've included aggressive and loud career alcoholics, drug addicts and their dealers, the mentally unstable, the homeless, and even a prostitute and her abusive pimp. This particular bench seems to be a draw because it's the first one many of these individuals encounter as they head into the centre of the city from a nearby homeless shelter.
We once watched a woman scream at the top of her lungs while urinating on a nearby lamp post on an otherwise idyllic Sunday morning. We've been spat at and called every name you can possibly imagine in no less than four languages.
Several months ago, a drunken homeless man rolled off the bench and into the canal one night. He would have drowned if a passing student hadn't jumped in to rescue him. A tree near our place, which my partner steadfastly plants flowers under every spring, has been used as a toilet more times than I can count. I still remember the cheerful guy with dreadlocks who waved at me while hosing them down a few years ago. He'd spent the entire afternoon chugging beer on the bench.
Mere footsteps from the cops
Another particularly frustrating aspect of this situation is the fact that the bench is located roughly 200 metres from Leiden's central police station.
Regardless, it's rare to see the police or council wardens confronting individuals causing problems on the bench. However, they were quick to lecture a neighbour who was painting his house last summer about scaffolding that encroached on the sidewalk by a mere three centimetres.
At least partially due to these issues, three of our neighbours have moved. One house is now on its third homeowners in less than five years. Despite all of these problems, city officials have stubbornly refused to remove the bench.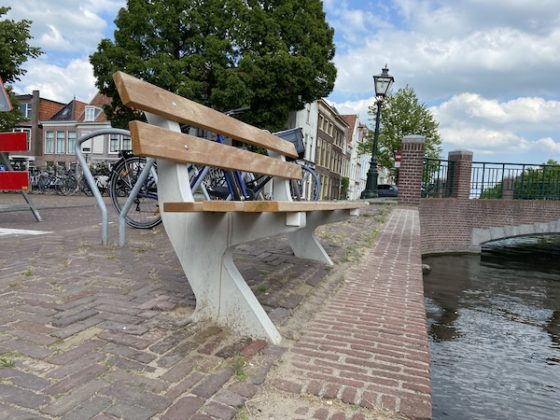 Over a decade of complaints
One of our neighbours is a gentleman who I'll call 'Rex'. He agreed to be quoted provided I changed his name. Like many of our neighbours, he's worried about his identity becoming known by some of the bench's more sordid and potentially violent fans. Nonetheless, he's become something of a one-man army and his sworn enemy is this bench.
'More than 10 years ago, I began dealing with this bench and the nuisances caused by loitering homeless people, their drinking, their drugs, their dealers, etc.' he said.
Over the course of a decade, Rex filed a lengthy series of complaints with various agencies, confronted several local bureaucrats, submitted public information requests, and even once got into a face-to-face argument with Leiden's mayor about the situation. Despite his efforts, the bench and all its problems remained.
'It is impossible to say what the worst incident was,' he said. 'One time there were drunken screaming people, another time undressed ladies. Then again, there's been pooping and peeing in front of our door and between the cars, and a multitude of drug dealers.'
Last September, the bench was removed with little warning by a local maintenance crew. One neighbour was so happy to see it go she was literally dancing when we talked to her about its sudden disappearance later that evening.
The bench strikes back  
Once the bench was gone, things changed overnight. The amount of trash in our plants and under the tree dropped significantly. We no longer had to turn the volume up on our stereo during work days to tune out people on the bench arguing or screaming at random passersby.
Rex, meanwhile, was finally able to relax a bit and no longer had to worry about confronting people urinating next to his car before he began his morning commute.
But a shiny, new bench showed up out of the clear blue one morning in late May. A few of our neighbours quickly rushed to the scene to find out what was happening. They were told the old bench had been removed for repairs and this was its replacement.
Almost immediately, all of the problems returned. The new bench, like its predecessor, attracts trouble like flies to a bug zapper. It's already been the subject of one story in the Leidsch Dagblad, Leiden's daily newspaper.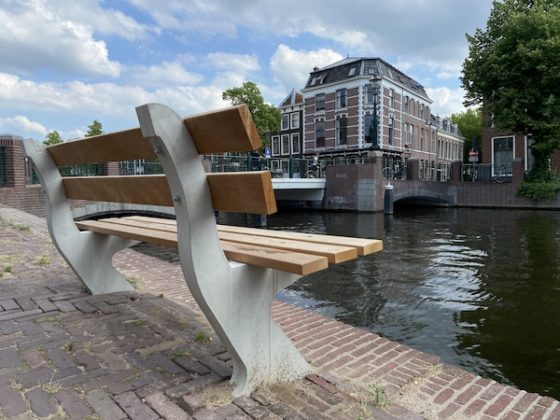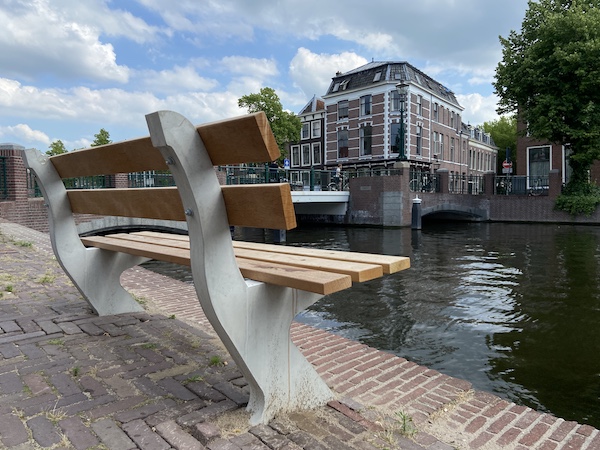 A trio of belligerent binge drinkers began visiting the bench nightly soon thereafter to pound cheap lager and yell at one another. One recent Monday night, they showed up with a Bluetooth stereo they pointed at the houses across the street. The trio blasted them with pounding electronic music for over an hour before they packed up and left. I was later told that several households called the police but they never showed up.
The battle begins again
Needless to say, Rex is beyond livid about all of this. He swiftly rallied eight households and others to file complaints about the bench. A wijkregisseur (district official), the police, and the voorzitter van de buurtvereniging (chairman of the neighbourhood association) have been repeatedly contacted.
But there's little anyone in the neighbourhood can do beyond repeatedly writing emails to these officials, reporting incidents to the cops, and filing complaints via the MijnGemeente app. Getting the bench removed would require approval from a local council. Rex isn't optimistic this will happen anytime soon.
'I have hope but really no idea if the council will ever listen,' he said. 'It seems like a matter of principle for them.'
It's not like these concerns have fallen entirely on deaf ears. A coordinator from the homeless shelter met me last summer after our window was almost used as a toilet. He admitted there wasn't much he could do since the woman involved wasn't someone from the shelter. For what it's worth, the voorzitter van de buurtvereniging did reach out to me via email to discuss the bench and randomly showed up at our house one Saturday evening in early June to talk about it further.
NIMBYism or a legitimate nightmare? You decide.
But, thus far, all these officials have done is discuss the situation. They're unwilling to accept that the simplest solution is to do away with the bench once and for all. As Rex said, it seems to be a matter of principle, but the situation becomes more complex when you look elsewhere around Leiden.
There's additional benches along both this canal and others that have caused similar, although likely fewer, issues. Elsewhere, residents who live near the city's parks are almost constantly having to contact the powers that be about problems.
Leiden's Huigpark became so bad during the summer of 2020 that one resident described it as 'a park where everything is possible and allowed. Loud talking and laughing, but also screaming, urinating and defecating, and public sex.'
As annoying and often frightening as those attracted to the bench can be, these problems pale in comparison to what folks in the centre of Amsterdam put up with on a nightly basis. More public restrooms in Leiden would also go a long way toward alleviating the most disgusting aspects of this predicament. Nevertheless, having to mentally prepare ourselves for getting screamed at by inebriated transients every time we leave the house is just a *smidgen* stressful.
The bench situation might seem like a hopeless and possibly endless bureaucratic boondoggle, but the residents of a nearby neighbourhood successfully won a similar battleto close a Getir distribution centre that was creating plenty of problems. A judge ordered it to  shut down in May. There's also no denying that, oddly enough, many of Leiden's nicer neighbourhoods and their canals contain few, if any, benches.
Will the troublesome bench near us face a similar fate? Only time will tell. As I type these words, the binge drinking trio are out there loudly talking and laughing among themselves.
Thank you for donating to DutchNews.nl.
We could not provide the Dutch News service, and keep it free of charge, without the generous support of our readers. Your donations allow us to report on issues you tell us matter, and provide you with a summary of the most important Dutch news each day.
Make a donation