Why have overseas shipments to the Netherlands become such a nightmare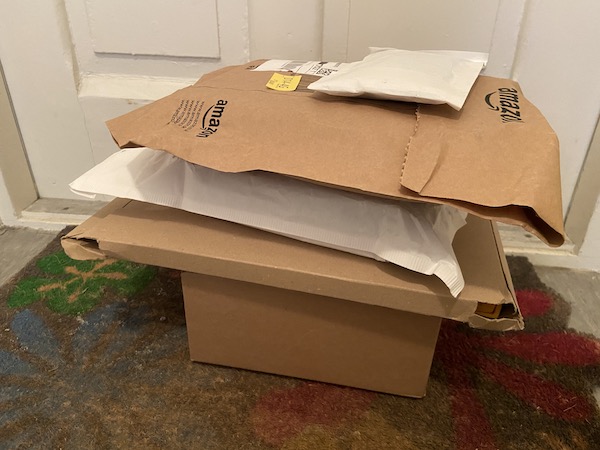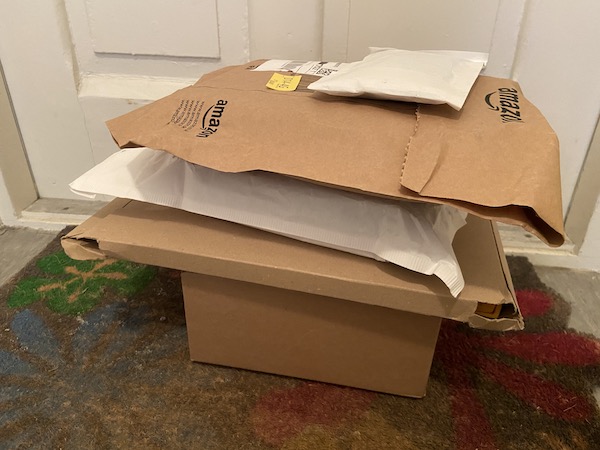 If you've received a package from overseas in recent months, there's a good chance you had to pay substantial fees on it, even if it was a gift or a personal item. You may have even found yourself in an aggravating ordeal with the customer service departments of PostNL, DHL, or another delivery service. Here's the rundown on what's happening…and why it's going to continue.
A birthday gift from my sister and a family heirloom for my partner Marie.
These are just two gift packages we've received at our house in recent months that have arrived with steep taxes and other fees attached. We're not the only ones having these issues.
For this article, I asked the readers of Dutch News to send me their own stories of problems they've had with the post lately. I was quickly bombarded with complaints about not just PostNL but UPS, DHL, and a few other delivery services.
The messages came from students, expats, lovepats, immigrants, native Dutch residents, and others who had all encountered frustrations while trying to get packages from relatives, friends, and others in the EU as well as North America, Australia, Asia, and Africa.
An avalanche of complaints
I was contacted by so many people I finally had to start tracking the complaints on a chart. Many expressed ongoing concerns with packages being left with neighbours, dumped in the lobbies of their apartment buildings, or lost altogether. Others were angered by delivery drivers who they say never ring their doorbells before dropping their packages off at nearby service centres.
A few other stories came from readers who have cancelled subscriptions to overseas publications due to hefty fees they've had to pay for each issue. One particularly troubling tale involved a young woman who recently went through a difficult break-up. It was further exacerbated when the house keys her boyfriend sent her were lost by PostNL. She finally opted to change all the locks in her home.
By far though, the number one aggravation was the confusing, inconsistent, often incorrect, and downright costly customs fees people around the country are now having to pay on gifts and personal items. Worse yet, even postal employees seem to be having a hard time keeping all the rules straight.
A customer service agent will be with you shortly  
Dealing with PostNL's customer service department has proven particularly frustrating. Even though the rules regarding taxes and fees on gift packages valued over €45 and sent from non-EU countries have been in place in the Netherlands for years, nobody seems to know why they've apparently started being enforced more harshly since late 2021.
We ourselves have received plenty of birthday and Christmas gift packages from America without any charges for years. There have even been a few boxes from private companies in thr US that have slipped through without any fees attached. All that seemed to change during the 2021 holiday season.
When Marie's family heirloom, labelled as a gift, went missing six weeks after it was sent to the Netherlands from Oregon, she contacted PostNL to find out what happened. After a series of frustrating phone calls to their customer service department, she contacted them via Twitter, was informed the package 'had been getting the same scan for over a month', and was finally told to have the sender contact them.
Her elderly aunt had been the one to send the package. There's no way she'd be able to navigate her way through the 'phone tree' of a Dutch customer service department, let alone be willing to call during business hours from nine time zones away in Oregon. Marie finally opted to create a new Twitter account, pretend to be her aunt, and contacted PostNL again.
It was an uncouth decision, but it worked. This time Marie was told a payment request had been sent to her to cover the customs fees on the package. No such request had ever actually come to our house. She eventually paid  €11.92 on the heirloom, which was valued at €100. The package finally arrived on 5 April, over two months after it was sent from Oregon.
Here's your bill
Being told by PostNL agents to have their friends and relatives contact them about packages seems to be a common occurrence. A far larger concern, however, was the baffling processing of customs and handling fees by both PostNL and their competitors, some of which are quite steep.
On 4 May I called UPS to discuss the birthday gift I received from my sister. She marked the items in the box as being valued at €53. When the delivery driver showed up on our doorstep, he handed me an invoice for €25.88 for various taxes and handling fees that I had to pay on the spot. According to the customer service agent I spoke with, UPS is now charging fees on all gifts and personal items no matter their value.
What he told me might be true, but it certainly isn't legal. Gifts worth less than €45 are not allowed to be subjected to value added taxes, duties, or other charges. My sister's gift was above that mark, but €25.88 in taxes and fees for a gift that's worth a mere €53 is difficult to justify. I had to pay €2.73 for 21% for BTW tax, €10.15 for a second BTW belastbaar tax, and €13 for voorschotprovisie, an additional commission fee.
Pay up
Our experiences are nothing in comparison to a few crazier situations Dutch News readers contacted me about involving gift packages and other items they've recently received.
Niji, a university student who's studying in Amsterdam, told me about paying a staggering €300 to receive two gift packages her mother recently sent over from Japan. Another reader mentioned paying €5 in taxes and fees for a Halloween greeting card sent from America after going in search for it at multiple PostNL service centres.
Widya, a huge Taylor Swift fan, shared a story about paying €30 for a package sent via PostNL full of the singer's merchandise that never even showed up at her house. She ordered the same items again and the second package arrived, this time oddly enough without any taxes or fees attached. Another reader told me about receiving a gift from a colleague in India valued at €70. They wound up paying DHL €60.
Yannick Veilleux-Lepage, an assistant professor at Leiden University, was charged around €12 in taxes and fees by PostNL for a single copy of a book. The author? Himself.
'It's particularly outrageous because I only get a few euros of royalties per book,' he said. 'Nobody writes an academic book for the money, but it still kinda stings.'
This time it's personal
Hallam, a reader in Maastricht, was recently charged a hefty fee on a personal item he forgot during a trip to the UK. It was delivered via DHL.
'The value was about £300, so I expected a chunky postage bill, but I was happy to pay that,' he said. 'Fast forward 48 hours. A parcel arrives at my door and, to my shock, I was charged €98 for import fees. As I needed it, I couldn't exactly say no but, under some circumstances, it would have been cheaper to get a return flight to the UK to pick it up myself and travel with it in my hand luggage.'
A reader named Matt shared a story about paying DHL high fees to receive items from America that once belonged to his deceased father.
'I received multiple boxes of used personal effects from my late father and was charged import duty on all of them,' he said. 'The total was in the low hundreds of dollars, but the principal of it! There were his old ties, books, wallet, nothing of objective value. Very upsetting.'
Homemade gifts
A reader in The Hague who asked to be called 'Tricia' recently received a painting her sister made and sent over from the UK. On the package she assessed its value as €12, well below the €45 limit. Nevertheless, she was dinged for €5 in taxes and fees. That's when she contacted their customer service department.
'The answer I was given was that it was 'a new product',' she said. 'Of course it's a new product, my sister painted it herself and signed and dated it. It hadn't existed before!  Well, then, said the PostNL person, she should have added 'personal – painted by sender' or some such to the customs form. I was bemused and exasperated and suggested that maybe PostNL should add something to that effect in their FAQs.'
Homemade gifts seem to be particularly vexing for delivery companies. A reader who asked to remain anonymous shared a story about a gift box he recently received from his mother in Australia. In addition to a small children's book, she included a few knitted items she made for his young daughter. She put an estimated value on the customs forms before shipping it but PostNL later reassessed them for a much higher amount.
'PostNL said it contained 'Speelgoed, ander' [toys and other] valued at €199 meaning a customs charge of €51.94. I tried to object and sent a photo of the contents of the box to PostNL, but they rejected my claim.'
The world's most expensive tea towel
But the craziest story I received involved a tea towel sent over from the UK. The reader involved also asked to remain anonymous because they're still contesting the huge fees they paid to PostNL, an ordeal that began over four months ago.
'This is probably going to be the most expensive tea towel in the history of such items, on a par with a small painting, if PostNL does not refund us,' they told me. 'Our tea towel has been estimated at €1,000.00 or some such. One wonders whether even a leaf of gold that size could be worth 1K!'
The reader wasn't expecting the towel, which they described as 'bog standard'. They didn't quite know what to expect when they were initially contacted by PostNL about it.
'The maddening thing is that they don't tell you who the parcel is coming from until you pay, so if you are actually waiting for an item to pay for, as we did, you have no option but to comply,' they said. 'The packet was marked as a gift, but my friend has a bit of Parkinson's so the £8.00 she wrote was a bit wobbly. That's the only possible justification, but the wrapping was ripped so it was plain to see that it was a piece of cotton.'
At the time of this writing, PostNL has admitted they made a mistake, but they've opened a new claim. The reader was told it could take several more months for them to receive a refund.
Beyond Brexit
While many of the readers I exchanged messages with blamed Brexit for the recent string of postal fees they've been forced to pay, that's only part of the problem, as anyone who has been receiving packages from outside the EU for years could tell you.
Along with the rules regarding gifts valued over €45 from non-EU countries, other goods valued over €22 are no longer exempt from charges as of July 2021. You may be subjected to fees if the sender doesn't fill out the declaration forms correctly as well.
The policies regarding gifts, which are outlined on the Belastingdienst's website, are straightforward and simple, in theory at least. Along with charging for customs and taxes, postal delivery companies are also allowed to bill their customers for 'processing costs.'
But here's where things get more complicated. Delivery companies base the taxes and fees they charge on packages sent between private individuals based on the value of the actual contents in addition to the amount the sender paid in postage and any insurance they put on the package.
There's an example of how all this breaks down on the Belastingdienst's website, which explains how a €200 tailor-made suit sent from Hong Kong can be valued at €235.
The final price the theoretical suit's recipient would have to pay before a delivery person would give it to them at their house in the Netherlands? €91.45. In real life, however, the cost would probably be higher once the delivery company involved adds their own processing costs.
What the delivery companies had to say
I sent questions to DHL, PostNL, and UPS, the three delivery companies I received the most complaints about from Dutch News readers. A spokesperson for DHL accepted the questions but has yet to answer them.
Karen Bocqué, a communications supervisor for Benelux & France at UPS, wasn't willing to discuss why certain customers are getting hit with fees on gifts valued less than €45 without being provided with specific examples and tracking numbers.
She also declined to explain how her company calculates taxes and processing costs. Bocqué did, however, make a statement about whether or not UPS has been discussing the impact these costs are having on their customers with the Dutch government.
'When it comes to the VAT reform, we are working with customs officials and our customers around the world to ensure shipments continue to smoothly clear customs,' she said. 'To avoid any surprises, we recommend that businesses alert their customers when shipments are subject to new government taxes.'
Bocqué also shared this document (in Dutch) regarding UPS's current VAT policies and reform efforts.
Dagna Hoogkamer, a media relations manager in PostNL's Media Relations department, declined to provide specific answers to questions, but offered this response to my inquiry about charges on inexpensive gifts.
'A gift is exempt up to €45,' she said. 'If the shipment is below that value, there are no customs clearance fees to be paid. Clearance costs is a collective name and concerns the VAT to be paid, possibly. import duties and the handling costs for submitting the declaration. If a recipient believes that VAT has already been paid on gifts and customs clearance costs are incorrectly charged, my advice is to contact our customer service.'
I sent a few follow-up questions to Hoogkamer asking for additional information about how PostNL calculates taxes and fees. I mentioned that several readers had contacted me with horror stories about having to pay big bills on their packages. I received a response from another spokesperson named Ivar Noordenbos eight days later.
'We normally declare the VAT based on what the sender states about the value of the shipment,' he said. 'PostNL does not make up any values ​​itself. If there is not enough information about the value, we will contact the recipient. So the examples you mention sound strange to us.'
The Grinch who stole Christmas (and plenty of birthdays)
Regardless of the reasons why so many of us are now paying steep taxes and fees to receive gifts and personal items from overseas, there's no denying this will have a significant impact on how some people will celebrate birthdays and holidays in the future.
Some might be quick to draw attention to the carbon imprint of sending packages around the world or perceive all this as crass consumerism, but for many people these are vital connections to folks back in their home countries.
After she helped several colleagues deal with overcharges for taxes and fees on packages sent via PostNL, a reader named Catherine created a 'how to' guide for contesting charges with their customer service department. She shared it with me. Here's the first step: visit this page on the company's website to file a claim.
Some are now telling their friends and relatives overseas to stop sending them gifts altogether. Author Ben Coates is one of them. He expressed his frustrations with receiving packages from overseas recently on Twitter. Many of those I spoke with were considering doing the same.
'It's quite possible,' the reader who received the gift box from his mother in Australia told me.  'It's a conversation we've had. My mum is quite upset and annoyed by the fees, because it makes her think twice about sending gifts and things she has made to our daughter.'
Thank you for donating to DutchNews.nl.
We could not provide the Dutch News service, and keep it free of charge, without the generous support of our readers. Your donations allow us to report on issues you tell us matter, and provide you with a summary of the most important Dutch news each day.
Make a donation