Shifting ground: British artist Antony Gormley brings lifetime's work to The Hague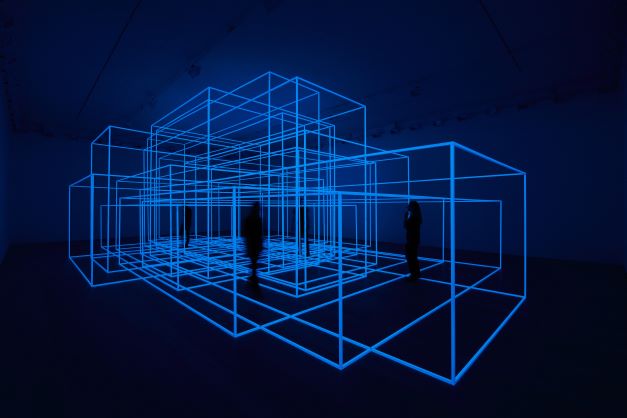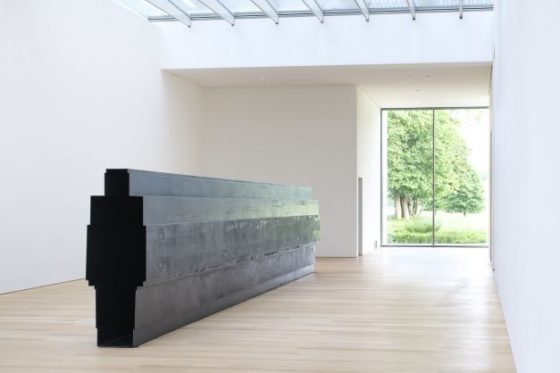 When you stand inside the end of 'Passage' – a 12-metre tunnel in the shape of a mechanical man – the outlook is frighteningly black. But turn around and the entrance has become a cross of stunning light, and a kind of epiphany.
This tension between despair and hope is the common thread in an exhibition by the British sculptor Antony Gormley, in the stunning surroundings of the Voorlinden museum in The Hague.
The show is called 'Ground' and it takes a journey from the start of Gormley's career when he ate his own body shape in Mother's Pride bread to more recent works like the Passage, which invite viewers to experience themselves ideas about the space we occupy.
In sculptures of his own iron-cast body rising from the earth, a phosphorescent installation of wires you clamber inside, or thousands of tiny clay bodies that look impassively back, Gormley's Ground attempts to make the audience experience his existential dilemma. There is even a nod to his most famous work, the massive Angel of the North sculpture in Gateshead, in the form of a miniature bronze in the gardens (which, apparently, paid for the original).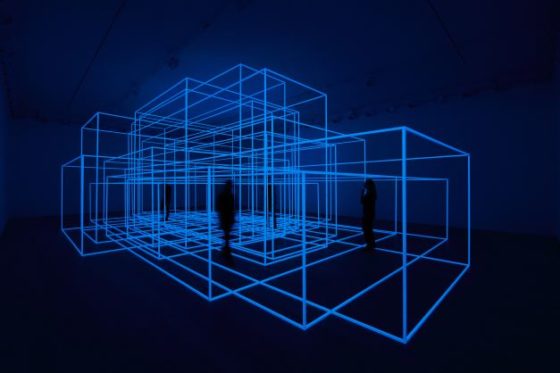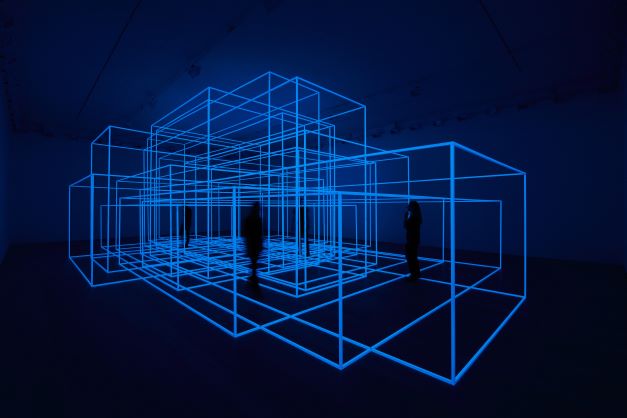 Making
'My story is using doubt, anxiety and fear and making something out of it – I think that's what my work is,' he said, at a press preview.
'The strange thing is that once you deal with it and begin making something of it, the gnawing negativity begins to go away. Making sculpture, making anything… making breakfast is an act of hope; it's about believing there is a future.'
Some of the sixty, 650kg sculptures of his body in 12 forms – part of the work Critical Mass II – are in a row as you approach the main gallery. Others are scattered across the estate of the Voorlinden, reflected in the waters or blending into the foliage and up into the nearby dunes.
They all represent, he says, a kind of 'industrial fossil' reminding us of the legacy humanity might leave; a memory in rough iron of the space we took up, and which we will soon enough vacate.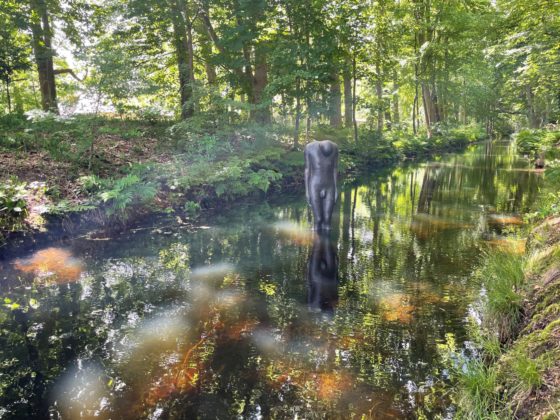 Man-made nature
Barbara Bos, head of exhibitions at the Voorlinden, said that the much-postponed exhibition makes extraordinary use of the museum and its grounds. 'Antony Gormley is one of the most important and most celebrated artists of these times, a maker and a thinker, and we are carried through his thought process through this exhibition,' she said.
'It's our most ambitious exhibition so far: for the first time, our grounds are really part of it, he reacts to them and has really thought about where to place things in relation to nature, and man-made nature.'
The museum, which first bought a Gormley work in 1994 and commissioned the young sculptor to make Still Leaping, then invited him for the opening of the new building in 2016 began discussing Ground five years ago.
'It really reacts to Voorlinden, its site and its architecture,' she said. 'He sees exhibitions as a kind of testing site, where he can experiment – but the viewer is the most important part because you are the one who sees and experiences the work.'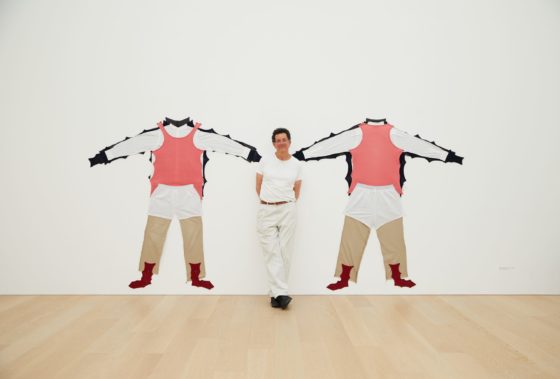 Future
The show ranges from Gormley's earliest sketchbooks to works he made as a student, a new version of My Clothes pinned to the wall (the old ones were eaten by moths) and eerie iron figures reminiscent of his Turner Prize winning Testing a World View.
In one room, 24,000 tiny clay bodies, created with young adults from Brazilian favelas, stare at the viewer, asking dumbly – in Gormley's words 'what kind of future are you making for your children's children?' In Breathing Room III, the audience is plunged into darkness with only the luminous lines of a kind of 3D sketch to navigate the room.
Gormley, a fervent opponent of Brexit, said that he is both motivated and 'terrified' by reported depression amongst young Europeans today. '[But you] feel how painful reality is and try to use that pain to make something,' he said.
'I grew up in a household that was very disciplined and obsessed with Catholicism and the idea that you were either in a state of grace or of sin. Those stories just cannot be the way we live our moral lives'
Now, he said, he believes every creative act is a statement of hope –  something that is evident in the fun aspects of this exhibition. Ground itself becomes, in fact, grounds for hope. 'We are making a self, a value system,' he mused. 'That takes courage, originality and a lot of work…making a self, thereby making a collective future.'
Ground is at Museum Voorlinden until September 25
Thank you for donating to DutchNews.nl.
We could not provide the Dutch News service, and keep it free of charge, without the generous support of our readers. Your donations allow us to report on issues you tell us matter, and provide you with a summary of the most important Dutch news each day.
Make a donation