Judge rules Gorillas dark store is not a 'retail outlet' and must close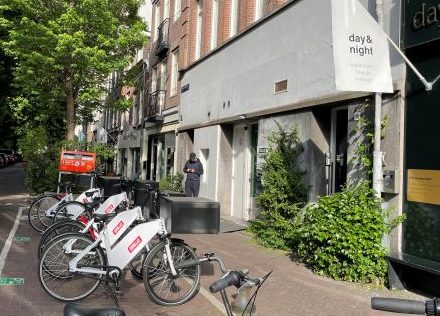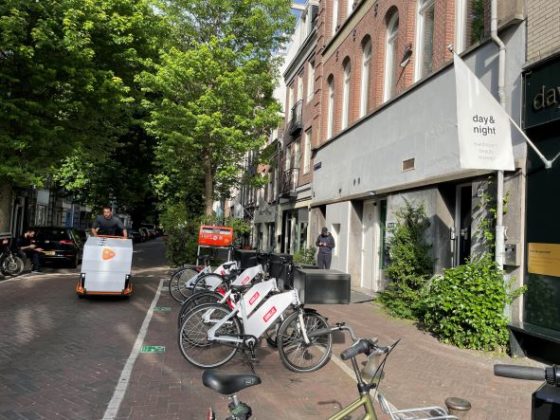 A 'dark store' from the fast delivery company Gorillas in Amsterdam's De Pijp district has been ordered to close or face a €20,000 fine.
It is the second warehouse for speedy delivery to fail to overturn a city order in court in recent months, as local councils freeze new store openings and reconsider future planning rules.
In the last two years, a stream of companies have opened offering deliveries of everything from alcohol to biscuits 'at your door in minutes'. Customers order through an app on their mobile and (electric) cyclists speed through the city to take the goods from storeroom to sofa as quickly as possible.
But cities like Amsterdam – where competing start-ups Getir, Zapp, Flink and Gorillas vie for market share – have also seen a tidal wave of complaints from residents living near the warehouses. They have been dubbed 'dark stores' since the windows are typically blacked out and they are not open to customers to walk in and pick something off the shelves.
Complaints
Amsterdam has received 906 complaints since January 2021, according to an answer to written questions, and this January ordered a freeze on any new dark store openings. Last month, the city proposed legislation to ban dark stores from residential and mixed-use areas, limiting them to business parks and industrial terrain.
Head of planning Marieke van Doorninck said: 'The complaints and nuisance there is already shows that these branches cannot – or can scarcely – be combined with a liveable neighbourhood.'
In May the municipality ordered three stores of Getir, Zapp and Gorillas based in De Pijp to close, saying they did not comply with the zoning plan. The Zapp branch has gone, with news leaking that the firm is exiting the Dutch market. A court hearing for a Getir branch – which now allows customer pick-ups and claims it is a normal shop – is scheduled for July.
However a judge on Monday did not need the scheduled two weeks to issue a judgement on a Gorillas store on the Gerard Douplein, a stone's throw from the busy Albert Cuypstraat market.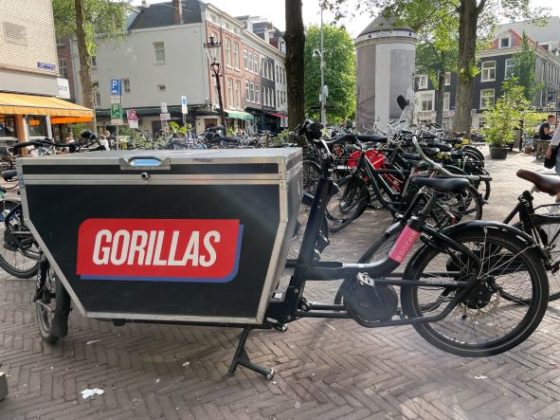 Nuisance
In a testy court hearing, Teun Blom, for Gorillas, argued that its warehouse should be considered 'retail trade', falling under the zoning plan, and claimed that the real problem the council was trying to solve was an excess of delivery bicycles.
'The apparent problem is that the city is more full of delivery bicycles than before,' he said. 'If we look at the thought behind it, the nuisance from delivery bikes, it seems that this is one of the reasons to come to a decision and start enforcement on dark stores.'
He claimed that people who live in a busy neighbourhood cannot complain about nuisance from a new type of business. Blom also said that 92% of complaints about the particular store came from an upstairs neighbour, disturbed by the sounds of trolleys and vacuum cleaning – which a toy store would also cause. He said that Gorillas had 'started to insulate the building to ensure noise nuisance is tackled'.
Reinier van Velden, head of legal affairs in the Netherlands for Gorillas, added that he felt emails to council heads were not answered. He also accused council wardens – without evidence – of trying to 'falsify a report'.
Battle for the residential streets
Losses
Remco Sipman, acting for Amsterdam city council, said that the Gorillas warehouse did not fit the legal definitions of a 'retail' store, no permission had been requested to legalise it, and it was not the will of the council to do this anyway due to 'public disorder'.
The judge – who at the hearing told Gorillas it was acting at its own risk in moving into a location without being sure it fitted the zoning plan – ruled that it is indeed in contravention of planning permission. He gave Gorillas until 12 midnight on Friday June 24 to clean up and stop operations.
On Saturday morning, most Gorillas bicycles were gone from outside the store and no delivery staff were visible, although there were lights on inside.
Dutch media have questioned whether the new verdict is the beginning of the end for the venture capital-funded fast delivery company sector, which has already announced job losses and is feeling pressure from investors to demonstrate that it can be profitable.
Reaction
Joost Munning, who collated a complaint from 115 local residents last November about nuisance related to dark stores in De Pijp, said some people were 'delighted' that a judge had upheld the municipal closure order.
'The direct neighbours I spoke to are absolutely thrilled that they don't have the noise any more of trucks loading and unloading, and no bicycles on the pavement,' he said in an email. 'Living next to the Zapp dark store [which has closed], I experience no more noise pollution. They don't wake me up any more at six or seven in the morning. It is such a relief. It feels like we are getting our neighbourhood back.'
Dutch News has asked Gorillas and Bleinheim, the law firm for Gorillas, for a reaction.
Thank you for donating to DutchNews.nl.
We could not provide the Dutch News service, and keep it free of charge, without the generous support of our readers. Your donations allow us to report on issues you tell us matter, and provide you with a summary of the most important Dutch news each day.
Make a donation