Battle for the residential streets: dark stores vs Amsterdammers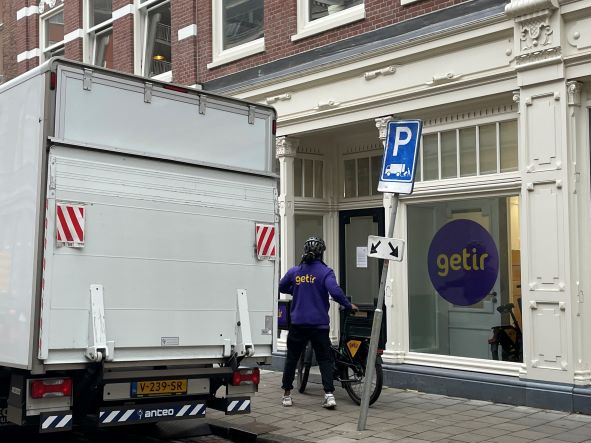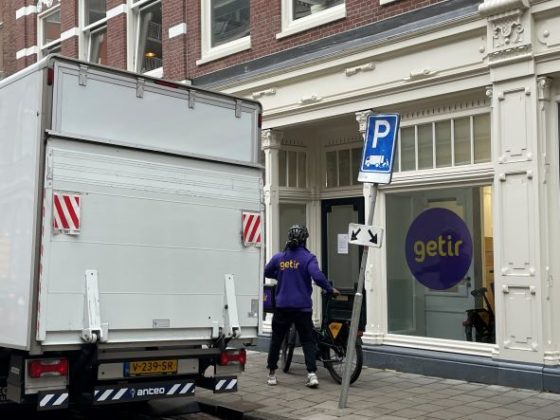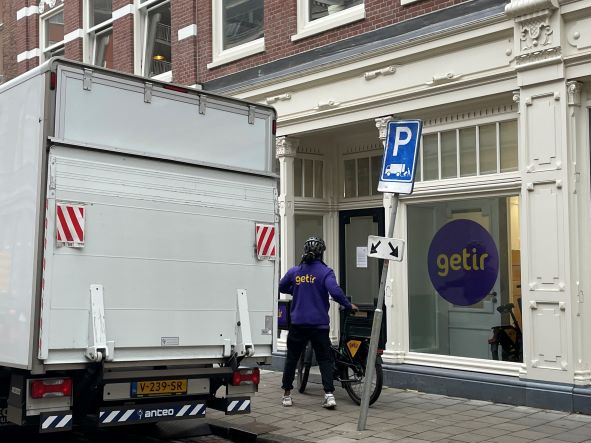 In the past, Amsterdam struggled with holiday rentals; now a new battle is on between super fast delivery firms and residential streets.
When Robbert Scholtus bought on an Amsterdam street with plans to reduce car traffic, he foresaw a quiet life. Then a 'flash delivery' store opened next door.
'It's hell,' he said, as another delivery van drove up outside his home. 'This part of the street has become an industrial zone. The thing I have the most nuisance with is the deliveries, and aggressive drivers. It's dangerous: they stand there, and bikes and people go over the pavement…My investment has gone up in smoke.'
Scholtus is one of many Amsterdam residents welcoming a new policy to ban 'dark stores' – warehouses for super-fast delivery firms such as Getir, Gorillas, Zapp and Flink – from residential areas. The branch of Getir in his street was ordered by the municipality to shut under zoning laws almost a month ago, after scores of residents jointly lobbied councillors about nuisance from dark stores in De Pijp.
Experts believe Amsterdam's action is a sign of fights to come in other cities, with the international growth of flash delivery services offering everything from a bag of crisps to pet supplies, 24/7, in minutes – all from handily-located, inner city warehouses.
New York City is planning a bill to ban services from advertising 15-minute deliveries, the deputy mayor of Paris has called for special licensing, Rotterdam has a one-year opening freeze, while in London Islington and Berlin's Kreuzberg, residents have also complained.
City planning chief Marieke van Doorninck announced last week that from the end of 2023, Amsterdam can exclude dark stores from residential areas, shopping streets and mixed-use neighbourhoods – including stores that are already there.
'Airbnb has played a major role in our approach,' she told the Financieele Dagblad. 'When Airbnb became popular, we waited far too long to deal with the nuisance, and things got completely out of hand…We will never again disadvantage Amsterdammers in favour of companies.'
Narrow streets
Joost Munning, who collated a complaint from 115 locals last November, told Dutch News dark stores cannot fit into residential neighbourhoods, however much locals and businesses try to compromise.
'The problem is noise nuisance, throughout the whole day, and traffic safety,' he said. 'They start preparing at 6am, there are lorries beeping in front of the door, constantly clanging bins, the sound of ripping cardboard boxes all day long….They are open 24/7: they never stop. There's no other option than this decision, especially in Amsterdam's narrow streets.'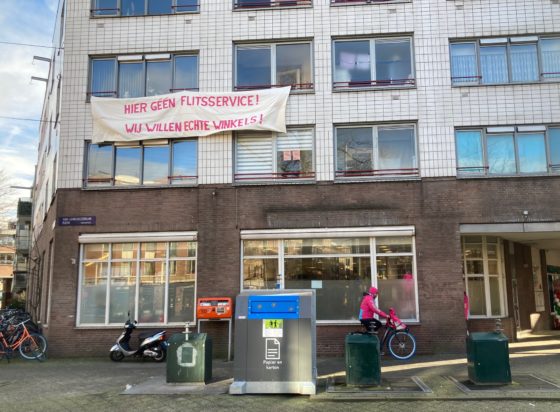 But there is already a fightback. After last month Zapp lost a court case against Amsterdam municipality, which had ordered it to shut a store in Amsterdam West, competing super fast delivery organisations have drawn up a code of conduct, and hired lobbyists. Mazdak Soltani, head of public and governmental affairs at Gorillas Benelux, said Van Doorninck's announcement was arbitrary and unfair, and rejected the comparison with holiday rentals for tourists.
'She ignores the positive effects of the sector in the form of thousands of jobs, multiple local suppliers who are supported and cannot sell their products to traditional parties and a CO2-neutral model,' he said. 'It is a mystery to us why she does not enter into a dialogue with the sector, but is open to traditional supermarkets that will do on-demand deliveries.'
Getir said more than 200,000 Amsterdammers have ordered from its service. 'The majority of our locations have never received a single complaint,' said a spokesperson. 'Superfast grocery delivery companies like Getir operate in a similar way to pizza delivery companies and yet just our sector is being unfairly targeted.'
'Unfair'
Mark van Weeren, of Bleinheim Advocaten, says three court cases are scheduled, and is representing one delivery firm. 'There will be a legal battle,' he said.
'They are not very happy with the policy of the municipality: the strange thing is that it is focused on these services while supermarkets have the same facilities and are also delivering goods. They say it is unfair, they are not treated equally, and it is for a court to decide. A lot of these stores never had any complaints – it is not proportionate. I call it panic football, and other municipalities take it over.'
Others believe fast delivery is part of the modern city and needs allocated space. 'The vitality of urban districts lies precisely in offering a good mix of functions, including fast home deliveries,' said Walther Ploos van Amstel, a professor in city logistics at Amsterdam University of Applied Sciences. 'Make room for this and make agreements on it.'
But for the mental health of residents complaining of months of disrupted sleep, conflict and despair, the residential ban cannot arrive soon enough.
Thank you for donating to DutchNews.nl.
We could not provide the Dutch News service, and keep it free of charge, without the generous support of our readers. Your donations allow us to report on issues you tell us matter, and provide you with a summary of the most important Dutch news each day.
Make a donation