Amsterdam exhibition unpicks Fashion Week past, present and future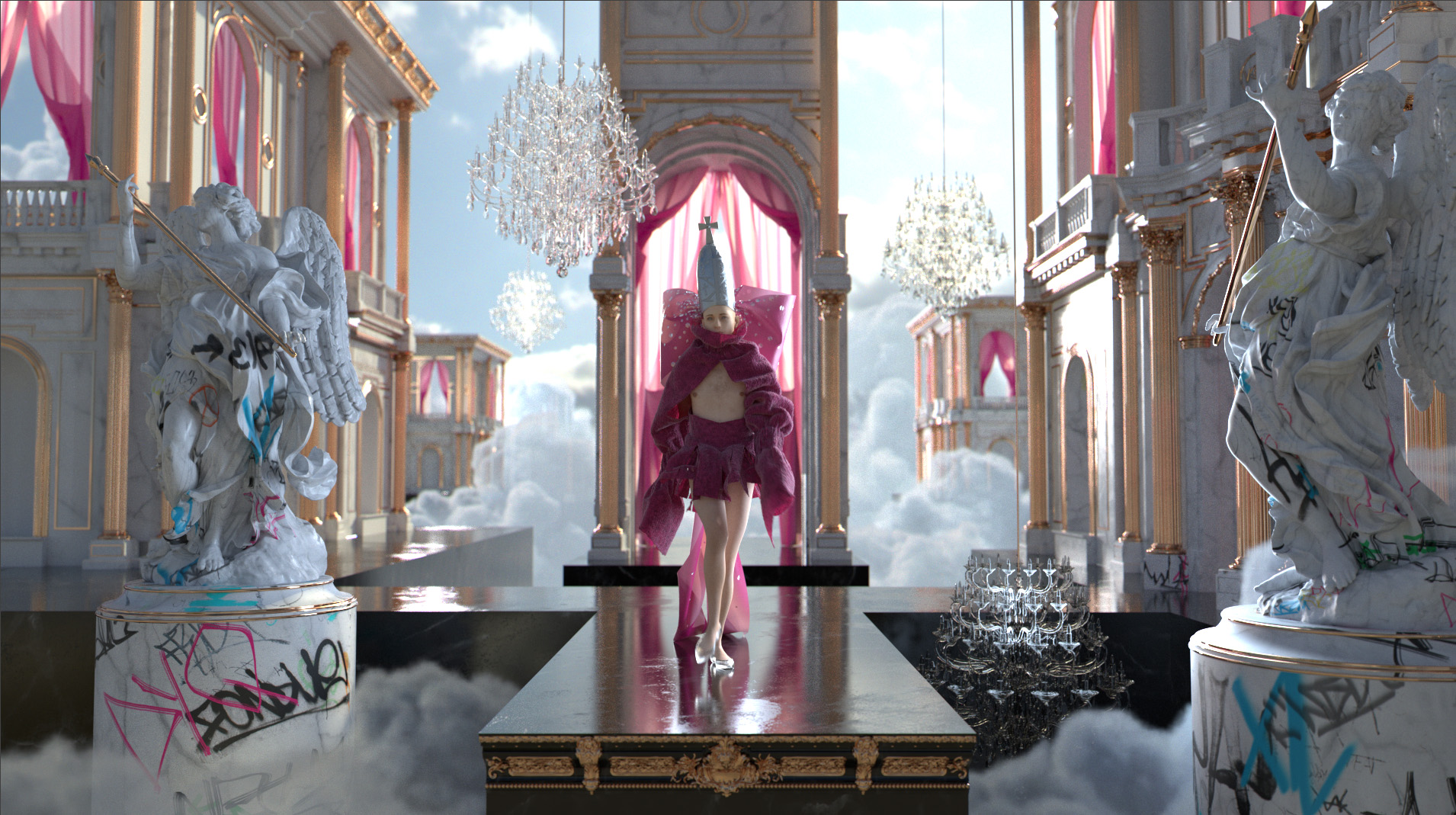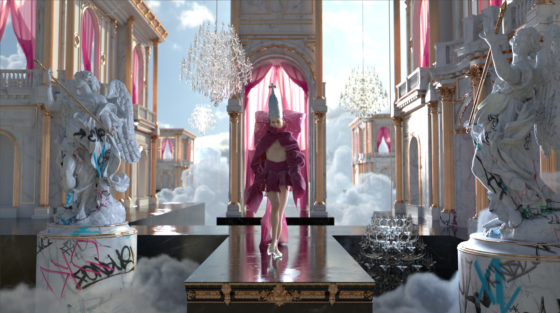 In the lead-up to Amsterdam Fashion Week, the Fashion for Good Museum is exploring the evolution of international fashion shows and how these decadent displays are seeking to become more sustainable.
A 1966 lipstick-pink Balenciaga dress, its skirt ballooning with fluffy ostrich feathers, is one of the many eye-catching designs now on display at Amsterdam's Fashion for Good Museum. The dress is an ethical no-no for many designers these days, but a fitting metaphor for the fabulous but flawed Fashion Week circuit, the subject of the museum's latest exhibition Fashion Week: A New Era, which traces the history of Fashion Week while underlining the imperative for change.
Pollution
Fashion's never-ending collections and runway shows, where showstoppers like the Balenciaga dress get cameras clicking, generate much excitement within the fashion community, but have long been seen as incompatible with our climate goals. The fashion industry is responsible for about 4% of global carbon emissions. A 2020 study by the Carbon Trust and ZeroToMarket estimated that travel alone to Fashion Week's big four (London, Milan, New York, Paris) released some 241,000 tonnes of CO2.
'We are realising that we need to make a change now, and that's what we're doing by making these exhibitions and highlighting those details,' Alyxandra Westwood, the exhibition's curator, told DutchNews.nl, pointing to Fashion For Good's Innovation Programme as another way in which the organisation is supporting sustainable innovators in fashion.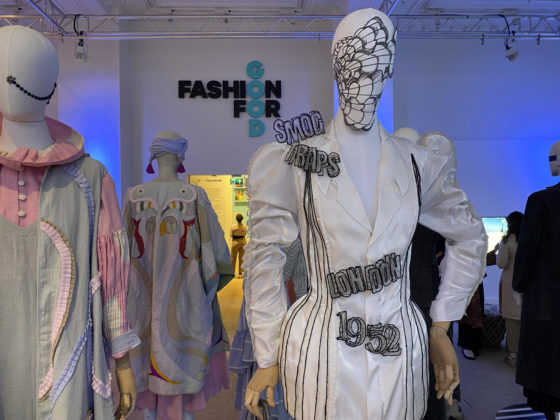 Activism
In researching the exhibition, Westwood made some interesting discoveries. One was the significant − and largely uncredited − role played by fashion's first professional model Marie Vernet (1825-1898) in the success of her husband Charles Frederick Worth's pioneering fashion shows, for example.
But she also learnt that, within the industry, changemakers have long been busy with making fashion more ethical and equitable. 'I saw the amount of activism that did [already] take place to do with feminism and climate change,' she says, giving the example of the slogan T-shirts on the runways of Vivienne Westwood in the 70s and Katharine Hamnett in the 80s. 'Then it was kind of this place to make a statement, and now it's more about the fabrics that are used on the catwalk.'
In the 90s, when top models campaigned with animal rights group PETA, announcing they 'would rather go naked than wear fur', synthetics appeared to offer an ethical alternative to fur or wool. Thirty years on, these bi-products of petroleum are also called into question as the climate becomes our priority and we revert to natural solutions, experimenting with a myriad of materials on display at the museum, from fruit fibre to fungus.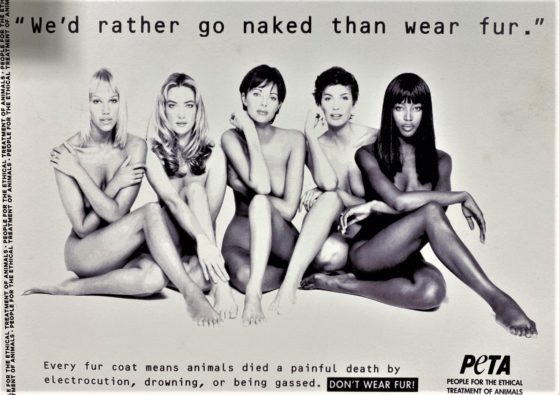 The six-month cycle
Amsterdam-based fashion designer and artist Karim Adduchi, who exhibited his orange-peel dress as part of the museum's GROW exhibition earlier this year, told DutchNews.nl that being accepted on the calendar for Paris Fashion Week in 2019 'was like a dream come true'. 'A fashion show is the maximum expression sometimes for a designer – to have the music, the makeup, the design set, the choreography, the line-up…' he says, but admits that the current pressure to please buyers and brands can make it 'a bit toxic'.
By contrast, the first fashion shows, says Adduchi, were 'very intimate'. 'People walked very close to each other, you had the garment almost in front of you, and you could really see the fabric and the stitch … Now it's so far away, it's like it's created this wall between the audience and the clothing and the designer.'
The speed of the fashion mill is also an issue, says Adduchi. 'We don't need fashion weeks every six months in every city,' he insists. 'People run from one show to another, not really having the time to look and really dive in … Nobody thinks also of the mental health of the designers, the amount of pressure behind it. Every six months, you have to come up with this crazy show, crazy concepts, crazy quality … You enter this cycle that never ends.'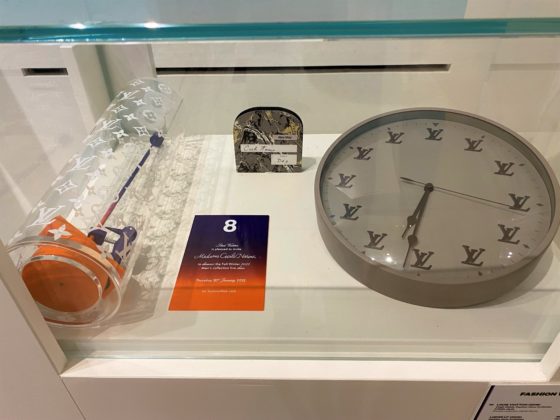 Change
On the ground floor, where slow fashion is the focus, space is given to Dutch designer Ronald van der Kemp. For years, he kept up with the six-monthly Fashion Week cycles, designing for luxury brands, but the unsustainability of the industry bothered him.
Since 2014, his label RVDK has been working to change fashion for the better, using upcycled fabrics to create eye-catching couture. In 2020, during the pandemic, he invited like-minded fashionistas in face masks to Amsterdam's Hotel de l'Europe to form an 'Army of Love – Rebels for a Positive Change' and to use this hiatus in the frenzied fashion world to call for change in the industry.
Waste
Upstairs, where the future of fashion is explored, the choice of materials is again key. On display are tailored pieces by Delhi-based designer Divyam Mehta, whose collection made from fibres woven from agricultural waste was showcased at Lakmé Fashion Week (in India) in March.
'I see the wastage coming from the mass market,' Mehta told DutchNews.nl. '[Whereas] for us it's almost hand-to-mouth, the demand and supply.' Making predominantly custom-made pieces that are timeless and durable is a more sustainable model, he explains. 'We want consumers to wear it for a long time … If I'm doing a classic jacket which stays with my consumer for the next ten years, I think he's [only] going to come back to me when he really needs something.'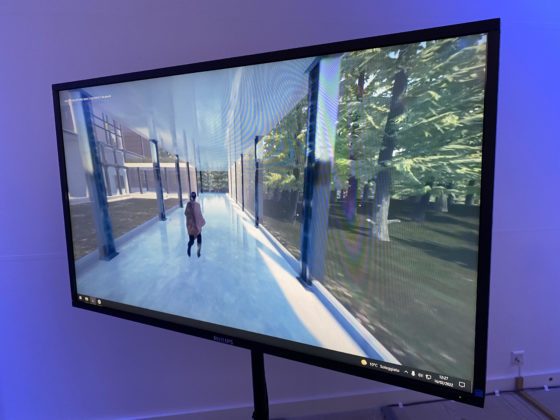 Digital
Even before the pandemic made a non-physical Fashion Week a necessity, digital fashion was already being explored to increase the event's sustainability. The exhibition references digital fashion house The Fabricant in Amsterdam, who have been creating shareable virtual fashion for four years now, and Argentinian platform Decentraland, who, in March, explored the concept further by hosting the first ever Metaverse Fashion Week, selling both physical and digital products.
It was in Helsinki in 2018, however, that the first online-only fashion week took place, thanks to entrepreneur Evelyn Mora. Visitors to Fashion for Good can add their own stylish avatar to her digital runway. Maybe a pink dress with ostrich feathers will sashay its way down the virtual catwalk – carbon and cruelty free.
Fashion Week: A New Era is at the Fashion For Good Museum until 27 September 2022.
Thank you for donating to DutchNews.nl.
We could not provide the Dutch News service, and keep it free of charge, without the generous support of our readers. Your donations allow us to report on issues you tell us matter, and provide you with a summary of the most important Dutch news each day.
Make a donation