'I love sandwiches and I love Tikkie so I've become Dutch in those ways'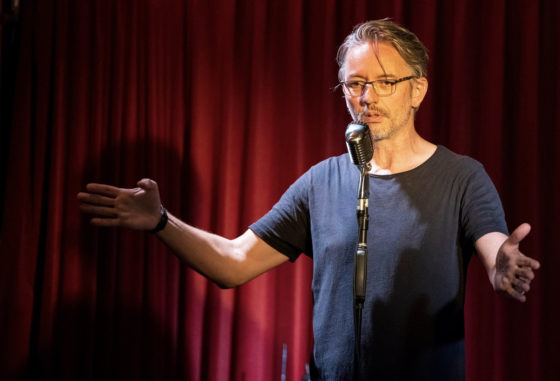 Richard Walker hails from London and came to the Netherlands to work for Dutch world service radio. The comedian, impresario, and freelance journalist spends much of his time these days doing stand-up. He'll be hosting a benefit comedy show for Ukrainian refugee charities at the Plein Theatre in Amsterdam on Thursday, 10 March.
How did you end up in the Netherlands?
I came here to work at the Dutch World Service radio station Radio Netherlands Worldwide in 2003. I worked for them for about nine years. I came here originally with my now ex-wife and we had a kid. So I stayed mostly for family reasons, but at the same time I feel like this is home. I've been here longer than I've lived anywhere else. It's been 18 years now. 
How do you describe yourself – an expat, lovepat, immigrant, international?
An alien. I've lived in five different countries, and I've always felt like an alien or an alien/guest. I kind of like it, really. It gives you a nice perspective. It keeps your appreciation of what's around you quite fresh. It can make you feel a bit lonely at times, but I'm an alien. English people generally are aliens even when they're in England.  
How long do you plan to stay?
Until my residence permit requires me to speak fluent Dutch, because then I'm in trouble. I'll be evicted! [laughs] We had the whole Brexit thing, and we weren't really sure we were going to get to stay. I'm now married to an American. Our residency status has always been, especially in the last few years, a little bit up in the air and uncertain, but I think we're planning to stay indefinitely.
Do you speak Dutch and how did you learn?
Speaking is hard because I suffer from a disorder called Too Lazy to Learn Dutch Properly. My passive Dutch is quite good, but my active Dutch is quite limited. I like languages that come to me, rather than me going to them. Over the years, I've signed up for two or three classes.
I can express myself but speaking Dutch to Dutch people in central Amsterdam will lead to them waving you away. They haven't got time for it, and they switch to English immediately. That's been my experience, but in places like Groningen where I go in speaking English and it's not an option, it's like when I lived in Paris years ago. Speaking English wasn't an option there. You can't live in Paris without speaking French. It forces you to practise everyday and the language just happens organically, whereas here that isn't the case.
What's your favourite Dutch thing?
The English language comedy scene here. There's a Dutch language comedy scene and an English language one running parallel. The English one is fantastic, and it's really expanding fast. It's tripled in size over the past five years. At least a third of every audience is Dutch, which means they're paying to have foreigners laugh at them. That's brilliant, I think, and it's happening in a language that is not their first language. Doesn't that sound extraordinary? I cannot imagine that happening in Britain or America.
And I love the way Dutch people on bikes mildly terrorise people wandering in the bike lanes. That always makes me laugh.
 How Dutch have you become?
I'm pretty Dutch. I don't remember being this cheap before I moved here. I take homemade sandwiches everywhere I go now. That's an incredibly Dutch thing to do, isn't it? I only just found out that Tikkie is Dutch. You know, the popular app that gets your friends to pay you back the 50 cents that they owe you.
I love sandwiches and I love Tikkie so I've become Dutch in those ways. I've lived here for so long I've lost sight of what it means to be Dutch, to be honest. So maybe I am just completely Dutch.
 Which three Dutch people (dead or alive) would you most like to meet?
Herman Koch. He wrote the novel The Dinner. I've heard him complain about tourists in Amsterdam, and I'm getting a bit tired of people complaining about them. 'There's too many tourists here, it's spoiling the city,' they say. I disagree. I think tourists add something. Maybe that's not in the Red Light District, but I don't go up there. In the centre though near where I live, I see a lot of tourists. I like them being around. I like hearing a lot of different languages. I'd like to ask him, 'Hey, what's your issue with tourists?' I'd like to ask him if he's ever visited Paris, Vienna, or Rome and in what capacity he was there.
Arthur Japin. He's a quite well known historical fiction writer. He wrote a brilliant book set in Amsterdam titled In Lucia's Eyes. It plonks you here in the middle of the 1700s. It's so evocative you feel like you've actually been to Amsterdam in the 1700s. It's that good. I'd like to meet him and tell him how good it is.
The Guy Who Bought My Scooter About Five Years Ago. He gave me a handful of 50 Euro notes. I decided to trust him and didn't count them. The amount was short by 150 Euros. I would *love* to meet that guy again. I guess it goes without saying why.
What's your top tourist tip?
I hadn't given this one any thought. I had a flippant idea of 'avoid people on bikes trying to terrorise you in the bike lanes,' but that is a top tourist tip and a genuine one. I think people should be told this on the planes. The one thing you all need to know is the pink pathways are not for walking.
But there's also the Vondelbunker. It's actually in Vondelpark. If you go to the downtown entrance to the park and just walk straight until you come to the road bridge, it's on the right. It's a pretty hidden doorway. On certain evenings, and you can look it up online, there's all sorts of different events in there. Live music, comedy, art happenings, all sorts, but it's completely hidden. You'll not only get to see something interesting and a bit alternative, it's usually free to go in. It was also built in the 1950s as a nuclear bunker, so it's just interesting to go in there and see it. Not many people know about it, but it's a cool spot.

Tell us something surprising you've found out about the Netherlands.
The Dutch like to trumpet tolerance as a value, but tolerance doesn't mean mutual respect or interest in others. It literally means tolerance and nothing more than that. Also: woolly mammoths used to live here, but before my time. [laughs] They find a lot of woolly mammoth fossils here. It sounds like there were quite a lot of them wandering about.
If you had just 24 hours left in the Netherlands, what would you do?
I would make one last effort to find that guy who owes me €150. I know that's a flippant answer, but I can't think of anything else.  
You can learn more about Richard's charity show on 10 March 2022 by visiting its Facebook page.  
Richard was talking to Brandon Hartley.
Thank you for donating to DutchNews.nl.
We could not provide the Dutch News service, and keep it free of charge, without the generous support of our readers. Your donations allow us to report on issues you tell us matter, and provide you with a summary of the most important Dutch news each day.
Make a donation