Expat or a migrant? Photo project questions the labels we use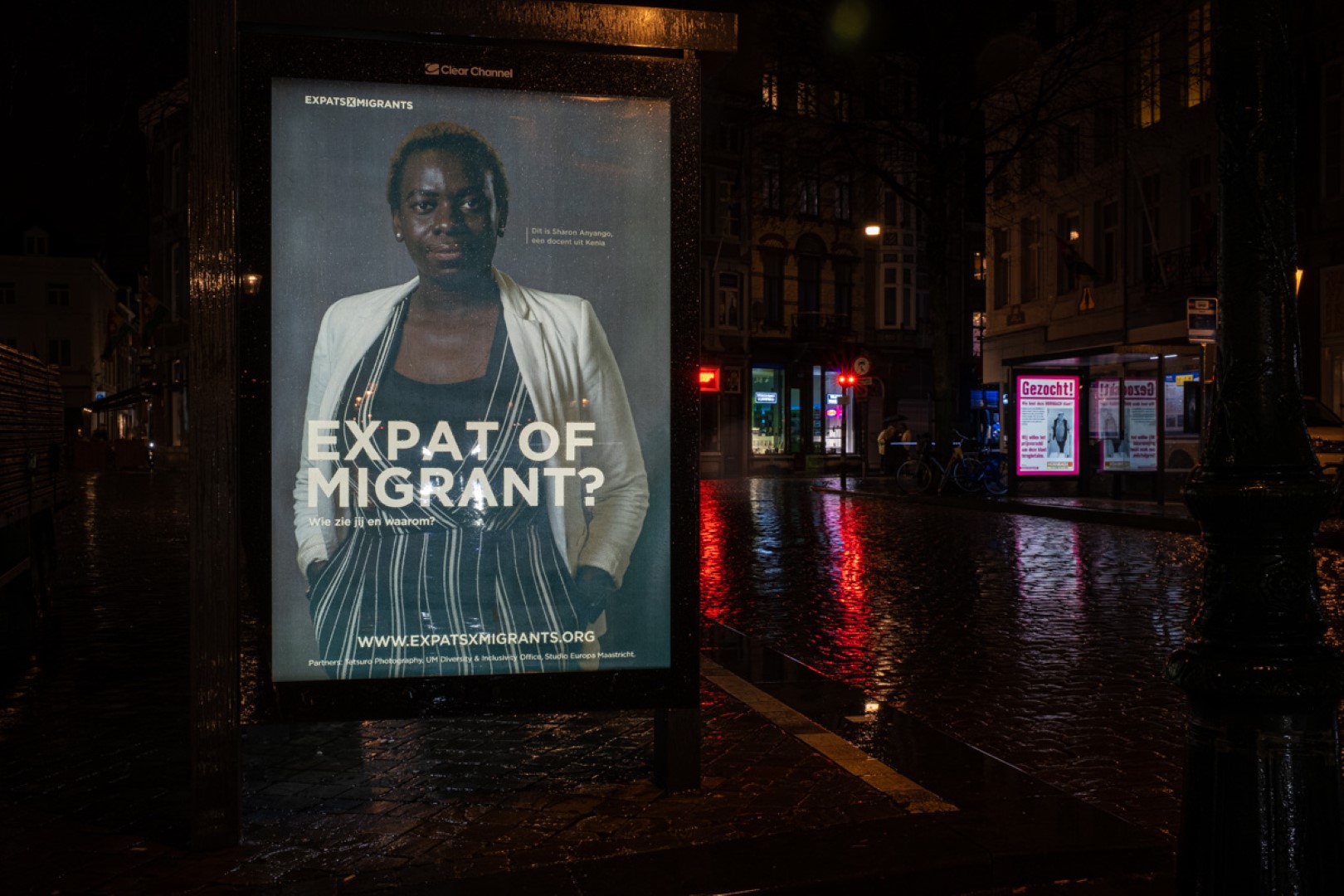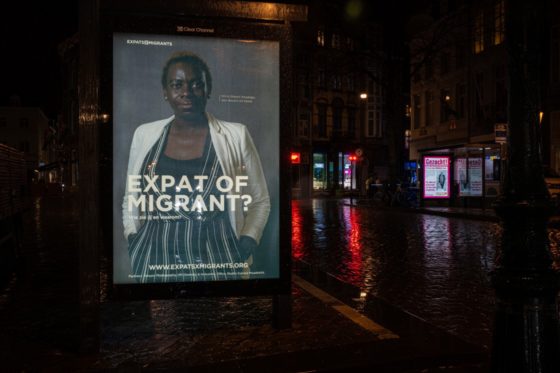 Since 2013, our 10 Questions series has been asking international residents here how they would describe themselves: expat, lovepat, immigrant or international? Now a photographic project launched in Maastricht is asking people to consider the way they label newcomers. Expat or Migrant? How do you decide?
A waitress from Uruguay, an Australian chef, a Syrian researcher… At first glance, how do you judge them? Expats x Migrants, a series of 20 photographic portraits, emblazoned on bus shelters across Maastricht last month and now on permanent display in an online gallery, asks viewers if they see an expat or a migrant in an attempt to unpick our preconceptions about newcomers.
Accessible for everyone
Maastricht-based photographer Tetsuro Miyazaki, who initiated Expats x Migrants, says that displaying the portraits in a very public arena to begin with was central to the project's aims.
'My ambition was not to preach to the choir,' he told DutchNews.nl. 'I wanted to reach an audience that was not invested in the project or the topic.' Using the bus shelters, he explains, 'was a way for us to make it visible and accessible for everyone. We literally put it in people's faces without them asking for it, or coming to an exhibition space or the university.'
The project, which is funded by Maastricht University's Diversity and Inclusion grant and Studio Europa, coincides with the anniversary of the signing of the Maastricht Treaty and the creation of the EU, and raises questions about how we perceive ourselves and our international community 30 years on.
Fortune seekers
Miyazaki says his own easy acceptance into the Netherlands' expat fold was 'part of the reason why I started to ask myself the question in the first place'. 'My Japanese last name and my Belgian passport immediately gave me my entrance ticket – there were no questions asked,' he says.
'Generally speaking, I would say we have a positive feeling towards expats and a negative feeling towards migrants,' he says, stressing that expats are deemed to be bringing something, while we have the idea that migrants are taking something away. 'We label migrants as gelukzoekers [fortune seekers], but the same applies to expats. There isn't one expat that I've met that isn't here for a better future.'
Double standard
Miyazaki became aware of a double standard. 'We don't ask expats to integrate or learn the language,' he says. 'One of the answers I get most often is that expats don't stay here, so that's why they don't have to integrate, but if that's one of your parameters, why don't we see Eastern European seasonal workers as expats?'
Miyazaki's personal feelings about the labels we use become clear when he gives the example of a neighbour who has lived in Maastricht for 10 years and still cannot speak Dutch or even pronounce the name of the city correctly. 'It's deplorable,' he says. 'How long can you get away with not integrating and still calling yourself an expat?'
Grey areas
Sam Welie, hospitality coach at the Expat Centre Maastricht Region (ECMR), which helped Miyazaki find volunteers for the project, agrees that the terms 'expat' and 'migrant' can be misleading. 'There's an awful lot of grey areas between them,' she told DutchNews.nl. 'There are a lot of asylum-seekers who are highly skilled, and many of the people who come as expat partners are initially unsuitable to work here – they haven't got the language or they haven't got the right kind of skills.'
The centre's use of the term 'expat' is because its primary role is supporting businesses with staffing, Welie explains, and it is not equipped to answer some of the questions that might fall under the broader 'migrant' umbrella. Yet staff there also find the labels problematic. 'When we actually talk about these people, we don't usually use the term 'expats',' says Welie. 'We call them internationals, because they're also the family members, the children, the partners, that are not necessarily highly skilled migrants themselves.'
Prejudices
Indian national Mantej Singh Pardesi, whose portrait features in the project, describes himself as 'an inquisitive person' and says that's what motivated him to take part. 'I usually like to explore new questions, things which question our beliefs, our social systems and who we are as individuals,' he told DutchNews.nl.
When his super-sized image appeared all over town, he enjoyed, he says, 'a very warm reception'. Friends joked that he was a rock star or movie star. 'Thank you guys,' he would reply. 'But it's for a different purpose, not for showing off.'
Pardesi says that the images – and the interesting responses to them – 'show how easy it is to divide people … and how prejudices get globalised.' As an Economics lecturer currently doing a PhD at Maastricht University, he says that 'academia should define me, not my observed characteristics'.
He thinks 'migrant' describes him best. 'If you look in the dictionary, traditionally, 'migrant' means everyone who is from the outside,' he says. ''Expat' is a very colonial word … There's a sense of privilege and high-headedness with this word.'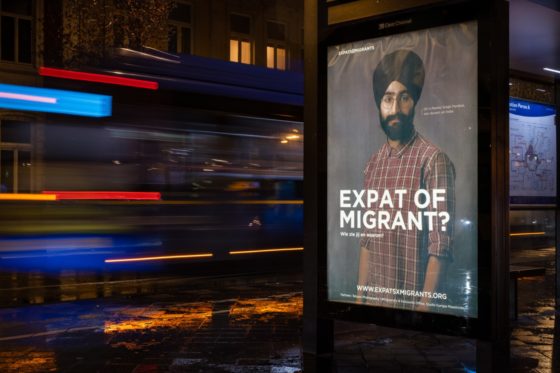 Kitchen-table conversations
Due partly to its frontier position and university, one third of Maastricht's residents are non-Dutch. The project hopes to contribute to their inclusion and protection, says Miyazaki, and is keen to reach a Dutch audience. 'We really want people to accept the fact that we have these non-Dutch residents who actively contribute to our economy, who spend a lot of money here. We want to include them more in policy making and we want them to be seen.'
The photographs are part of a series of events organised in partnership with Maastricht Centre for Citizenship, Migration and Development (MACIMIDE) and Studio Europa. Miyazaki hopes to bring the debate to audiences beyond Maastricht and generate 'kitchen-table conversations' about how we perceive people and the consequences it has for them. 'I hope that people will start to doubt the labels they give,' he says.
Tenturo Miyazaki will be presenting the Expats x Migrants project and taking part in a panel discussion (in Dutch) Diversiteit in Maastricht: is iedereen even welkom? in Maastricht on 15 March. The online gallery can be seen here.
Thank you for donating to DutchNews.nl.
We could not provide the Dutch News service, and keep it free of charge, without the generous support of our readers. Your donations allow us to report on issues you tell us matter, and provide you with a summary of the most important Dutch news each day.
Make a donation