Rotterdam, a diverse city with a port and which packs a punch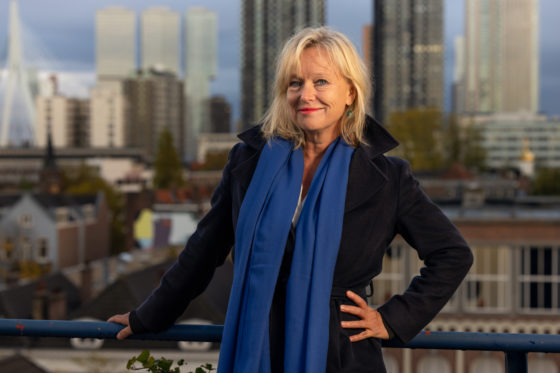 DutchNews.nl is publishing 10 articles focusing on the 10 cities where most international residents live in the run up to the local elections in March. Part 5: Rotterdam
When a super-yacht being built for Jeff Bezos threatened to temporarily demolish a historic bridge earlier this year, the city of Rotterdam was world news. Rotterdammers of many different backgrounds, apparently, share a desire to throw rotten eggs at the yacht if it does make its passage through De Hef bridge on June 1 – and some 22,000 are signed up to a Facebook group planning to do just that.
It seemed to be one moment of unity in a city where – just like in national politics – there has been a splintering of opinion across different viewpoints in recent years.
The Rotterdam population of just over 650,000, 53% of them immigrants and from 170 cultural backgrounds, is currently governed by an unlikely liberal-socialist-Christian alliance of six parties (the VVD, GroenLinks, D66, PvdA, CDA and the ChristenUnie-SGP). There are 13 parties currently represented in the 45 seats, and the largest one, right-wing Leefbaar Rotterdam, has 11 seats but no part in the coalition.
According to a recent poll by Maurice de Hond for liberal democratic D66, a similar picture might emerge after the elections held on 14, 15 and 16 March this year. Leefbaar Rotterdam, once led by Pim Fortuyn and now taking a less extreme-right tone after being shut out of government, is expected to take around 23% of the vote. D66 is polling second, with 11%, followed by the liberal VVD (9%), then green-left GroenLinks, labour PvdA and anti-racism DENK on 7%. The big issues in this sleeves-rolled-up, working city are crime, affordable housing, integration and equal opportunities.
Stemwijzer
The local council has for the first time produced a flyer with basic information on the election and how to vote in other languages alongside Dutch – English, Portuguese, Arabic and Turkish. Its basic elections website also has an embedded Google Translate function, although a spokesman told DutchNews.nl that the city does not know how many non-Dutch speakers are eligible to vote of the voting population of just over 516,000. The 'stemwijzer', which helps match your views on 30 issues with the 20 parties standing, is only available in Dutch.
The key issues on Rotterdam's stemwijzer range from whether a new terminal should be built for cruise ships, if the city should go ahead with rehousing football team Feyenoord, more high-rise building to preserve green belts, lower traffic speed limits, more wardens on the streets and 'preventative' stop-and-search, to whether temporary fruit pickers should be allowed to stay in holiday home parks.
D66 is one party that is clearly interested in the international vote, publishing in English its main manifesto points around global-minded, green thinking, affordable housing, equal opportunities, a free but safer city and 'trustworthy and predictable government'. It points out that estimates of the expat population in Rotterdam (including some 7,000 students at the Erasmus University Rotterdam) vary from 10,000 to 30,000, with the EU citizens and those legally resident for five years eligible to vote in local elections.
'It seems fair to assume there are thousands of internationals (if we would define them as expats plus international students) living in Rotterdam,' political adviser Rebecca Zeinstra told DutchNews.nl.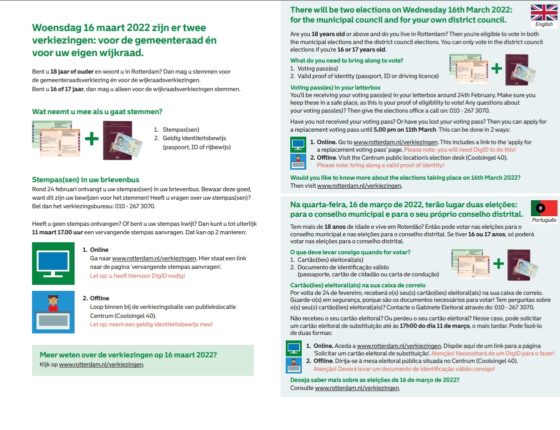 Rotterdam edge
According to D66's manifesto, 'internationals in Rotterdam can count on D66 to include them in conversations and to tackle the biggest issue of this generation: climate change, housing and education.'
Chantal Zeegers, party leader, tells DutchNews.nl that this traditional port city of lower-paid jobs is evolving into a multicultural and greener place accessible to everyone – but still with its 'infamous rough edge'.
'We stand for an open, hospitable city, where many cultures can find their home,' she says. 'Four years ago, we translated our election flyer into English. We are committed to providing municipal services in English. D66 is also working on international education for expats. We have also arranged that digital registration in the civil registry is much quicker than before, so that you can easily settle in the city without too much hassle. Expats and their much needed skills are very welcome.'
Crime
Crime and safety are bigger issues for many other parties. The role of Rotterdam harbour in international organised crime and record levels of illegal drug smuggling have sparked a national anti-crime drive, collaboration with Europe, and a visit by Rotterdam mayor Ahmed Aboutaleb to Columbia – inspiring him to demand drug screening for all inbound fruit. The knock-on effects are a huge concern, too, as many young men are drawn into a world of violent crime as drug 'collectors'.
On a more local level, there are concerns about neighbourhood petty crime and anti-social behaviour, but also a kickback against an unusual 'Rotterdamwet' that banned people on income support or with an anti-social record from moving into troubled neighbourhoods – a law described as discriminatory and which deputy mayor for work and income Richard Moti, head of the PvdA, has said should go.
The VVD says that while it does not have policies for 'expats', its focus is on a safer, better-functioning city for all. 'The Rotterdam VVD doesn't have separate policies for expats, but wants a manifesto for all Rotterdammers,' VVD candidate Marike Abrahamse told DutchNews.nl. 'We want a safer city for them, with fewer road hogs and more street cameras, as well as planting another 30 hectares to make a greener city. Finally, we want good international education in our city.'
Safety
Although reported crime has fallen in Rotterdam in the last decade, the drop is 11% less than across the rest of the Netherlands and Rotterdammers feel less safe than people living in other areas, according to the latest CBS 'safety monitor' survey. There have been issues in Rotterdam police, with formal warnings for members of a racist Whatsapp group last year.
Meanwhile, the city made international news for anti-corona policy protests that descended into hooliganism and what Aboutaleb called an 'orgy of violence'.
Tackling 'yobs on the street', drug dealers and harassment is the top priority of popular party Leefbaar Rotterdam; anti-Islam policies from previous years have been somewhat toned down to a pledge not to kneel to 'radical ideologies such as political Islam, Black Lives Matter and woke thinking that negatively influences our society.'
Can-do
Housing is an issue mentioned by multiple parties. Although Rotterdam prices are significantly lower than in Amsterdam, they rose by 20% last year and the VVD and CDA have raised concerns that not enough is being built – particularly for so-called 'middle incomes'. Like Amsterdam, the city plans to restrict buy-to-let activity by ensuring people who buy a home up to €355,000 live in it or rent to a close relative.
Poverty, the severe effects of the childcare benefits scandal on some Rotterdammers, and integration are other concerns. The past week has seen a scandal about racist-sounding statements such as 'white lives matter' being stuck over campaign posters from Denk, the PvdA, GroenLinks and 50Plus.
But Rotterdam is a city with a can-do spirit, and many Rotterdammers believe that some challenges can be solved by looking outwards and encouraging innovation, with the help of organisations like Rotterdam Partners and regional development agency InnovationQuarter.
'I would say to the political parties: try to find out what your international community wants and don't just listen to the people you already know,' says Martijn van Hoogenhuijze, of InnovationQuarter. 'If you want tips for the future, you also need to look towards the vote of the future, and international communities from all perspectives…even if they are a bit harder to reach.'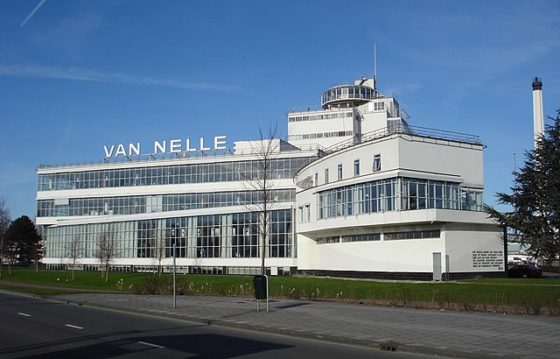 Key information
Current council make-up: Leefbaar Rotterdam (11), VVD (5), D66 (5), GroenLinks (5), PvdA (5), DENK (4), NIDA (2), SP (2), CDA (2), PVV (1), PvdD (1), 50PLUS (1), ChristenUnie-SGP (1)
New parties participating: Jezus Leeft, BIJ1, Volt, Lijst Meeuwissen, FvD, Partij Armoede Bestrijding Rotterdam, Socialisten 010, Jong Rotterdam
Total number of voters: 516,986
Number of international voters: 56,000 (11%)

Local election information in English
Municipality (automatic translation)
PvdD (national website)
BIJ1 on Instagram in nine languages and website
Volt (manifesto also available in eight other languages than English)
Upcoming election events for internationals
None planned

Additional reporting by Jan Douwe Krist.
This article was made possible by a donation from Stichting Democratie & Media.
Thank you for donating to DutchNews.nl.
We could not provide the Dutch News service, and keep it free of charge, without the generous support of our readers. Your donations allow us to report on issues you tell us matter, and provide you with a summary of the most important Dutch news each day.
Make a donation