Eastern European expats in NL send ambulances to Ukraine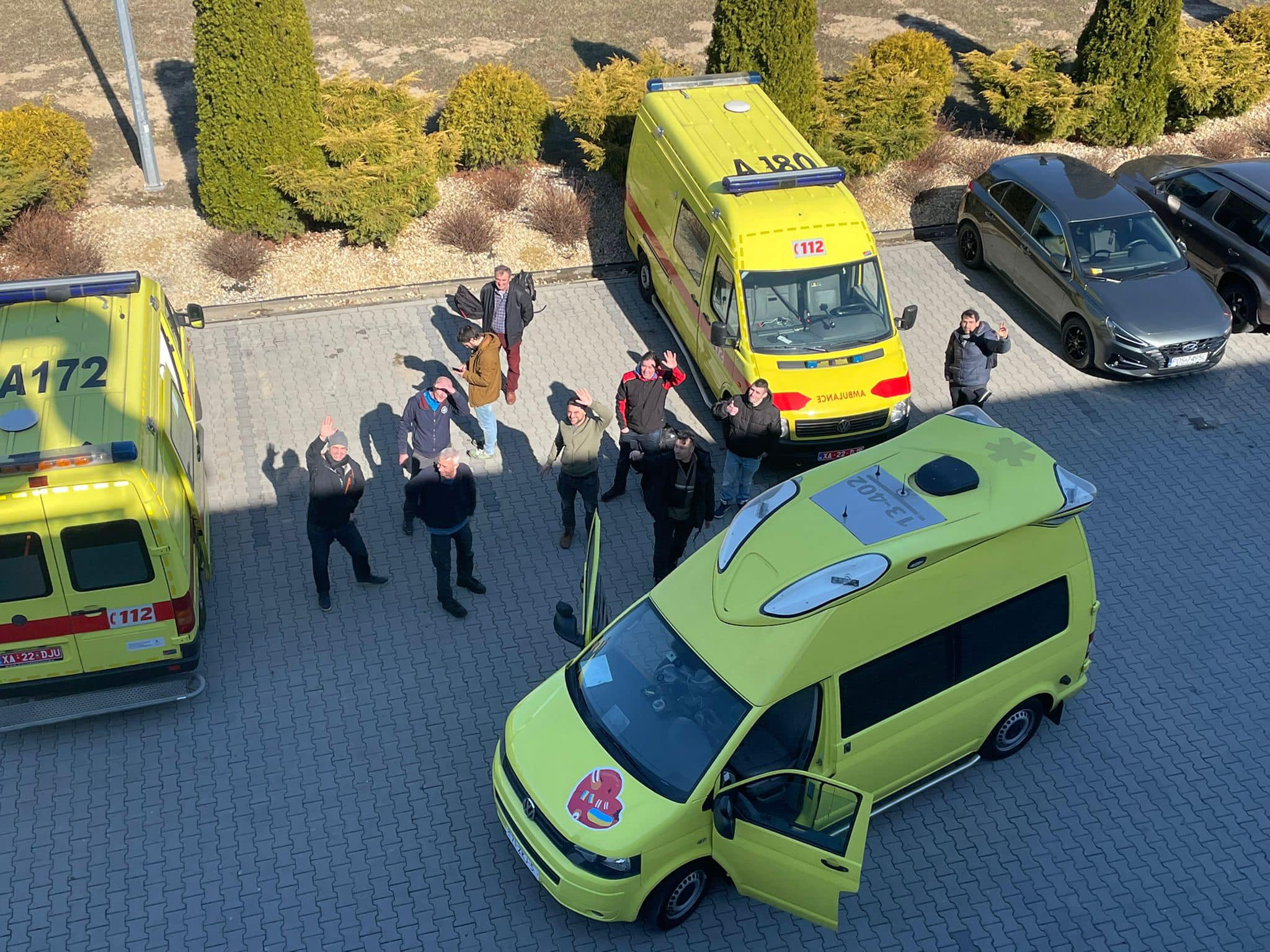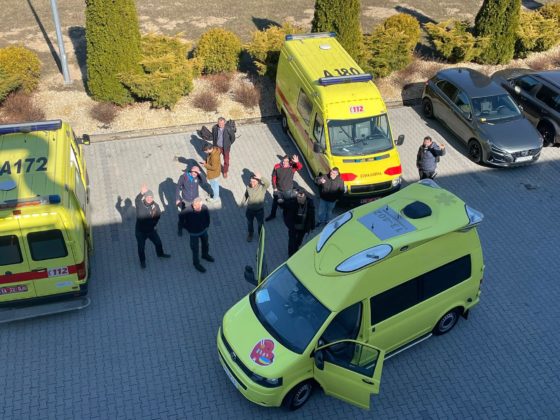 In the four weeks since its creation, Zeilen Van Vrijheid has sent three humanitarian convoys into Ukraine. Informal networks within Ukraine and the Netherlands helped the foundation's initial success.
On Saturday, March 26, a convoy of eight ambulances with humanitarian supplies left the Netherlands, heading for Ukraine.
It is the third convoy organised by Zeilen Van Vrijheid (Sails of Freedom), a grassroots organisation that emerged in the days after Russia invaded Ukraine. Within less than four weeks, the foundation has sent 15 ambulances and seven civilian cars filled with medical supplies and food to Kharkiv, Kyiv, Mykolaiv, and Lviv.
'When one convoy departs, we start preparing the next one,' says Veronika Mutsei, an IT specialist and Zeilen Van Vrijheid's co-founder. 'The war will not be on pause because we need the weekend off.'
Understanding the needs
The foundation's coordinators are Ukrainian, Russian, and Belarussian expats living in the Netherlands. Thanks to their connections to Ukrainians in various cities, they know what is needed on the ground.
'We had a great opportunity to ask people who really knew what is needed,' explains Dan Simanov, who owns a sailing company and is Zeilen Van Vrijheid's co-founder. 'This way, we could ensure that what we are bringing is useful.'
Some requests are formal. Coordinator Maria Pedenko used to work for the Ukrainian health ministry and the World Health Organisation before moving to the Netherlands. Pedenko receives requests for specific medical supplies directly from Ukrainian hospitals.
Other information flows in via personal relationships. Mutsei's friend, Aleksey Maslo, normally resides in Kyiv but stayed in his hometown, Kharkiv, after the Russian invasion. Maslo now runs Kharhiv Helps, a volunteer-based organisation distributing humanitarian aid in the city. The second convoy brought medicine and food supplies to Kharkiv.
'We have very few medicines in the city,' Maslo stated. 'The insulin that [Zeilen Van Vrijheid] brought already saved lives.'
Collecting supplies
The supplies reach Ukrainian hospitals in second-hand ambulances. Private donations, both money and medicines, allow Zeilen Van Vrijheid to collect some of the requested stock. According to Mutsei, the foundation's central collection point in Utrecht gathers approximately 85 boxes of medicines a week.
Hospitals help to fill in the supplies that cannot be purchased without specialized access. The Luisenhospital in Aachen, Germany donated supplies that reached Kyiv's paediatric hospital with the first convoy.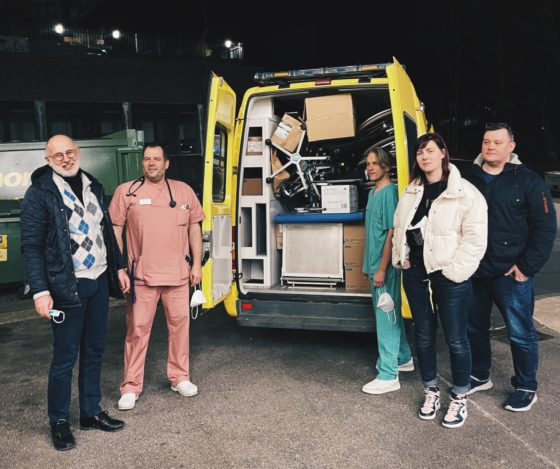 Volunteers buy second-hand ambulances in the Netherlands, Germany, and Belgium via online trading platforms such as Marktplaats. 'Soon there may not be enough [second-hand] ambulances in the Netherlands,' Mutsei laughed.
Delivery
After hearing reports that humanitarian aid is getting stuck around the Polish-Ukrainian border, Zeilen Van Vrijheid decided to drive the ambulances directly into Ukraine. Across the border, Ukrainians pick up the vehicles and bring them to designated cities.
Initially, the foundation attracted mainly Ukrainian, Belarussian, and Russian volunteer drivers. Their passports would not allow them to come back from across the border. Now, most of the drivers are Dutch.
Sailing school owner Marco Neeteson drove in all three convoys. 'I do whatever I can,' he says. 'If it means driving for 24 hours, I will. Every minute of a delay means a child could be dying without medicines, so I keep driving.'
Another driver is a business developer who asked to be identified as R Boer. He has two Ukrainian visa stamps in his Dutch passport. 'To me, this war is not "only" between Putin and Ukraine, but between dictators and the free world,' he says. 'When we drive, we not only bring ambulances or medicine, we also support the morale of the oppressed people.'
The volunteer drivers receive official authorisation from Ukrainian institutions which speeds up border procedures. 'People take us more seriously when we have these documents,' Mutsei points out.
Bumpy beginnings
The first convoy left before Zeilen Van Vrijheid registered as an official foundation, with donations flowing in mainly from founders' personal circles. Without registration or an official bank account, the donors had to rely on trusting the founders.
Simanov recalls that he put a post on social media, outlining that the foundation wanted to buy an ambulance and calling on people to bring him donations in cash. 'Within two days, I collected almost €20,000 euros,' he says. 'We bought our first ambulances this way.'
Registering as a stichting (foundation) normally takes several weeks but Zeilen Van Vrijheid managed in three days. Opening an official bank account was a bigger problem, as banks took weeks to verify.
'We asked people to trust us,' says Mutsei stated. 'We told them not to donate until our account is open, but also not to donate to bigger organisations. We basically begged donors to be patient, and they were.'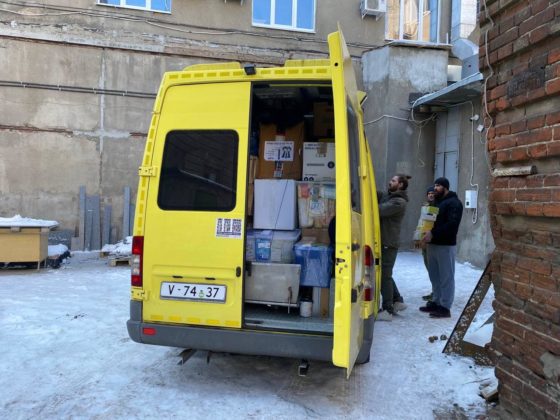 What started as a word-of-mouth affair now attracts more established organisations. Foundations such as Libereco, Movement On the Ground, Oekraïners in Nederland, or Asagao reached out to Zeilen Van Vrijheid to partner up in purchasing ambulance cars or supplies.
'From five volunteers figuring out how to send 50 packs of medicines to Ukraine from our own kitchen, we now work with other foundations,' Mutsei says.
'A different Russia'
The foundation also includes Belarussian expats in the Netherlands who collected money for an ambulance. They called the car Žyviemabiel (Livehicle) after the opposition movement's slogan Žyvie Biełaruś (long live Belarus).
Simanov, who renounced his Russian passport after the annexation of Crimea in 2014, pointed out that his Russian clients and Russian-speaking acquaintances also played a significant and positive role for Zeilen Van Vrijheid, especially at the foundation's beginnings.
'We all feel responsible, it does not matter if we have the passport or not,' he says. 'Our world collapsed when the war started. Being active is a way to deal with this trauma but also to show people that there is a different Russia and different Russian people.'
Even Russians located in Russia have been supporting the foundation with monetary donations, taking personal risks.
Rebuilding
Zeilen Van Vrijheid plans to continue its humanitarian work throughout the war and after it is over.
'When Ukrainians win the war, it is just the beginning of our journey,' says Mutsei. 'The biggest country in Europe will be destroyed and someone will have to rebuild it.'
Aleksey Maslo shares this ambition. 'Soon we will have a medical team and Zeilen Van Vrijheid's car will be used in the region. We will continue helping people after the war ends.'
Thank you for donating to DutchNews.nl.
We could not provide the Dutch News service, and keep it free of charge, without the generous support of our readers. Your donations allow us to report on issues you tell us matter, and provide you with a summary of the most important Dutch news each day.
Make a donation