'I'm a foreigner, basically… I'm definitely not an expat or something like that'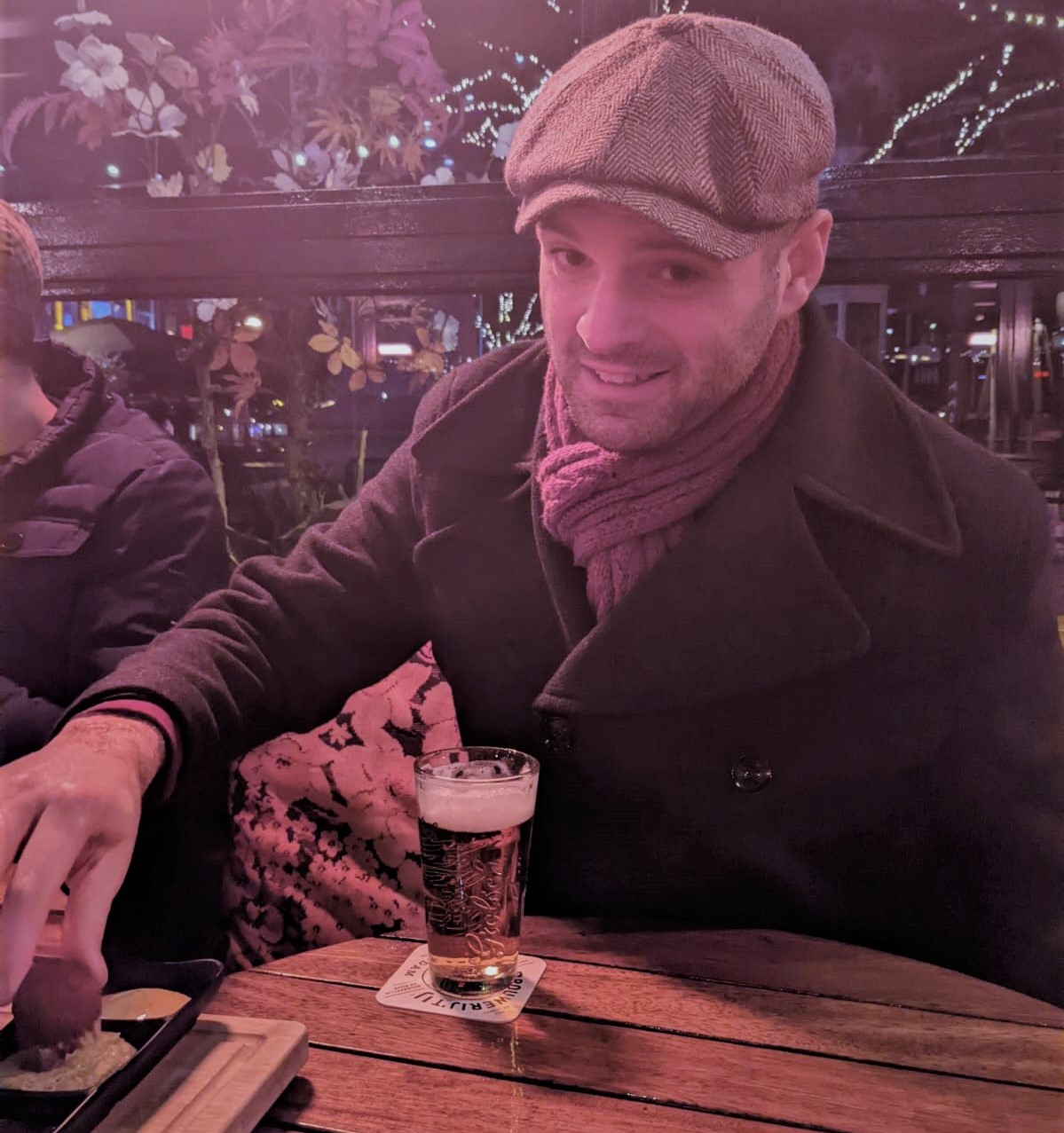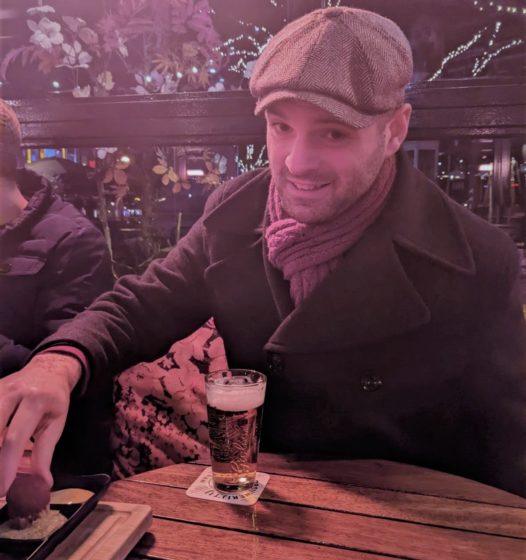 A project assistant for the International Organization for Migration (IOM) in The Hague, Ciaran Hickey (34) from Zaandam says he's wary of terms like 'expat' that divide newcomers into groups. The British national loves the Netherlands for its football and fried snacks, but wishes the Dutch could be a bit more spontaneous.
How did you end up in the Netherlands?
I'd been living outside the UK for a while. When I was a teenager I worked in Italy, then ended up studying for a bachelor's degree in Denmark. Then I thought I'd try another adventure and saw that there was a master's in International Relations in Amsterdam that I was interested in. The plan was to come here for a year and then go back to England.
My girlfriend (now my wife) came over to visit and she liked it, so instead of looking for a job in London, she stayed in my student room until she found a job. By the time I'd finished my studies, she was already starting her career, so we thought it was better to stay here. Eight and a half years later and we're still here!
How do you describe yourself – an expat, lovepat, immigrant, international etc?
Probably a migrant or an immigrant. Economic migrant, maybe? I'd say that's probably the most accurate. I don't really like this term 'expat'. I find it a bit uncomfortable trying to separate different kinds of foreigners. I'm a foreigner, basically, and I first came here just to study, but I stayed here because there are good work opportunities. I'm definitely not an expat or something like that.
How long do you plan to stay and why?
We've been saying five or ten more years, but we just keep extending. Around 2016, we were saying let's stay maybe one or two more years but then, with Brexit, we decided to stay longer because it didn't make any sense to go back to the UK.
My wife is French so now, for her, moving back to the UK would be difficult – she'd need to get a visa and everything. At some point we might go to France, but for the time being we're happy here.
I think it's just easy to live here. Everything works. When I go back to London for the weekend or whatever, I miss the buzz a bit, but I get back on the plane to the Netherlands and realise that things are just nice here. Everything's easy to organise, the standard of living is nice, people are nice. There's just less stress here.
Do you speak Dutch and how did you learn?
I'm not great, but I can get by. I used to live in Denmark, and when I got here, I found that I could guess a lot of the words because they were similar to Danish. I took one of the free Dutch courses that you could do through the gemeente, so I did that for six months and got up to about a B1 level.
In my previous job, I spoke a lot more Dutch. The lockdown really hasn't helped because my social circle has got a lot smaller and so there's less opportunity to speak Dutch. Although now, with all my friends having children, they only speak Dutch, so that's a good way to practise and I just have to go for it more.
What's your favourite Dutch thing?
The borrel. The snacks. In England, you just go down the pub and have a pint. You wouldn't have thought about getting snacks as well, but I like having a few bitterballen, kaassoufflés or kaastengels or whatever. I would say bitterballen are one of my favourites. It's always nice to have a few snacks on the table.
How Dutch have you become and why?
I don't think I've become that Dutch, although I've lost my Essex accent a bit and I'm a bit more direct, I suppose. But when I'm speaking to the Dutch, I still feel I have some way to go! I still try to be polite, I see that in my emails – the English way of speaking, trying to be polite but at the same time giving criticism or something. But it's getting less.
When I realise that I'm more Dutch is when I go back to England and I get a pint down the pub and I realise it's too big. I've got used to the vaasjes, the small beers that you get in the Netherlands. But the lack of spontaneous social events, I'm still not used to that.
Which three Dutch people (dead or alive) would you most like to meet?
The first one I would say would be Frank Lammers, the actor. He's the big guy on the Jumbo adverts. He's been on it for years. I used to think, what is this guy doing? I thought he must be a bit of a wally. They're so cheesy, those adverts. But then he's one of the main characters in this relatively new programme called Undercover. He's meant to be this dangerous criminal. Since watching him in this, I just really liked him. I was amazed at how different he was. I'd like to meet him because he seemed quite cool. I just think he would be a good laugh.
Secondly, I'd say Louis van Gaal, currently the football manager for the Dutch national team. I just like the way he is. He's quite direct and he says some funny things, especially when he was Manchester United's manager. He's kind of to the point and gets on with it.
Thirdly, Donny van de Beek, a Dutch footballer who was a star player for Ajax and now plays for Manchester United. When he played for Ajax, he was one of my favourite players, but since going to Man U, he hasn't had much opportunity. I'd just like to talk to him and say, 'What are you doing? Get yourself back on track and go to a club where you can shine again.'
What's your top tourist tip?
Most people go to Amsterdam, but I would say head to the coast. It's kind of the same all the way along, but go to Bergen aan Zee or Schoorl, or somewhere like that, and go for a nice walk in the dunes. There are not many hilly places in the Netherlands, but out in the dunes you do have a bit of relief.
It's so busy around the Randstad, but once you get out in Noord-Holland in the dunes, there's almost no-one, and you're right by the sea as well, so you can go for a nice walk and finish up at the beach, have lunch in a café and go for a swim. This year, for the first time, I went swimming in the sea on January 1, so I must be becoming a little bit Dutch! I never would have thought of doing that before.
Tell us something surprising you've found out about the Netherlands
In the Netherlands, all the roads and the pavements are well kept. They're kind of uniform. Where my parents live, they just cover over potholes with random bits of tarmac. It's all just short-term solutions to everything. There's a bit more planning in the Netherlands.
I was also surprised at just how rural some places in the Netherlands still are. Before you come to the Netherlands, you have the idea in your head of Amsterdam and cannabis and football, maybe, and these nice Dutch cities. You do maybe think of cows and flat fields and stuff, but when you go out and see small villages, people really are different. There's still quite a divide between rural life in the east and city life in Amsterdam and The Hague.
If you had just 24 hours left in the Netherlands, what would you do?
I would take my bicycle and go for a bike ride through Amsterdam, taking in the atmosphere. Then I would try and meet my friends in a café by a canal or by the water, maybe at Hannekes Boom or somewhere like that. And then just have a nice time with a borrel. If I had to leave, above all I would miss how easy life is here. Everything is so straightforward.
You can find out more about IOM and the projects they run here.
Ciaran was speaking to Deborah Nicholls-Lee
Thank you for donating to DutchNews.nl.
We could not provide the Dutch News service, and keep it free of charge, without the generous support of our readers. Your donations allow us to report on issues you tell us matter, and provide you with a summary of the most important Dutch news each day.
Make a donation