A mystical journey to Suriname, and the superpower of the Jaguarman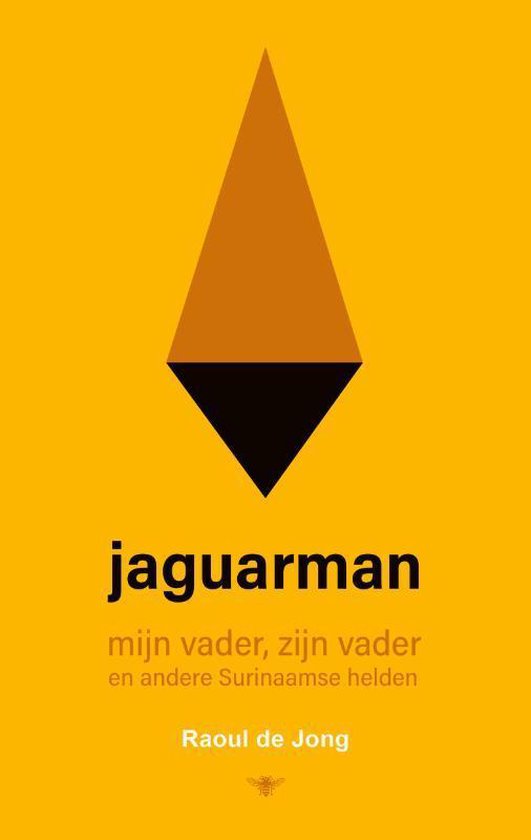 Raoul de Jong was 28 when he first received word from his long estranged father. A note, purporting to be from his father's girlfriend, appeared in the letterbox of his antikraak flat in Rotterdam with the words: 'I am looking for my son'.
After dispelling initial suspicions of a malicious ploy by his junkie neighbours, De Jong discovered not only was the contact genuine, but his father – now a volunteer at an Christian book shop in Amsterdam – was searching to reconnect a broken bond that De Jong himself had felt throughout his life.
The disconnection haunting De Jong, however, was not so much one of parental abandonment. Having grown up a half Surinamese, half Dutch boy in the 'cold, rainy, concrete' jungle of Schiedam, he never cried for his lost father, but was routinely disturbed in his sleep by dreams of a rainforest in a country he neither knew nor was ever taught about.
The reunion with his father, which occurred six months after the arrival of the letter, marks the start of de Jong's adventure novel 'Jaguarman: My father, his father and other Surinamese heroes'.
Despite a Dutch schooling almost entirely composed of tales about colonial conquests and seafaring expeditions, De Jong speaks of a persevering sense of enchantment, which had been with him for years, 'following me from Rotterdam to Paramabiro, from Rome to Recife'.
Winti powers

While not a Christian, De Jong says he believes 'everything is written in the stars', and in the power of miracles. The force bewitching him, he discovers, is that of the Jaguarman – his great great grandfather and Winti priest who could transform into the jungle's 'strongest and bravest' animal, the jaguar.
Winti is a traditional religion originating in Suriname during the time of slavery, defined mainly by ancestor veneration and a belief in anthropomorphic spirits. Banned by the Dutch Empire until the country's independence in 1971, Winti practice continued through the centuries in relative secrecy and is now recognised as an official religion in Suriname.
Despite his father admonishing him to forget the Jaguarman, warning of its terrible and dangerous force – 'the power of the devil' – de Jong decided to embark on a journey to discover its meaning and place within his heritage.
'I was raised a brown speck in a white world', he says, and longed to uproot some forgotten legacy from Suriname akin to the better known Western resistance heroes like Martin Luther King, Maya Angelou and James Baldwin.
Suriname's lost history
Speaking from a flat in Paris, De Jong says his search began in bookstores, where no such figures could be found. 'The only book I came across was one about Dési Bouterse (Suriname's infamous former president renowned for violence and corruption) and I realised this was not what I was looking for. It was another book about what the Surinamese can learn from the Dutch'.
After trawling the internet for some time, De Jong came across a book titled 'We Slaves of Suriname', by Anton de Kom. He realised the title is meant ironically, and found what he was searching for. 'This book was not about slaves – its about power, and I wondered how many other figures like him were out there'.
Anton de Kom led an anti colonial struggle against Dutch rule in the early 20th century before fleeing to the Netherlands and eventually dying a resistance fighter in a Nazi concentration camp. His story, De Jong says, is ultimately what made him begin to realise the Jaguarman may be something other than a demonic power spawn during the darkest time of his ancestor's history. 'Maybe this power was actually what gave us the strength to survive these centuries of oppression'.
A journey to the rainforest
This begins his journey to Suriname, in which De Jong writes ten letters addressed to the Jaguarman in a kind of Biblical prose. With each letter, he discovers numerous forgotten heroes from his fatherland, each telling different sides of the country's history, its struggles and mystical forces.
Poets and writers like Lou Lichtveld, a playwright and anti-fascist organiser; Misi Eli, a teacher of Afro-Surinamese traditions; Papa Koenders, an activist for Sranang Tongo (Surinamese Creole); Theo Comvalius, who secretly wrote books about traditions banned by the Dutch; all emerge through De Jong's quest for the Jaguarman.
As he learns of these characters and their all too hidden influences, De Jong finds that his father was indeed wrong – this power was not one from the 'heart of darkness', but a strength permeating through the generations of his ancestors, which gave them the ability to survive – 'a miracle', he says.
The book shot to fame in the Netherlands and was recently shortlisted for Belgium's most prestigious literature award, De Boon. It has also been published in French, and is awaiting a needed translation into English.
De Jong is now working on a major film script of Anton de Kom's life, which will be released in the coming years. He has also uncovered lost writings and artworks by De Kom, which he intends to use as inspiration for others to embrace the 'superpower' of the Jaguarman.
Thank you for donating to DutchNews.nl.
We could not provide the Dutch News service, and keep it free of charge, without the generous support of our readers. Your donations allow us to report on issues you tell us matter, and provide you with a summary of the most important Dutch news each day.
Make a donation