Herding cats and spending big: how Mark Rutte managed to cling to power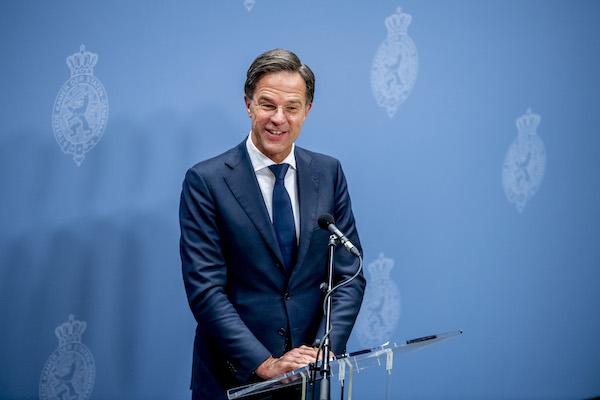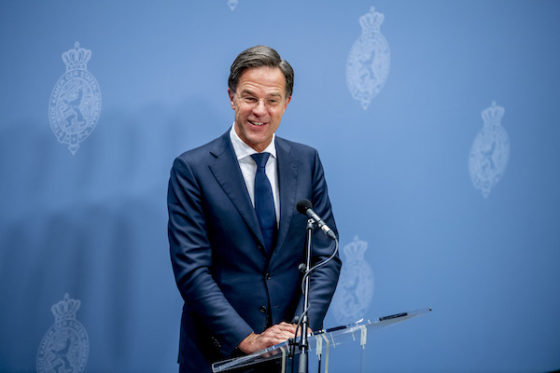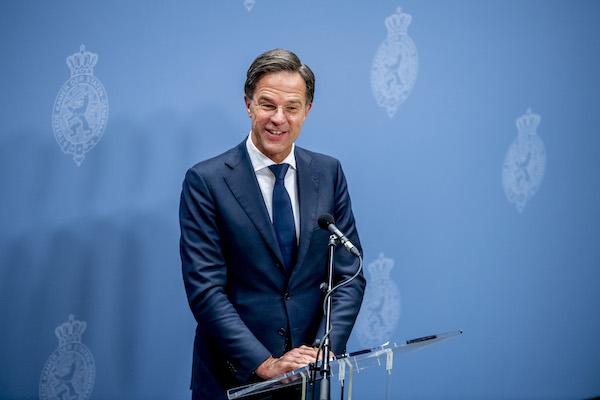 Mark Rutte could be forgiven for pouring himself a big drink this weekend. After months of intensive negotiations he has – like one of those charity fundraisers who slowly do a marathon in a hundred-kilo diving suit – finally limped across the finish line and managed to piece together a new governing coalition, writes Ben Coates.
The outcome of nine months of coalition talks is a four-party alliance which includes his own VVD party, the right-wing CU and CDA, and the centre-left D66. It feels both entirely inevitable and (given that voters' choices in this country are endless, and that the exact same government resigned in disgrace in January) quite remarkable.
The journey to get to this point has not been smooth. Ahead of the election in March, Rutte famously said that 'I don't think anyone will argue in favour of spending six months in the middle of the crisis arguing about three decimal places'. But in the event that's more or less what happened.
In the post-war era, Dutch coalition negotiations have typically lasted an average of about three months. One formation (the Willem Drees cabinet of 1948) was concluded in an impressive 31 days, while Rutte's own last negotiation (in 2017) took an unprecedented 225 days. This time, though, he shattered that record: the official count currently stands at 271 days, and we're still unlikely to see a new cabinet properly installed until January.
CU leader Gert-Jan Segers memorably described the latest formation as being like a 'forceps delivery', but it's often seemed even slower and more painful than that. If there's a woman out there who celebrated election day by getting pregnant, she could well have a child in daycare by the time the new government is in place – assuming daycare centres aren't closed again due to Covid, of course.
Unforced errors
Things have moved so slowly in part because of unforced errors on Rutte's part, including a huge scandal in the spring when he was caught apparently trying to secure a plumb job for an opponent in order to keep him quiet. (Yes, in other countries that's just how normal politics works, but in the Netherlands it was like Watergate, Iran-Contra and British newspapers' phone hacking combined.)
Then there's also the complicated mathematics of it all. More than 30 political parties contested the last election, and 19 factions are currently represented in parliament, with Dutch politicians creating new lists and groupings about as often as other people have a cup of coffee.
Inevitably, the sheer diversity of opinion can make the business of putting together a coalition fiendishly complicated. The CU fell out with the VVD, while GroenLinks refused to join coalition without the PvdA and the CDA said they couldn't work with either. Germans often speak of coalition formations in terms of traffic lights or Jamaican flags but in the Netherlands this time it felt more like doing a Rubik's cube after drinking a bottle of whisky: dozens of moving parts just wouldn't align correctly, no matter how hard we tried.
Milestone
Eventually, though, those pieces did align, and the new coalition looks as if it will deliver its most important goal: making Mark Rutte the longest-serving prime minister in Dutch history.
Barring catastrophe, Rutte will surpass Ruud Lubbers' nearly twelve-year tenure record next year – a milestone which would, I think, be greeted by most Dutch voters with a resigned shrug and meme-worthy eye-roll rather than a cheer.
Unfortunately for Rutte, however, he looks unlikely to enjoy the stable tenure of some of his predecessors. While Ruud Lubbers' last administration controlled about two-thirds of the seats in parliament, Rutte's new coalition has only a slender majority in the lower house, which may make it tricky to get controversial things done.
And in the upper house, or senate, the new government will have no majority at all, meaning they'll need to reach out to other parties to pass significant legislation. Given the increasingly fractious and ill-tempered nature of the country's politics, that may be easier said than done. Herding cats may start to look easy.
Covid
If all this weren't enough, Rutte will also return to office with an overflowing in-tray. The most obvious priority will be dealing with the ongoing Covid pandemic, which the Dutch government has until now managed with all the competence of a blindfolded toddler running a china shop.
I have British relatives in their 30s who got boosters a while ago, and Dutch ones in their 70s who are still waiting. With a bit of luck, I might get one myself by the time young princess Amalia throws a party to celebrate her retirement.
Beyond Covid, the new government also faces myriad other issues which have been largely ignored (or allowed to get worse) during a long year of political uncertainty. The toeslagenaffaire (a gruesome child benefit scandal which forced Rutte's resignation in January) has still been not satisfactorily resolved.
Problems
There are serious structural problems with things like teacher shortages, mental health services and rising homelessness. Economically the outlook remains fragile, with the IMF forecasting that the Dutch economy will grow slower next year than the average for advanced European economies.
For a government which prides itself on being pro-business, and which made much of its desire to seize the opportunities of Brexit, last week's confirmation that Shell will relocate its headquarters to London (following in the footsteps of Unilever) was a bitter blow.
Recent riots in Rotterdam and elsewhere were troubling, and trust in institutions is falling. Under the circumstances, Rutte could be forgiven for packing up and moving elsewhere too. And it's plausible he might just do that: the rumour mill in the Hague has long suggested he'll at some point take up a high-flying multilateral job in Brussels, New York or Geneva.
His administration has governed on a 'caretaker' basis for months now and many will see the new coalition as having a somewhat similar status; with the same people holding down the fort for just another year or two, until the inevitable national inquiry into the Covid response publishes its damning conclusions.
Manager
Given these constraints, few had expected much in the way of significant change from the new coalition. Rutte himself is notoriously uninterested in delivering transformative change. As I've written before, he's by instinct a manager rather than visionary, and the tone of his rhetoric is generally less 'Yes We Can' and more 'I Suppose We Might'.
It's somewhat surprising, therefore, that the coalition agreement published this week was actually quite bold and substantive.
Among other things, the new government is pledging to deliver a 7.5% increase in the minimum wage, build 100,000 new homes a year, introduce road pricing, reform student finance, create more intensive care beds, introduce a potential tax on sugar, end natural gas extraction in the Wadden Sea, and (amusingly, given the Netherlands' track record as a sort of Switzerland-on-sea) curb global tax avoidance and tax competition.
Despite Rutte's carefully cultivated reputation for frugality, there are also promises to sharply increase investment in infrastructure and the climate transition, provide more generous subsidies for childcare and deliver more foreign aid. All this will likely push the country's debt level beyond EU limits – a big step for a government which usually enjoys wagging a disapproving finger at frivolous big-spenders who run their countries from sun loungers in the Mediterranean.
Opposition
Unsurprisingly, the new coalition's plans have not been universally popular. In parliament this week, Geert Wilders' PVV was angrily complaining that the coalition deal did too little to control immigration, the Labour Party (PvdA) was critical of care policy, and the Party for the Animals argued it was not good enough for animals.
Particularly controversial is a planned cut to healthcare spending, which the government argues will simply slow inflation in healthcare costs over the next 30years, but which looks toxic politically at a time when hospitals are overstretched. As health minister Hugo de Jonge has belatedly realised, there's also a big difference between promising big things and actually delivering them.
However, even the government's toughest critics would struggle to argue that they're just maintaining the status quo and have nothing much planned. In strategic terms, the new agenda also feels like a significant departure for Rutte personally.
For years now it's seemed as if it was right-wing populists like Wilders who set the political agenda in the Netherlands; making outrageous claims which Rutte and his allies then pandered to in the hope that they wouldn't lose votes to the right. Now, though, with the new coalition accord, it feels as if the left is playing a much bigger role in setting the agenda.
Yes, right-of-centre parties won well over half the vote in March, and the coalition agreement includes plenty of red meat to satisfy them too, such as more money for defence, tougher penalties for terrorists and more nuclear power stations.
Charm
On the whole, though, the agreement reads like something which the Rutte of 2010 might think was a bit soft, and which Joe Biden, Tony Blair or Olaf Scholz would be proud of. Ever the political chameleon, Rutte is deftly pivoting leftwards in the pandemic age; his brand evolving quickly to get around our growing immunity to his charms.
After more than a decade in power, Rutte's ambition seems undimmed, and he retains a Sopranos-style ability to cut a tough deal. He and his party are still polling high. If the new government delivers on its promises, and the coronavirus threat recedes, the Netherlands could indeed be heading for a happier, wealthier, greener future.
However, few incoming administrations have faced a greater set of challenges than this one will, and there's an inescapable feeling that the prime minister has used up eight of his nine lives before he's even begun. It's going to be an interesting ride. Rutte had better make this weekend's drink a big one.
Ben Coates is the author of the books 'Why the Dutch are Different' and 'The Rhine'. He blogs at ben-coates.com and tweets at @bencoates1
Thank you for donating to DutchNews.nl.
We could not provide the Dutch News service, and keep it free of charge, without the generous support of our readers. Your donations allow us to report on issues you tell us matter, and provide you with a summary of the most important Dutch news each day.
Make a donation