Bridging the North Sea: UK ambassador Joanna Roper's eventful first year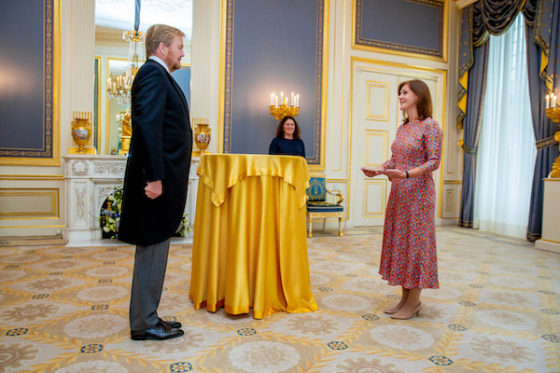 By any measure it has been a busy start to Joanna Roper's tenure as UK ambassador to the Netherlands.
She presented her credentials to the king at the start of October 2020, just as the second wave of coronavirus infections was beginning to pick up steam. Three months later the UK's departure from the European Union was due to take effect when the Brexit transition period concluded.
A challenging task became even more complicated on December 20, when the Dutch government banned all travel to and from the UK at a few hours' notice to try to contain the spread of the Alpha variant.
If anyone was qualified to manage two events with such a profound impact on people's ability to cross borders simultaneously, it was Roper, 52, who prior to taking up her post in The Hague was director for consular services in the Foreign and Commonwealth Office.
She quickly realised that rapid communication was key. 'We've tried very, very hard at the embassy to make sure that any changes are sent out through our social media channels,' she says.
Covid restrictions
'People are unfortunately having to adjust and they recognise that this is part of travel, and factoring that into their planning. We didn't see a hugely significant number of people travelling at the turn of the year, but if they got caught up or needed our help we were absolutely there to make sure we were pointing them in the right direction and offering support.
'The rules can change very quickly, so it's important to stay up to date. Only this weekend the Dutch government announced stricter quarantine requirements for travellers from the UK. I know that's really difficult news for many people, especially right before the Christmas holidays.'
Brexit also gave her the task of overseeing the change in status for the 45,000 British nationals who needed to secure their right to live in the Netherlands. The number of British immigrants arriving in the Netherlands grew by 60% between 2015, the year before the referendum, and 2019, when 6,652 people made the move across the North Sea.
At the other end of the scale, people who were settled as European Union citizens now suddenly found themselves having to apply for residency in a country that had been their home for decades.
Post-Brexit residency
The Dutch immigration service IND set up an English-language website and helpline for the estimated 45,000 UK citizens who had to register for either temporary or permanent residency – the latter was available to anyone who had been in the country for five years. By October 1, when the 'grace period' for UK nationals living in the Netherlands without a permit expired, more than 39,000 applications had been processed by the IND, 99% of which were approved.
Those who have not secured their status can still do so retrospectively until October 2022, but the fact that they are now living in the country illegally will affect their rights to work, claim benefits and travel in the meantime.
'There was always going to be a small minority that we've just not been able to get hold of, but it is a very tiny minority,' says Roper. 'The vast majority of people have registered but there is still that facility to apply until next October. It's been a cross-government effort, so a massive thank-you to the Dutch government on that.'
Doing diplomacy differently
The Hague is Roper's first ambassadorial posting, after serving in the British embassies in Beijing, Tokyo and Islamabad. Her husband, Tom Drew, was British High Commissioner to Pakistan until 2019. In between tackling the double-headed challenge of coronavirus and Brexit, she has found time to acclimatise to the Netherlands. She has become a devotee of speculaas and Gouda with cumin and spent hours immersing herself in the heritage of the Rijksmuseum and the Mauritshuis..
There's so much history there,' she says. 'I've loved visiting the old towns like Utrecht, Dordrecht and Delft. I also like heading out of The Hague at the weekend to the beaches up the coastline for a blustery walk. In many respects they remind me of Norfolk.'
Coronavirus restrictions have forced diplomats around the world to rethink the entire nature of their business, which has traditionally revolved around handshakes and face-to-face meetings.
'Covid has been a theme throughout as we've all had to adjust to working at home,' she says. 'One of the challenges has been getting to know people in a deep, meaningful way. And for me that applies just as much to getting to know my colleagues in the embassy. We want to get under the skin of our colleagues and really understand the country and that's been a little bit harder.
'We were able to hold a much smaller event in the resident's garden earlier this year. It's not the same as it would have been in previous years, but it meant that we could get to know each other a little bit better. It's one of those difficult judgment calls where you have to weigh up public health and individual health with keeping the job going, keeping the economy going and longer-term resilience.'
Women ambassadors
Roper also recently became chair of the Women's Ambassador Group, an informal association of around 40 female ambassadors in The Hague and Brussels accredited to the Netherlands, building on her previous role as the foreign office's special envoy for gender equality. Embassies have a major role to play in advancing gender equality around the world, she argues, through programmes such as the UK's Girls' Education Challenge, launched in 2012.
'If you look at how Covid has affected the world, the impact on women and girls – particularly girls in school – has been immense. We have to work closely with partners like the Netherlands that have a real commitment to gender equality as part of their domestic and international development policy. The Dutch have been great partners on this.'
Diplomacy between the UK and European capitals will change in the wake of Brexit, but Roper is confident that the relationship with the Netherlands will remain a strong one. 'It remains a very important region for us, whether it's trade or political and diplomatic relations,' she says.
'The Netherlands is the UK's fourth-largest trading partner and vice versa. We've got over £75 billion worth of trade and Dutch investment into the UK is over £167 billion. We've got tens of thousands of British businesses importing and exporting. That really counts for something.
North Sea neighbours
History has shown that as the world has got bigger, the two North Sea neighbours, as the governments often describe themselves on Twitter, have moved closer together, she says. 'There's an exhibition in the Maritime Museum in Amsterdam of [Willem van de Velde's paintings of] these massive galleons doing battle on the high seas 400 years ago. Fast forward to today and you have the Dutch frigate HNLMS Evertsen being integrated into the UK Carrier Strike Group. That's a real sign of interoperability in our naval relationship.'
Before her appointment as ambassador, Roper had to split her time between London and the High Commissioner's residence in Islamabad, but with her husband now back at the Foreign Office in London, she is looking forward to spending Christmas together in The Hague. 'It's been a tough year,' she says. 'Regardless of where people end up spending Christmas, I hope they stay safe and look after themselves – and each other'.
Thank you for donating to DutchNews.nl.
We could not provide the Dutch News service, and keep it free of charge, without the generous support of our readers. Your donations allow us to report on issues you tell us matter, and provide you with a summary of the most important Dutch news each day.
Make a donation