Back to the future: self-driving boats to ease Amsterdam congestion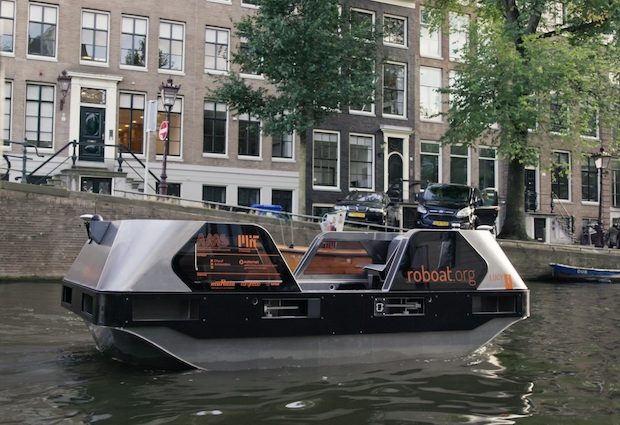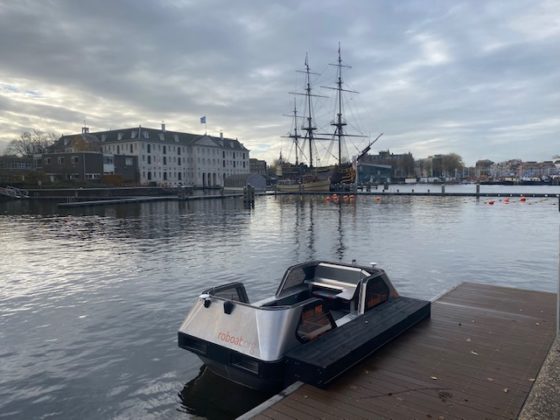 From houseboats to floating farms, when space gets tight, the Dutch turn to their ample waterways. The latest example: the Roboat—or robotic boat—an autonomous, electric vessel that works as a water taxi, waste collection system, bridge, and even a floating stage. Lauren Comiteau took a ride on a prototype of one of the new vehicles in Amsterdam's city centre to see what it's all about.
From the basin of Marineterrein Amsterdam, where the Roboat's creators demonstrate how she moves, the majestic replica of a Dutch trading ship from the country's Golden Age is in clear view, a striking contrast from this small, driverless vessel but one that underscores the Netherlands' history of maritime prowess.
'We're sitting on a very high-tech, innovative vessel that may determine the future of shipping,' says Ynse Deinema, the project coordinator of Roboat. 'The Roboat is an excellent example of how we innovate and what we're trying to achieve.'
Old city, new problems
For the past five years, Deinema has been working for the Amsterdam Institute for Advanced Metropolitan Solutions, which has partnered with the Massachusetts Institute of Technology to help solve Amsterdam's mobility and logistical challenges.
Built in the 16th century, the narrow cobblestone streets of Amsterdam's Canal Belt were never meant to handle modern-day traffic. But its 165 canals—inter-connected and spanning some 60 miles—have stood the test of time.
'Amsterdam is famous for its canals,' says Deinema. 'In the old days, we used them for freight and logistics, but also for moving people. We thought we could reimagine their potential, but it would mean we needed to design a new, innovative vessel—and that's Roboat.'
No humans needed
This two by four-metre aluminium boat is fully autonomous. Its creators say that makes it more efficient. 'We have an automated system with latching arms that docks the boat without expensive structures on the key wall. You don't need a human, just a mechanical connection,' explains Deinema.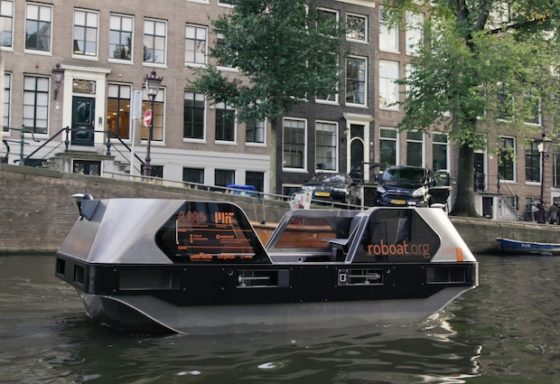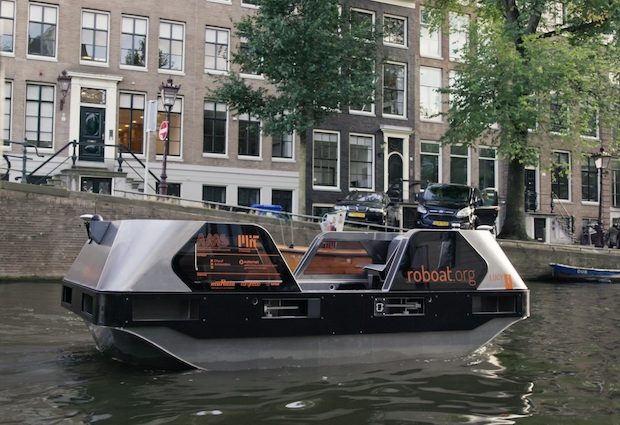 'Also, as an on-demand system of water mobility, you can make several stops without needing a skipper. This boat holds five people, and with a skipper taking up one of them, you'd lose efficiency.'
From a safety perspective, Deinema is convinced the Roboat will one day outperform the human eye. 'Our boats have 360-degree vision,' he says. 'The computer is never tired.' And perhaps the biggest advantage of driverless boats, says Deinema, is the way they can be utilised—on a 24/7 basis.
'Autonomous boats are more flexible in how you deploy them,' he says. 'They can operate late at night or early in morning, and that's a new approach to organizing logistics or mobility services.'
Sustainable and flexible
Lucy is emissions-free, powered by an electric battery that can last up to 10 hours. It gets instructions on where to go and then finds its own way with the help of a set of digital sensors that combines LIDAR (Laser Image Detection and Ranging), GPS and video imaging on the front and sides of the boat that continuously search for obstacles.
There's a digital compass and four thrusters that serve as engines. And instead of a mechanical rudder, the boat is steered by changing the RPMs of two of its engines.
'This boat can move in any direction,' says Deinema. 'It can move very precisely, which is a requirement if you want to operate in tight city environments, but the boat can also move laterally, which is a unique feature of the Roboat.'
She sails seamlessly through poles and around stages in a set-up made to reflect Amsterdam's narrow pier-lined canals, which are usually filled with private boats and tourist canal cruises—precisely the urban environment the Roboat was built for.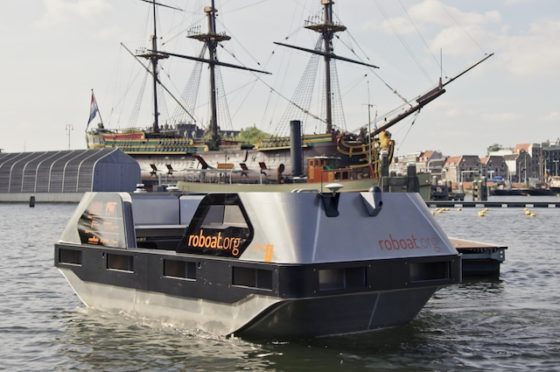 Lucy can act as a makeshift ferry when needed or will be able to be ordered Uber-style through an app. But if you swap out its top deck, you get Crystal, the logistics boat that will transport goods and pick up the trash that's currently taking up valuable curbside real estate and clogging streets with the polluting trucks now used to collect it.
Temporary bridges
Eventually, the boat's latching arms that are used to dock will also be able to be interlinked to make stages or temporary bridges—whatever a city needs. Its creators say that saves money and space and makes the city of the future a more dynamic place. And a more sustainable one.
'The city of Amsterdam is riding this wave of electrification, specifically for mobility,' says Deinema. 'It has very high ambitions. In 2025, all vessels going into the city centre will need to be zero emissions, so Roboat fits this sustainability ambition.'
As our demonstration comes to a close, Lucy starts moving in circles. '"One of the thrusters died on us,' says Deinema by way of explanation.
There are still kinks to work out. But all Lucy needed today was a reboot. In the future, she can be scaled up to accommodate larger waterways and other cities.
Venice, Paris, Seattle and Tokyo have already expressed interest, while the Port of Rotterdam could one day use smart vessels like the Roboat to transport shipping containers over water instead of land. As for Amsterdam, the Roboat is expected to be wending its way through the city's canals in two years' time.
Thank you for donating to DutchNews.nl.
We could not provide the Dutch News service, and keep it free of charge, without the generous support of our readers. Your donations allow us to report on issues you tell us matter, and provide you with a summary of the most important Dutch news each day.
Make a donation